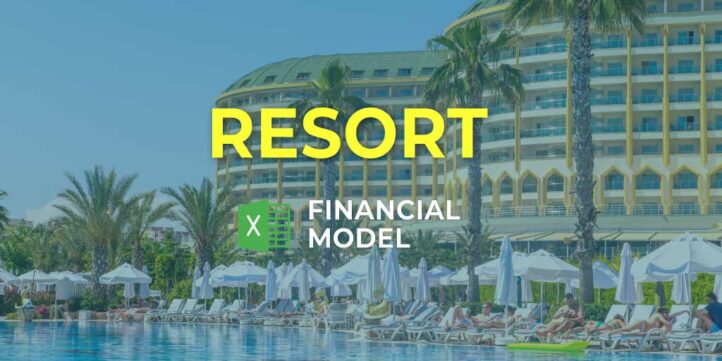 Financial Model, Hospitality, Hotel, Ski Resorts
5-year financial projections, Break-Even, Business Valuation, Cap Table, Cash Flow Projections, Cost Projections, DCF Model, Debt Amortization, Debt Schedule, Excel, Financial Feasibility, Financial Model, Financial Planning, Financial Projections, Financial Statements, Forecasting, Free Financial Model Templates, Pro-Forma, Startup Financial Models, Terminal Value, Three Statement Model | Three Financial Statements, Uses and Sources of Funds, Valuation
NOTE: Single-User pertains to a limited Single User License where the template can only be used by one single user; while Multi-User is a license for users sharing the template with up to 20 members. Please refer to Terms of Use and License and Permitted Use for clarification.
RESORT PRO FORMA TEMPLATE EXCEL KEY FEATURES
Video tutorial:
Run different scenarios
A Cash Flow Statement Forecast shows you what your cash balance will look like taking into account the numbers you put into the template. It means you can play with the various variables that impact your cash flow forecast, i.e., wages, sales inflow, supplier payments, taxes, and so on. By adjusting the input amounts, you will be able to see what impact they will have on your businesses' cash flow and when this impact is likely to occur. A well-known example of this is the ability to forecast the effect a new member of staff might have on your cash flow over different periods. Increase the wage costs and see what happens to your cash flow. Running different scenarios in your Cash Flow Statement Forecast can have several benefits.
Easy to follow
Clear and transparent Resort Cash Flow Proforma Template structure (15+ separate tabs, each focusing on a specific planning category, colour coded => input, calculation and report sheets).
Save time and money
Via Financial Projection you can without effort and special education get all the necessary calculations and you will not need to spend money on expensive financial consultants. Your task is building a strategy, evolution, and creativity, and we have already done the routine calculations instead of you.
Spot problems with customer payments
Preparing the Cash Flow Statement Proforma encourages the business to look at how quickly customers are paying their debts. Identify unpaid invoices and take necessary actions to make them pay.
Key Metrics Analysis
Creates 5-year Resort Pro Forma Template, proforma, financial statements, and financial ratios in GAAP or IFRS formats on the fly.
Gaining trust from stakeholders
Investors and financing providers tend to think in terms of the big picture. They want the c-level of the companies they invest in to do the same to ensure they maintain a clear idea of the future. Providing stakeholders with a monthly cash flow forecast will demonstrate a level of awareness that leads to confidence and trust and will make it easier to raise more investment.
REPORTS and INPUTS
CAPEX
This Five Year Financial Projection Template has a template for the automatic calculation of capital requirements and funding based on an implied cash flow waterfall (different equity and debt tranches with alternative funding priorities).
Dashboard
The All-in-one dashboard in this Resort Finance Projection contains all core financial inputs and core start-up metrics critical for the companies' financial analysis. It reflects the financial data from a Balance Sheet, an p&l forecast, and a cash flow statement for 5 years. Moreover, users can obtain financial information in the form of graphs or charts.
Burn and Runway
Our Resort Budget Spreadsheet automatically creates cash runway and cash burn analysis based on the forecasted revenues and expenses that, in their turn, show net loss, net profit, cash on hand, and breakeven analysis. You can also forecast funding requirements using a set of parameters around funding (e.g., equity, debt, grants) and expected runway to raise (for example, 18 months of forecasted expenses).
Break Even
A break even analysis tab in this Financial Projection shows the break even formula excel. This calculation illustrates when your company is supposed to become profitable. In other words, a break even analysis indicates when the company's overall revenues exceed its expenses.
Valuation
This Resort Budget Spreadsheet contains a valuation analysis template that will allow users to perform a Discounted Cash Flow valuation (DCF). It will also help users analyze such financial metrics as residual value, replacement costs, market comparables, recent transaction comparables, etc.
Top Revenue
This Financial Model Excel Template has a tab for a detailed analysis of the company's revenue streams. With this template, users can analyze the revenue streams by each product or service category separately.
Benchmarks
The financial benchmarking study tab in this Three Way Financial Model will help the companies assess their key performance indicators and compare them with other companies' KPIs.
The term 'benchmarking' means the process of comparing the business, financial or other metrics of your company to that of other firms within the same industry. It is essential to use other businesses' best practices in the same industry as a 'benchmark' to improve your own company's standards.
As a result of the benchmarking study, companies can learn how to operate in a certain industry more efficiently. This benefit makes the financial benchmarking study an essential planning tool for start-ups.
File types:
Excel – Single-User: .xlsx
Excel – Multi-User: .xlsx
Free Demo – .xlsx