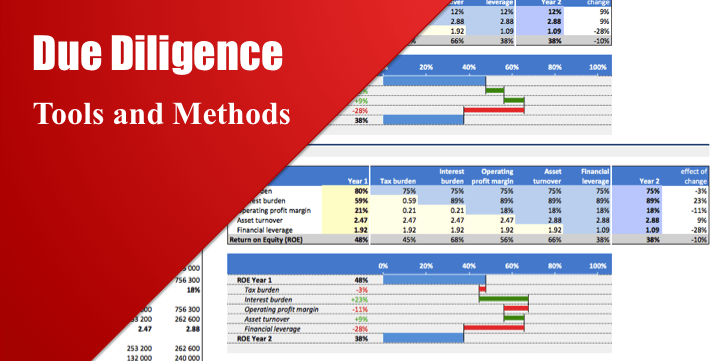 All Industries, Consulting, Financial Model, Financial Services, Professional Services & Advisory
10-year financial projections, 5-year financial projections, Accounting, Accounts Payable, Accounts Receivable, Bad Debt, Bookkeeping, Budget, Budgeting, Business Valuation, Cash Flow Analysis, Cash Flow Projections, Cost Projections, Dashboard, Dividends, Excel, Financial Debt, Financial Feasibility, Financial Model, Financial Modeling, Financial Planning, Financial Projection, Financial Projections, Financial Ratios, Financial Statements, Financing, Forecast, Forecasting, Impairment Test, Intangible Assets, Inventory, Investor Cash Flows, Investors, Private Equity, Pro-Forma, Profitability Analysis, Revenue Projections, ROI, Staffing, Tutorial, Uses and Sources of Funds, Variance Analysis, Venture Capital
A prospective investor is concerned about the target's:
1. Quality of earnings
2. Adequacy of working capital
3. Unrecorded or contingent liabilities.
We call upon due diligence to analyze these areas and, in a broader context, to understand the business of a company, its risks, and prospects. These objectives define the scope of due diligence and bring forward a range of tools, methods, and techniques to perform the analysis.
The attached bundle includes forms and templates which I have developed during my years in buy-side private equity and investment advisory. Many of them are quite cross-functional and can be used in regular reviews of business performance. They will serve as transaction price adjustments, areas for further investigation, or a negotiation piece in your discussions with sellers.
A few highlights to mention:
– sales summary, portfolio statistics, product performance
– sales seasonality
– price-volume-mix effect
– customer concentration
– staff analysis (cost split, turnover, and retention)
– fixed assets and CAPEX
– complex financial statement analysis (DuPont, sources, and uses of liquidity, cash conversion cycle)
– challenging management forecasts, evaluating the accuracy of previous budgets
As such, you will find it useful if you are:
– considering a target for potential acquisition
– assisting your client with a potential M&A transaction
– analyzing the performance of a company you work for
– trying to understand your business better
– learning how to carry out due diligence
The Excel file is accompanied by a detailed text guide. Feel free to reach out if you have any questions about any of my products.