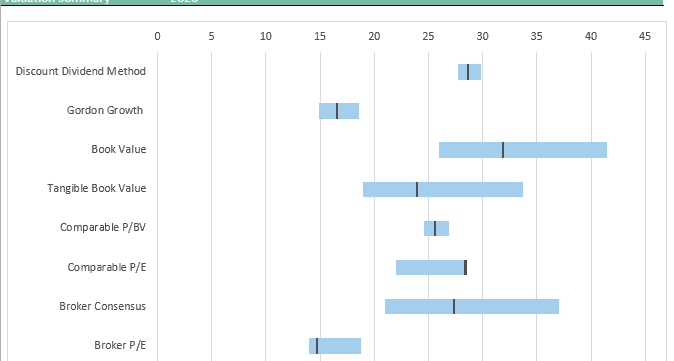 Accounting, Asset Management, Banking, Consulting, Financial Model, Financial Services, Insurance, Loans
5-year financial projections, Accounting, Break-Even, Business Valuation, Cash Flow Analysis, CFO, DCF Model, Discount Rate, Dividends, Excel, Financial Feasibility, Financial Model, Financial Modeling, Financial Projection, Financial Projections, Financial Reporting, Financial Statements, Financing, Forecast, Forecasting, Goodwill, Gross Yield, Investment Multiple, Investor Cash Flows, Investors, IRR (Internal Rate of Return), Net Yield, NPV (Net Present Value), Post Money Valuation, Pre Money Valuation, Private Equity, Profitability Analysis, Revenue Projections, Sensitivity Analysis, Terminal Value, Valuation, Venture Capital
Use this model to value any Bank using professional industry methodologies. Input the previous year's financials into the template provided and make growth assumptions based on previous year growth, industry growth, and news articles.
This model analyses your bank based on its financial profile, 20 industry competitors, and analyst reports – all of which can be updated or toggled on/off so you can build the valuation model you want.
The model is fully automated for all cells in black and editable for the bank of your choice across any geography. The model uses Discount Dividend Method, Gordon Growth Method, Book Values, Industry Multiples, and Broker Consensus to create a valuation taking into account a number of lenses – just like industry analysts. The weighting of these can be adjusted to make sure your final valuation is as accurate as possible based on your bank. (The example bank used is Bank of America)
Get these templates too for a discount!