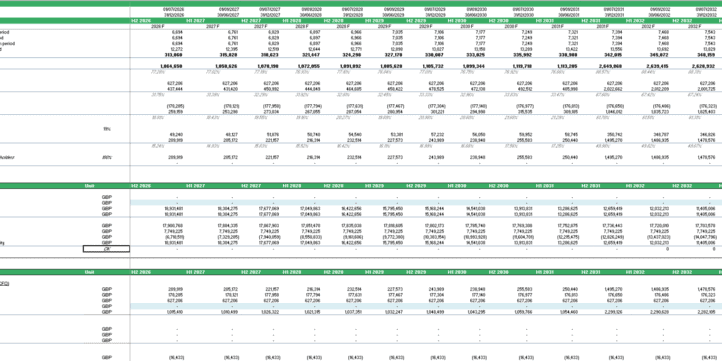 This model was built for the UK Solar Plant project to assess the project feasibility.
The model was built for a 22-year timeframe but the user can easily modify the timeframe according to its needs.
The user can modify energy price and production assumptions, investment and capital structure as well as tax structure.
The model template includes 8 sheets:
– Summary with key elements of the project (costs, energy output, yield, IRR …)
– Inputs, where the users can easily modify every assumption and the model, will automatically be recalculated based on the new assumptions. We also have created a Sizing tariff to change the tariff price based on the target shareholder IRR.
– Inputs monthly and annually were created to implement the construction profile and market price profile for the model.
– Time is made by the flag to automatically change the user timeframe for the whole model.
– Output SA is the main component of the module where all the calculations were made including production assessment, income statement, balance sheet, cash flow statement, free cash flow analysis, and debt schedule.
– Finally, the PV Syst Data process and PV Syst simulations were created to enable the user to directly copy-paste PV Syst simulation on the model and recalculate the whole model.