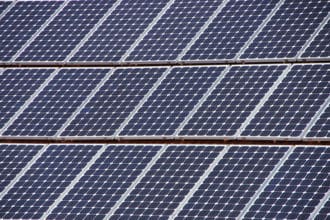 Financial Model, Renewable Energy, Solar
10-year financial projections, Cash Flow Projections, DCF Model, Debt Schedule, Debt Service Coverage, Excel, Financial Feasibility, Financial Planning, Financial Projections, Fundraising, Investor Cash Flows, IRR (Internal Rate of Return), NPV (Net Present Value), Payback Period, Sensitivity Analysis, Startup Financial Models, Three Statement Model | Three Financial Statements, Uses and Sources of Funds, Valuation
The Solar Energy Financial Model template projects the financials for a new Solar Park project and calculates profits and returns. The Excel spreadsheet model comes in three versions and is designed to obtain a better understanding of the financial feasibility of your next Photovoltaic (PV) park project. The solar PV model calculates the main relevant financial ratios as required by investors and banks to understand the solar energy project and offers a flexible tool to run scenarios by varying the input assumption. The solar project finance model includes a Three Statement Model with Income Statement, Balance Sheet and Cash Flow statement forecast up to 30 years.
A walkthrough of the model is provided in the following video:
The financial model template includes:
Executive Summary section with charts, summarized key financials and the main assumptions of the solar park
Key assumptions to enter include:

Installed capacities such as kiloWatt or Mega Watt
Annual solar yield
Yearly yield degression factor
Lifespan years of the project
Phasing plan to simulate a phased construction plan
Revenue models

Model 1: Sale of Energy via Power Purchase Agreement (PPA)
Model 2: Sale of Energy at Market Price + Eventual Premium through the sale of Certificate

Pricing assumptions for each revenue model, starting price as well as forecasted annual price increases/decreases
Duration years of PPA / Certificated
CAPEX Assumptions
Subsidy Assumptions
Operations and Maintenance Cost assumptions (either to be entered as fixed amounts or as % of revenues, cost per kWh) by Phase
Debt assumptions such as loan amounts, interest rates, and debt repayment
Weighted Average Cost of Capital (WACC) or Discount Rate

Detailed yearly calculation for volumes, prices, etc.
Financial tables with projected Financial Statements (Income Statement, Balance Sheet and Cash Flow Statement) for a period of 30 years forward
Debt schedule which models two layers of financial debt (junior and senior debt) for drawdowns, repayments, and interest
Fixed asset depreciation schedule
Tables with forecasted yearly financial ratios such as of relevance to banks and investors: Debt/EBITDA, LTV, Debt Service Coverage Ratio (DSCR), Interest Coverage Ratios, etc.
Calculation of Unlevered and Levered Free Cash Flows
Calculation of Project Metrics of relevance to Project Finance and Financial Feasibility analysis such as total profits, investment multiples, IRRs for Unlevered and Levered Returns
Calculation of the Net Present Value (NPV)
Project Payback period
Calculation of required equity funding amount
Uses and Sources of Fund table
The BASIC model version also includes:
Same features as the STARTER version
Expanded Tax Model which considers effects from tax incentives and tax loss carryforwards
The PRO model version also includes:
Same feature as the BASIC version
Return calculation from the developer point of view (profit and IRR)
Holding Period and Exit Valuation assumptions (either based on mark-up to initial costs or EV/EBITDA multiple)
Return calculation (IRR) for future Buyer at time when developer exits
Investor table to simulate up to 5 different investors joining at the developer level and contributing various portions of equity funding and receiving different equity stakes in the project
Sensitivity Tables to analyze the impact of important key assumptions on the IRR
Pricing analysis and their impact on IRRs
The PREMIUM model version also includes:
Same feature as PRO version
An additional worksheet which prepares data tables and charts to be included in a PowerPoint Presentation (via copy/paste)
PowerPoint Presentation template which provides the suggested presentation slides on how to best explain the project to banks and/or investors from a project finance perspective.
The Excel model comes in printer-friendly layout including charts and graphs. Also, there is an instructions sheet included as well as a worksheet to explain common terms and abbreviations.
The model – current version is 5.2 – is available in four versions:
PDF – Demo Versions
STARTER – Excel Model fully editable
BASIC – Excel Model, fully editable (includes expanded tax model)
PRO –  Excel Model (includes expanded tax model, developer view and sensitivity tables), fully editable
PREMIUM – Excel Model (includes expanded tax model, developer view, sensitivity tables, graphs for PowerPoint presentation, PowerPoint presentation template), fully editable
Filetypes:
PDF Adobe Acrobat Reader
.xlsx (Microsoft Excel)
Reviews
After 16 years in the solar industry and having worked with 10s of financial models, this is the cleanest one I have seen.
Once you find your way around this workbook you'll find great tools to bring transparency to a project transaction, like using it to reverse engineer a developer fee to match an accepted market return. Want to talk to a bank that's new to solar: use this template!
Finally, 4/5 because I want to choose which investor exits when, and adjust the Final Buyer's gearing
You can not have a complete Solar Model in 2019 without including ITC and state incentives. Also I prefer to have all inputs on an Inputs tab and not search for them all
Thank you greatly for your feedback! As for why we didn't include the ITC and State incentives, it's because this template is not only for the USA. Plus, this is only a template which you can easily customize according to your specifications.
Great Model .. is this model about : 1- photovoltaic method or 2-
concentrated solar power method ?
Hi there, the solar energy financial model is about the photovoltaic method using solar modules to generate electricity. Normally these are installed on a field or on a rooftop of a building and the energy is fed into the energy grid.

Is it possible to make a model for the mother method ? i.e. : concentrated solar power method ?

Just bought this model and worked through it. It is a very clean, workable model, that I will use as a basis for my project. Easy to follow and critically, zero circular references. Excellent!
Write a Review