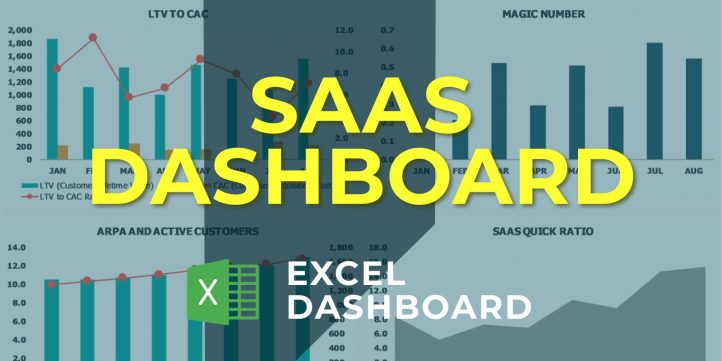 Financial Model, Mobile Apps, Online Businesses & IT, SaaS
ARPU, ARR, Customer Acquisition Costs (CAC), Customer Lifetime Value, Dashboard, KPIs (Key Performance Indicators), MRR, ROI, Sales Pipeline, Sales Tracking, Waterfall
Get SaaS Metrics Dashboard Template to track the SaaS business performance. Download SaaS dashboard for free and track core SaaS KPIs in excel.
All SaaS Metrics are broken down into three categories:
Customers Related Metrics (Visitors & Signups, New and Lost Customers, and more)
SaaS Metrics (Monthly Recurring Revenue, Annual Recurring Revenue, Customer Lifetime Value, and more)
Cash & Burn Metrics (Cash In and Cash Out, Cash Burn Rate, and more)
Key Features of the SaaS Dashboard Excel Template
30+ SaaS Metrics in a single Excel template
Enter Core Indicators and get 30+ SaaS KPIs calculated
Visualize SaaS Indicators with easy-to-interpret graphs
SaaS dashboard built for quick decision-making
Investor-ready layout – share with ease
Measure SaaS business performance
Find actionable insights
Collect all SaaS metrics in one place
Pre-defined indicators calculation
SaaS Dashboard Indicators available:
Visitor-to-Signup Conversion Rate
Paying Customer Conversion rate
MMR – Monthly Recurring Revenue
Lost MRR
Net MMR – Net Monthly Recurring Revenue
ARPA – Average Revenue per Account
CLTV – Customer Lifetime Value
MRR churn rate
Current cash burn (months)
CAC – Customer Acquisition Cost
Months to recover CAC
Get these templates too for a discount!