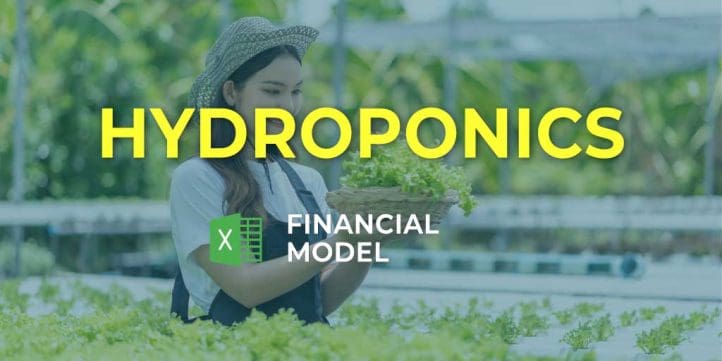 NOTE: Single-User pertains to a limited Single User License where the template can only be used by one single user; while Multi-User is a license for users sharing the template with up to 20 members. Please refer to Terms of Use and License and Permitted Use for clarification.
HYDROPONICS FINANCIAL MODEL IN EXCEL TEMPLATE KEY FEATURES
Video tutorial:
Simple and Incredibly Practical
Simple-to-use yet very sophisticated Hydroponics 3 Way Forecast Excel Template tool. Whatever size and stage of development your business is, with minimal planning experience and very basic knowledge of Excel you can get complete and reliable results. Additionally, you will receive uncompromised after-sales service and access to valuable tutorial videos and blog posts.
Predict the Influence of Upcoming Changes
Does your company plan to purchase new equipment or to launch a new product? Cash Flow Statement Proforma enable you to obtain a complete picture of the effect that specific changes will have on your Cash Flow Statement Forecast. When planning your finances in the Statement Of Cash Flows, you will forecast cash inflows and outflows based on future invoices, bills due, and payroll. You can then create multiple 'what if' scenarios, such as buying new equipment to choose the best way for you. Forecasting shows you how the upcoming changes will affect your cash balance.
Simple-to-use
A very sophisticated Hydroponics Pro Forma Budget, whatever size and stage of development your business is. Minimal previous planning experience and very basic knowledge of Excel is required: however, fully sufficient to get quick and reliable results.
Identify potential shortfalls in cash balances in advance.
The Hydroponics 3 Way Financial Model works like an 'early warning system.' It is, by far, the most significant reason for a Cashflow Forecast.
Confidence in the future
Using our financial model, you can effectively plan, prevent risks, manage stocks and Cash Flow Statement By Month and foresee your prospects for the next 5 years.
External stakeholders, such as banks, may require a regular forecast.
If the business has a bank loan, the bank will ask for a Hydroponics 3 Way Forecast Excel Template regularly.
REPORTS and INPUTS
Cap Table
The Pro Forma Template and its Capitalization table (or Cap table) summarizes your investors' information, their share in the company, and how much they have paid for these shares.
Cash Flow KPIs
Operating cash flow. Operating cash flow calculation shows how much cash the company generates from the business operations. This calculation does not include secondary sources of revenue, like interest or investments.
Costs
Start-up costs are an essential part of any Financial Model Excel Template. They begin to accrue before actual operations start, so it is crucial to monitor them early to avoid overspendings and underfunding. Our Hydroponics Financial Projection Model Excel has the proforma for start-up costs that show both funding and expenses. You can use this proforma to monitor your expenses and create cost budgets.
Valuation
This Hydroponics Financial Projection Template contains a valuation analysis template that will allow users to perform a Discounted Cash Flow valuation (DCF). It will also help users analyze such financial metrics as residual value, replacement costs, market comparables, recent transaction comparables, etc.
Dashboard
A financial dashboard in this Hydroponics Excel Financial Model Template is a useful financial management tool. It helps track all your relevant finance key performance indicators (KPIs), assures effective cash management, and enables financial management to track expenses, sales, and profits in detail to meet and outperform a department or company's financial objectives.
Benchmarks
The financial benchmarking study tab in this Financial Model will help the companies assess their key performance indicators and compare them with other companies' KPIs.
The term 'benchmarking' means the process of comparing the business, financial or other metrics of your company to that of other firms within the same industry. It is essential to use other businesses' best practices in the same industry as a 'benchmark' to improve your own company's standards.
As a result of the benchmarking study, companies can learn how to operate in a certain industry more efficiently. This benefit makes the financial benchmarking study an essential planning tool for start-ups.
Break Even
This Hydroponics Excel Pro Forma has a breakeven analysis tab that predicts the period within which the company is supposed to move to a new level, i.e., start to bring profits to its owners. break even analysis uses forecasted revenues and expenses and makes Profit Loss Projection on the period when its overall revenues become significantly bigger than costs.
File types:
Excel – Single-User: .xlsx
Excel – Multi-User: .xlsx
Free Demo – .xlsx