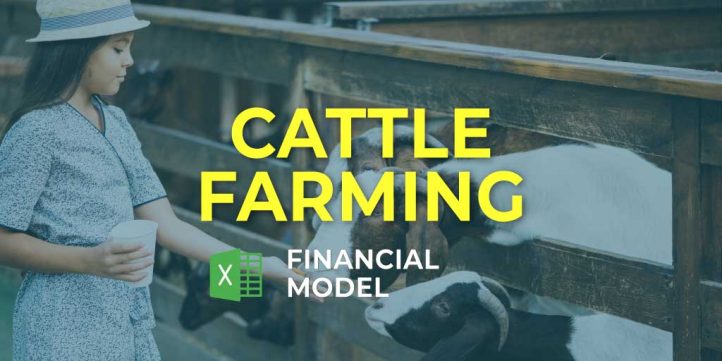 NOTE: Single-User pertains to a limited Single User License where the template can only be used by one single user; while Multi-User is a license for users sharing the template with up to 20 members. Please refer to Terms of Use and License and Permitted Use for clarification.
CATTLE FARMING FINANCIAL PROJECTION KEY FEATURES
Video tutorial:
5 years forecast horizon
Generate fully-integrated Cattle Farming Financial Projection Template for 5 years (on a monthly basis). Automatic aggregation of annual summaries on outputs tabs.
Prove You Can Pay Back the Loan You Requested
When you apply for a business loan, bankers will study your Cash Flow Forecast in an attempt to answer this question: Can this business pay back the loan? Requesting a loan without showing your Pro Forma Cash Flow Projection for paying it back is a common way to land in the rejection pile. It is exceptionally accurate if your current cash flow won't cover all of your monthly operating expenses — plus your loan payment. Don't fall into this kind of situation. Use Projected Cash Flow Statement to strengthen your case by showing the banker exactly how you plan to use the loan and when you will start repaying the debt. This type of forecasting helps you create a road map that can impress a lender with the confidence they need to approve your loan.
Graphical visualization in a convenient dashboard all in one
All necessary reports and calculations, including variable data for your easement, are displayed on a convenient Budget Spreadsheet dashboard tab. You do not need to move between sheets to compare important data – everything is visible immediately.
Manage accounts receivable.
By creating a projected cash flow statement that takes invoices and bills into account, you'll be more easily able to identify who is systematically paying late. You could even go on to model different payment dates on overdue invoices to see the real effect of late payments on your cash flow.
Identify potential shortfalls in cash balances in advance.
The Cattle Farming Pro Forma works like an 'early warning system.' It is, by far, the most significant reason for a Statement Of Cash Flows.
Predict the Influence of Upcoming Changes
Does your company plan to purchase new equipment or to launch a new product? Cash Flow Statement Forecast enable you to obtain a complete picture of the effect that specific changes will have on your Cash Flow Statement. When planning your finances in the Pro Forma Cash Flow Projection, you will forecast cash inflows and outflows based on future invoices, bills due, and payroll. You can then create multiple 'what if' scenarios, such as buying new equipment to choose the best way for you. Forecasting shows you how the upcoming changes will affect your cash balance.
REPORTS and INPUTS
Top Revenue
The top line and bottom line are two of the most important lines on a company's forecasted income statement. Investors and analysts pay special attention to the company's revenue and profits and carefully monitor any changes regarding these financial metrics from quarter to quarter and year to year.
The top line of the projected income statement refers to a company's revenues or gross sales. Therefore, when somebody says that the company has 'top-line growth,' it means that the company is experiencing an increase in gross sales or revenues, which should positively impact other company's financials and overall performance.
Financial KPIs
A Cattle Farming Three Way Financial Model outputs include both company and sector-specific key performance indicators KPIs. These KPIs include profitability metrics, cash flow metrics, and liquidity metrics. It also has KPIs crucial for the attraction of investments.
Costs
Start-up costs are an essential part of any Pro Forma Template Excel. They begin to accrue before actual operations start, so it is crucial to monitor them early to avoid overspendings and underfunding. Our Cattle Farming P&L Projection has the proforma for start-up costs that show both funding and expenses. You can use this proforma to monitor your expenses and create cost budgets.
Financial Statements
The template has a three-statement Financial Projection Template Excel with integrated proformas. It allows users to create a company's Balance Sheet, profit and loss statement proforma, and a startup cash flow statement with minimum efforts. For these proformas, users can input either historical or forecasted financial data. Forecasted financial statements show how a company will perform under various circumstances and allow users to integrate different assumptions in the Pro Forma.
For example, the company's management can see the economic impact of its decisions, such as price changes.
Our well-built Cattle Farming Excel Financial Model Template shows stakeholders how the company's functions work together and how management's decisions impact its overall financial performance.
Valuation
With our Cattle Farming Cash Flow Format In Excel, you will get proformas for valuation analysis. You will be able to perform a Discounted Cash Flow (DCF) valuation analysis and other valuations you may need.
Profitability KPIs
EBIT. Earnings before interest and tax (EBIT) is a measure of a company's earning power from ongoing operations, equal to earnings before deduction of interest payments and income taxes. EBIT shows the operating performance of the company that excludes income and expenditures from unusual and non-operational activities.
Cap Table
The capitalization table helps business owners to calculate shareholder's ownership dilution. The Cap table in our Cattle Farming 3 Way Forecast Model has four rounds of funding, and users can apply all of them or one or two rounds for their financial projections.
File types:
Excel – Single-User: .xlsx
Excel – Multi-User: .xlsx
Free Demo – .xlsx