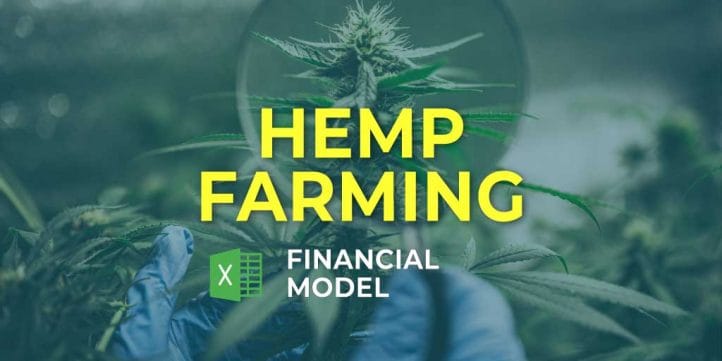 Important: This model can only be used for legal and properly licensed businesses.
Note: Single-User pertains to a limited Single User License where the template can only be used by one single user; while Multi-User is a license for users sharing the template with up to 20 members. Please refer to Terms of Use and License and Permitted Use for clarification.
HEMP FARMING FINANCIAL PROJECTION MODEL KEY FEATURES
Video tutorial:
Track your spending and staying within budget
Have you written a vague idea of cash inflows and cash outflows on the back of a napkin? All is well and good. Looking at the profit and loss projection will give you a snapshot of the past business performance, but it won't show the future in terms of the Pro Forma Cash Flow Projection. With a cash flow projection, you can plan future cash inflows and cash outflows and compare them to the budget, which can be invaluable information.
Plan for Future Growth
Cash Flow Statement Forecast can help you plan for future growth and expansion. No matter you're extending your company with new employees and need to take into account increased staff expenses. Or to scale production to keep up with increased sales, future projections help you see accurately where you're running — and how you'll get there. Forecasting is also a well-known goal-setting framework to help you plan out the financial steps your company has to take to reach targets. There's power in Cash Flow Statement Projection and the insight they can provide your business. Fortunately, this competitive advantage comes with little effort when you use the Cash Flow Statement.
Convince investors and lenders
Enhance your pitches and impress potential financiers with a Cash Flow Proforma delivering the right information and expected financial and operational metrics. Facilitate your negotiations with investors for successful funding. Raise money more quickly and refocus on your core business.
Key Metrics Analysis
Creates 5-year Hemp Farming Financial Projection, proforma, financial statements, and financial ratios in GAAP or IFRS formats on the fly.
Save Time and Money
Hemp Farming Financial Model Excel Spreadsheet allows you to start planning with minimum fuss and maximum help. No writing formulas, no formatting, no programming, no charting, and no expensive external consultants. Plan the growth of your business instead of fiddling around with expensive techy things.
Graphical visualization in a convenient dashboard all in one
All necessary reports and calculations, including variable data for your easement, are displayed on a convenient Financial Model In Excel dashboard tab. You do not need to move between sheets to compare important data – everything is visible immediately.
REPORTS and INPUTS
Liquidity KPIs
Current Ratio. The current ratio is a liquidity ratio that helps users measure a company's ability to meet short-term obligations that should be paid within a year. This financial metric tells investors how a company can maximize the current assets on its balance sheet to cover its current debts.
Dashboard
Our Hemp Farming Cash Flow Format In Excel has a dashboard that summarizes information from the other spreadsheets of the Financial Projection Model Template. With this dashboard, you can set your key performance indicators (KPIs), and the dashboard will include them in the calculations and the information from the financial statements. You can create the dashboard with core financial information on a month-by-month basis and change it any time you need.
Break-Even
Break-Even Formula Excel in economics, business, and cost accounting helps calculate the point of time in which the company's total cost and total revenue are expected to become equal. Companies use a break-even point analysis to determine the number of product units they need to sell or revenue needed to cover total (fixed and variable) costs.
This Hemp Farming Excel Pro Forma Template will also help determine the sales prices for the company's products. Sales cost per unit less variable cost per unit shows the contribution margin and the contribution margin impacts company's profitability.
Burn and Runway
The cash burn rate is one of the tabs your future investors may be very interested in. This metrics shows the time left to a complete cash burn. Also, this template shows a cash burn ratio. The calculation is based on your average annual cash balance and average monthly operating cash outflows.
Cap Table
A capitalization table or the cap table is an essential financial tool for start-up companies. A cap table in our Hemp Farming Financial Projection Model Template has four rounds of raising funding. This approach will help users anticipate the company's ownership stakes by its shareholders, which will lead to dilution of existing shares. A cap table considers equity shares, preferred shares, share options, employee stock options, convertible bonds, and others.
Loan opt-in
The start-ups and growing companies need to monitor and manage their loan repayment schedules. Usually, such schedules reflect the company's loan line-by-line breakdown with information about their amounts, maturity terms, and others.
This loan repayment schedule is an important part of a company's cash flow analysis. Also, interest expense in the debt schedule impacts the company's cash flow statement forecast, and the closing debt balance flows onto the balance sheet. Moreover, the principal repayments flow through the startup cash flow projection as a part of the company's financing activities.
Performance KPIs
Return on equity. The return on equity financial metric can be calculated based on the information both from the Balance Sheet and p&l forecast. It measures the correspondence of earnings to the equity, i.e., the amount of money used to get profits.
File types:
Excel – Single-User: .xlsx
Excel – Multi-User: .xlsx
Free Demo – .xlsx