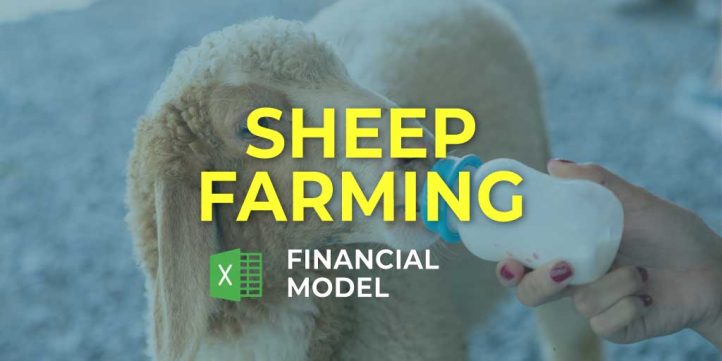 NOTE: Single-User pertains to a limited Single User License where the template can only be used by one single user; while Multi-User is a license for users sharing the template with up to 20 members. Please refer to Terms of Use and License and Permitted Use for clarification.
SHEEP FARMING FINANCIAL PROJECTION TEMPLATE EXCEL KEY FEATURES
Video tutorial:
Identify cash gaps and surpluses before they happen.
Forecasting your future cash balance helps you see well in advance when you may have a cash deficit that could hurt your business. Cash Flow Pro Forma will give you enough time to take action to prevent a crisis. It will enable you to access better loan rates or speed up incoming payment to bridge the gap. On the other side, if you know ahead of time that the large lump of cash will lay in your bank account within the next three months. In this case, you might need to explore options to reinvest it in your business to drive growth.
Saves you time
Allows you to spend less time on Projected Cash Flow Statement and more time on your products, customers and business development
Generate growth inspiration
By running various scenarios and looking at the effects they could have on your cash balance, you will begin to see which options are best for your business. Ones that are possible, and what is involved in making them work. Organic growth isn't the only option – there are growing funding options becoming available, and Startup Cash Flow Statement could be a way of looking at the impact an injection of cash could have on your business and its growth plans.
We do the math
Financial Projection Model has all the required features ready with no formula writing, no formatting, no programming, no charting, and no expensive external consultants! Concentrate on the task of planning rather than programming.
Build your plan and pitch for funding
Impress bankers and investors with a proven, strategic Sheep Farming Pro Forma Template that impresses every time.
Avoid Cash Flow Shortfalls
Unexpected Cash Flow Projection shortfalls can cause significant damage to your business, and it may take months to recover. Negative Cash Flow can appear if you don't continuously track the incoming cash and outgoing of your business. Fortunately, you can solve Cash Flow Statement Forecast shortfalls with a bit of effort. Forecasting your Cash Flow Statement For 5 Years will help you identify — and plan for — market fluctuations, sales seasonality, and other cases that can lead to unpredictable Cash Flow Statement Forecast. Startup Cash Flow Projection can even help you visualize Cash Flow Statement By Month trends with the help of automatically generated charts and graphs.
REPORTS and INPUTS
Burn and Runway
Our Sheep Farming Excel Financial Model Template automatically creates cash runway and cash burn analysis based on the forecasted revenues and expenses that, in their turn, show net loss, net profit, cash on hand, and break even point excel. You can also forecast funding requirements using a set of parameters around funding (e.g., equity, debt, grants) and expected runway to raise (for example, 18 months of forecasted expenses).
Top Expenses
In the Top expenses section of our Sheep Farming Finance Projection, you can track your more significant expenses divided into four categories. The model also has an 'other' category, and you can expand or change this table according to your needs.
You can reflect your company's historical data or make a Financial Model Excel for the five years.
Performance KPIs
Return on capital. The return on capital reflects the correspondence of the Balance Sheet and Income Statement. Return on capital measures the accomplishment of earnings to the capital employed.
Companies with good financial management have good returns.
Profitability KPIs
EBIT. Earnings before interest and tax (EBIT) is a measure of a company's earning power from ongoing operations, equal to earnings before deduction of interest payments and income taxes. EBIT shows the operating performance of the company that excludes income and expenditures from unusual and non-operational activities.
Benchmarks
Budget Spreadsheet benchmark tab calculates the company's key performance indicators, either business or financial, and finds an industry-wide average as a comparison. The industry average metrics are then used to determine the relative value for benchmarking analysis.
Financial benchmarks are essential for the financial planning of the companies, especially for start-ups. These studies help companies determine the 'best practice' companies within the industry and compare their own financial results with these best practices. It is a useful financial and strategic management tool.
Dashboard
The All-in-one dashboard in this Sheep Farming Pro Forma Template Excel contains all core financial inputs and core start-up metrics critical for the companies' financial analysis. It reflects the financial data from a Balance Sheet, an forecasted income statement, and a cash flow projection. Moreover, users can obtain financial information in the form of graphs or charts.
Financial Statements
Our Sheep Farming Financial Projection has pre-built consolidated financial statements: income statement projection, Balance Sheet, and cash flow projection. These financial statements can be presented on a monthly, quarterly, and annual basis.
Users can also import existing financial statements and reports from Quickbooks, Xero, Freshbooks, and other accounting software to create rolling forecasts and to make actuals vs. forecasts comparison.
File types:
Excel – Single-User: .xlsx
Excel – Multi-User: .xlsx
Free Demo – .xlsx