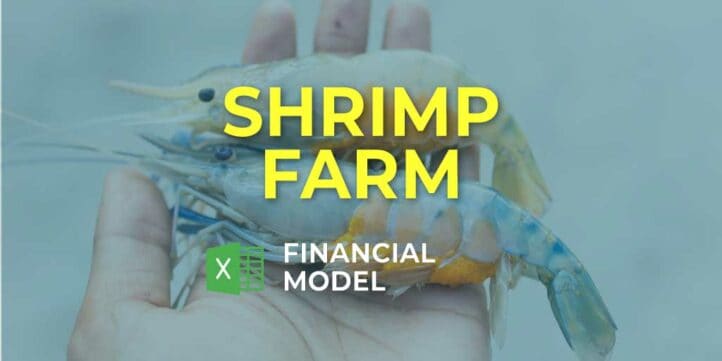 Agriculture, Financial Model, Shrimp Farming
5-year financial projections, Break-Even, Budgeting, Business Valuation, Financial Model, Financial Modeling, Financial Planning, Financial Projection, Financial Projections, Financial Reporting, Financial Statements, Free Financial Model Templates, Revenue Projections, Startup Financial Models, Three Statement Model | Three Financial Statements, Uses and Sources of Funds, Valuation
NOTE: Single-User pertains to a limited Single User License where the template can only be used by one single user; while Multi-User is a license for users sharing the template with up to 20 members. Please refer to Terms of Use and License and Permitted Use for clarification.
SHRIMP FARM EXCEL FINANCIAL MODEL KEY FEATURES
Video tutorial:
Track your spending and staying within budget
Have you written a vague idea of cash inflows and cash outflows on the back of a napkin? All is well and good. Looking at the profit and loss statement will give you a snapshot of the past business performance, but it won't show the future in terms of the Cash Flow Projection. With a cash flow statement, you can plan future cash inflows and cash outflows and compare it to the budget, which can be invaluable information.
Save time and money
Via Cash Flow Proforma you can without effort and special education get all the necessary calculations and you will not need to spend money on expensive financial consultants. Your task is building a strategy, evolution, and creativity, and we have already done the routine calculations instead of you.
Saves you time
Finance Projection allows you to spend less time on finances and more time on your products, customers and business development
Convenient, All-In-One Dashboard
Includes all required forecasting reports, including assumptions, projected p&l statement, cash flow statement forecast, balance sheets, performance reviews and summaries for months and years (incl. numerous graphs and KPIs).
External stakeholders, such as banks, may require a regular forecast.
If the business has a bank loan, the bank will ask for a Shrimp Farm Excel Pro Forma Template regularly.
Print-ready Reports
Solid package of print-ready reports, including a statement of profit and loss proforma, startup cash flow statement, a balance sheet, and a complete set of financial ratios.
REPORTS and INPUTS
Profitability KPIs
EBIT. Earnings before interest and tax (EBIT) is also known as operating income. It is a profitability measure that shows the difference between a company's revenues and operating expenses, including the cost of sales, interest on loans, and taxes. This calculation shows the company's ability to generate profits and, therefore, this metric is also named as operating earnings or operating profit.
Loan opt-in
A loan amortization schedule is a table that shows the company's stakeholders the details of the periodic payments for an amortizing loan. It reflects the principal of an amortizing loan that is paid down over the life of the loan. In most cases, such payments have equal amounts, and the company regularly makes them during a certain period.
A Shrimp Farm Financial Model includes the pre-built amortization calculator, which reflects the initial amount, periodic terms, and interest rate of the loan. With this loan amortization schedule, the companies can better plan and track how much they still owe and how they plan to repay the loans.
Break Even
Break-even is a situation where the company covers all its costs with the revenue earned. In other words, this is a point in time when the company is neither making money nor losing money.
Break Even Excel is a useful instrument in studying the relation between the variable cost, fixed cost, and the company's revenue earned under these circumstances. Usually, companies with low fixed cost levels have a low break even analysis.
All in One Place
This Shrimp Farm Financial Model Excel reflects all the main aspects of your business. It will be a roadmap that enables entrepreneurs to understand their business and their perspectives. As a start-up Five Year Financial Projection Template, it will help understand cash flows and determine the cash burn rate. This is very important for any business because it shows how long money will last and which milestones the business owner can achieve with these expenditures.
Financial KPIs
A Shrimp Farm Pro Forma Projection outputs include both company and sector-specific key performance indicators KPIs. These KPIs include profitability metrics, cash flow metrics, and liquidity metrics. It also has KPIs crucial for the attraction of investments.
Cap Table
The capitalization table helps business owners to calculate shareholder's ownership dilution. The Cap table in our Shrimp Farm Financial Model Excel has four rounds of funding, and users can apply all of them or one or two rounds for their financial projections.
Operational KPIs
Financial graphs and charts in this Shrimp Farm Pro Forma Projection help the stakeholders visually track liquidity, budgets, expenses, cash flow, and many other company financial metrics. These graphs will also help a company's management avoid problems by reflecting its financial data in real-time, with a comprehensive financial information overview.
These operational performance graphs will help the business owners and financial managers ensure the best possible performance and financial health of their company because regular financial analytics procedures and the highest quality of financial data are the company's top priorities.
Our financial graphs will also help the company's financial specialists raise financial issues at the general meetings and deliver understandable financial information to other departments and external stakeholders.
File types:
Excel – Single-User: .xlsx
Excel – Multi-User: .xlsx
Free Demo – .xlsx