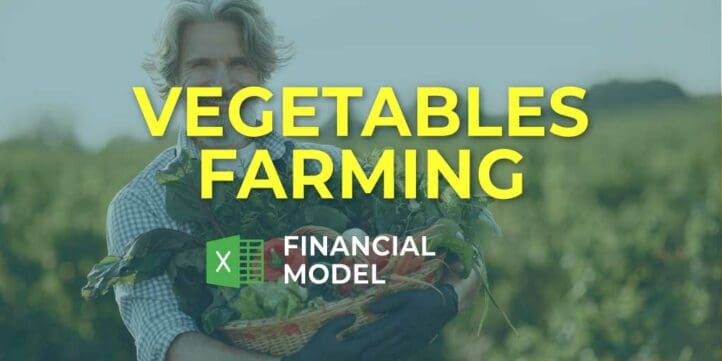 Agriculture, Financial Model, Fruits & Orchards
5-year financial projections, Amortization, Break-Even, Cap Table, Dashboard, Excel, Financial Model, Financial Modeling, Financial Planning, Financial Projection, Financial Projections, Financial Reporting, Financial Statements, Forecast, Forecasting, Loans, NPV (Net Present Value), Pro-Forma, Revenue Projections, Three Statement Model | Three Financial Statements, Valuation
NOTE: Single-User pertains to a limited Single User License where the template can only be used by one single user; while Multi-User is a license for users sharing the template with up to 20 members. Please refer to Terms of Use and License and Permitted Use for clarification.
VEGETABLES FARMING FINANCIAL PROJECTION TEMPLATE EXCEL KEY FEATURES
Video tutorial:
Predict the Influence of Upcoming Changes
Does your company plan to purchase new equipment or to launch a new product? Cash Flow Statement enable you to obtain a complete picture of the effect that specific changes will have on your Projected Cash Flow Statement. When planning your finances in the Projected Cashflow Statement, you will forecast cash inflows and outflows based on future invoices, bills due, and payroll. You can then create multiple 'what if' scenarios, such as buying new equipment to choose the best way for you. Forecasting shows you how the upcoming changes will affect your cash balance.
Manage accounts receivable.
By creating a cash flow statement projection that takes invoices and bills into account, you'll be more easily able to identify who is systematically paying late. You could even go on to model different payment dates on overdue invoices to see the real effect of late payments on your cash flow.
Get it Right the First Time
Funding is a binary event: either you succeed or you fail. If you fail, most investors won't give you a second chance. Learn about the pros and cons with Vegetables Farming Cash Flow Format In Excel.
It is part of the reports set you need.
It doesn't matter you are worried about cash or not, setting up, and managing a Vegetables Farming Finance Projection should be a cornerstone of your reporting set. It's the main report of your business that must have in place to grow sustainably. Before you rush into rent more office space or making a new hire, you should always run a Cash Flow Pro Forma scenario. You can model how that action would impact your cash balance in the nearest future. Knowing whether or not plans are possible is crucial to minimizing risk.
We do the math
Profit Loss Projection has all the features above ready with no formula writing, no formatting, no programming, no charting, and no expensive external consultants!
Identify potential shortfalls in cash balances in advance.
The Vegetables Farming 3 Way Forecast Excel Template works like an 'early warning system.' It is, by far, the most significant reason for a Pro Forma Cash Flow Projection.
REPORTS and INPUTS
Break Even
Break Even Point Analysis usually involves revenue and sales analysis. At the same time, it is essential to differentiate sales, revenue, and profit in the financial planning process. Revenue shows the total amount of money from sales of a product, and the profit is the revenue less all fixed and variable expenses.
Costs
Start-up costs are an essential part of any Financial Model. They begin to accrue before actual operations start, so it is crucial to monitor them early to avoid overspendings and underfunding. Our Vegetables Farming Pro Forma Projection has the proforma for start-up costs that show both funding and expenses. You can use this proforma to monitor your expenses and create cost budgets.
Loan opt-in
Our Vegetables Farming Pro Forma Template Excel has a pre-built feature for automatic loan calculation. This Startup Financial Model includes the fees, interest, and principal payments.
Liquidity KPIs
Current Ratio. The current ratio is a liquidity ratio that helps users measure a company's ability to meet short-term obligations that should be paid within a year. This financial metric tells investors how a company can maximize the current assets on its balance sheet to cover its current debts.
Cash Flow KPIs
Operating cash flow. Operating cash flow calculation shows how much cash the company generates from the business operations. This calculation does not include secondary sources of revenue, like interest or investments.
Operational KPIs
Our Vegetables Farming Pro Forma Projection has various operational performance graphs that will help business owners manage their business' finances and measure their overall performance. These operational performance graphs also help in making wise business decisions that consider the company's financial capability.
The financial graphs in this Vegetables Farming P&L Projection help measure the company's financial health showing the operating cash flows' analysis, return on investment, debt to equity ratio, liquidity ratios, and other relevant financial information. Business owners can use these operational performance graphs both for internal and external purposes.
In particular, they can use these graphs to assess the company's overall financial performance or for the assessment of the project's financial feasibility. Such an approach will improve the financial management efficiency of the company. Business owners can also use these charts and graphs for the presentations for potential investors and bankers. The operational performance graphs have all the necessary pre-built formulas, and they are fully formatted. So, the users can just print out them and bring for the meeting with investors.
Cap Table
A capitalization table or the cap table is an essential financial tool for start-up companies. A cap table in our Vegetables Farming Pro Forma Projection has four rounds of raising funding. This approach will help users anticipate the company's ownership stakes by its shareholders, which will lead to dilution of existing shares. A cap table considers equity shares, preferred shares, share options, employee stock options, convertible bonds, and others.
File types:
Excel – Single-User: .xlsx
Excel – Multi-User: .xlsx
Free Demo – .xlsx