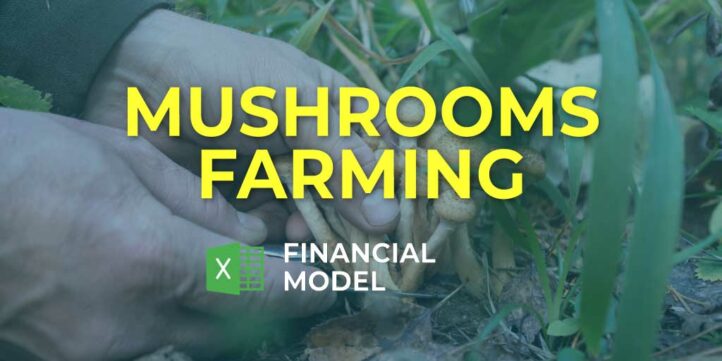 Agriculture, Financial Model, Fruits & Orchards
Amortization, Break-Even, Cap Table, Dashboard, Debt Amortization, Debt Schedule, Debt Security, Excel, Financial Model, Financial Planning, Financial Projections, Financial Reporting, Forecast, Forecasting, KPIs (Key Performance Indicators), Loans, NPV (Net Present Value), Pro-Forma, Valuation
NOTE: Single-User pertains to a limited Single User License where the template can only be used by one single user; while Multi-User is a license for users sharing the template with up to 20 members. Please refer to Terms of Use and License and Permitted Use for clarification.
MUSHROOM FARMING 3 WAY FORECAST EXCEL TEMPLATE KEY FEATURES
Video tutorial:
External stakeholders, such as banks, may require a regular forecast.
If the business has a bank loan, the bank will ask for a Mushroom Farming Three Statement Financial Model Template regularly.
Simple and Incredibly Practical
Simple-to-use yet very sophisticated Mushroom Farming Three Statement Financial Model Template. Whatever size and stage of development your business is, with minimal planning experience and very basic knowledge of Excel you can get complete and reliable results.
Simple-to-use
A very sophisticated Mushroom Farming 3 Way Financial Model Template, whatever size and stage of development your business is. Minimal previous planning experience and very basic knowledge of Excel is required: however, fully sufficient to get quick and reliable results.
Integrated Model to convince Investors
Excel Pro Forma includes and connects everything (assumptions, calculations, outputs) and presents it in an investor-friendly, deal-proven way.
Simple and Incredibly Practical
Simple-to-use yet very sophisticated Mushroom Farming Excel Financial Model tool. Whatever size and stage of development your business is, with minimal planning experience and very basic knowledge of Excel you can get complete and reliable results. Additionally, you will receive uncompromised after-sales service and access to valuable tutorial videos and blog posts.
Track your spending and staying within budget
Have you written a vague idea of cash inflows and cash outflows on the back of a napkin? All is well and good. Looking at the forecasted income statement will give you a snapshot of the past business performance, but it won't show the future in terms of the Startup Cash Flow Projection. With a cash flow statement proforma, you can plan future cash inflows and cash outflows and compare it to the budget, which can be invaluable information.
REPORTS and INPUTS
Costs
Our Mushroom Farming Cashflow Projection has a well-developed methodology for creating a cost budget. You can plan and forecast your costs from operations and other expenses for up to 72 months. The cost budget has a detailed hiring plan while also automatically handling the expenses' accounting treatment. You can set salaries, job positions, and the time of hiring.
Moreover, the model allows users to calculate hiring as the company scales automatically. Pre-built expense forecasting curves enable users to set how an expense changes over time. These pre-built options include % of revenues, % of salaries, % of any revenue category, growth (or decline) rates that stay the same or change over time, ongoing expenses, expenses that periodically reoccur, expenses that regularly change, and many more. Costs can be allocated to key expense areas and labeled for accounting treatment as SG&A, COGS, or CAPEX.
Financial Statements
With our Excel Pro Forma, you can easily create an pro forma income statement for startup, a Balance Sheet, and a cashflow forecast for your company. You can choose these statements' format and make any financial statement with a monthly or annual breakdown, or for five years.
Benchmarks
A benchmarking study as the element of the Financial Projection is usually used to evaluate a business's performance by focusing on one or more particular indicators and comparing them with similar indicators of other companies in the industry.
In respect of the financial benchmarking study, these indicators could be profit margins, cost margins, cost per unit, productivity margins, or others. Later the company's performance indicators should be compared to that of other companies within the same industry.
Benchmarking is a useful strategic management tool, which is essential for start-ups. Companies can evaluate any economic, business, or financial metric or process and compare them to the processes of 'best practice' companies within the same field or industry.
Sources and Uses
The sources and uses of funds template shows how the company manages its funds. It shows the primary funding sources to which the company has access. It also shows the company's spendings. The sources and uses statement is critical for start-ups.
Performance KPIs
Sales growth year-to-date. Every entrepreneur wants to see the company grow month-over-month. In some industries, sales depend on the season or other external factors. The sales growth year-to-date metric shows the pace at which the company's sales revenue increases or decreases.
Users can monitor sales volumes over various periods – daily, weekly, monthly, or yearly. Sales growth metric helps to manage sales growth goals in the form of a percentage of last month's sales volume or others. If the company has several sales teams, the management can monitor this metric for each team separately. It will help to monitor better each team's achievements.
Operational KPIs
Our Mushroom Farming Financial Model Excel has convenient, informative, and easy-to-use operational performance graphs. Here you may visually track your company's key operational performance indicators (KPIs) in the form of charts. These operational performance graphs show the stakeholders the financial information related to the company's liquidity, revenues, expenses, cash flows, and other financial metrics. This financial information in the form of graphs will help a business owner to create presentations for banks and investors with minimum efforts.
Cash Flow KPIs
Operating cash flow. Operating cash flow calculation shows how much cash the company generates from the business operations. This calculation does not include secondary sources of revenue, like interest or investments.
File types:
Excel – Single-User: .xlsx
Excel – Multi-User: .xlsx
Free Demo – .xlsx