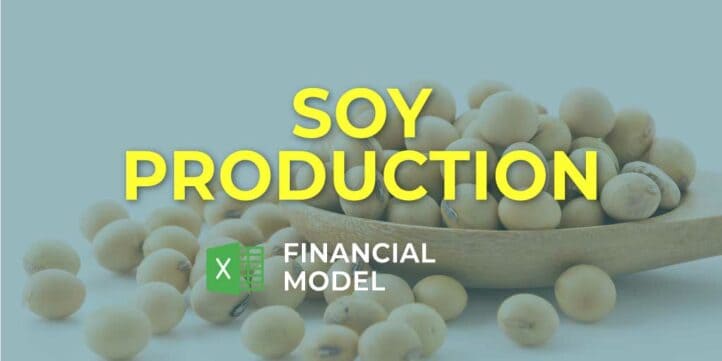 Agriculture, Financial Model, Manufacturing
5-year financial projections, Excel, Financial Model, Financial Modeling, Financial Planning, Financial Projection, Financial Projections, Financial Reporting, Financial Statements, KPIs (Key Performance Indicators), Revenue Projections, Startup Financial Models, Three Statement Model | Three Financial Statements, Uses and Sources of Funds, Valuation
NOTE: Single-User pertains to a limited Single User License where the template can only be used by one single user; while Multi-User is a license for users sharing the template with up to 20 members. Please refer to Terms of Use and License and Permitted Use for clarification.
SOY PRODUCTION BUDGET FINANCIAL MODEL KEY FEATURES
Video tutorial:
Prove You Can Pay Back the Loan You Requested
When you apply for a business loan, bankers will study your Cash Flow Statement Projection in an attempt to answer this question: Can this business pay back the loan? Requesting a loan without showing your Startup Cash Flow Projection for paying it back is a common way to land in the rejection pile. It is exceptionally accurate if your current cash flow won't cover all of your monthly operating expenses — plus your loan payment. Don't fall into this kind of situation. Use Cash Flow Statement For 5 Years to strengthen your case by showing the banker exactly how you plan to use the loan and when you will start repaying the debt. This type of forecasting helps you create a road map that can impress a lender with the confidence they need to approve your loan.
Works for startups
Financial Projection Template Excel creates a financial summary formatted for your pitch deck
Confidence in the future
Using our financial model, you can effectively plan, prevent risks, manage stocks and Cash Flow Pro Forma and foresee your prospects for the next 5 years.
Integrated Model to convince Investors
Budget Financial Model includes and connects everything (assumptions, calculations, outputs) and presents it in an investor-friendly, deal-proven way.
Update anytime
With Excel Pro Forma you can easily adjust inputs at the launch stage and throughout the further activities of your store to refine your forecast.
We do the math
3 Way Financial Model has all the required features ready with no formula writing, no formatting, no programming, no charting, and no expensive external consultants! Concentrate on the task of planning rather than programming.
REPORTS and INPUTS
Operational KPIs
Our Soy Production 3 Way Forecast Excel Template has various operational performance graphs that will help business owners manage their business' finances and measure their overall performance. These operational performance graphs also help in making wise business decisions that consider the company's financial capability.
The financial graphs in this Soy Production Financial Projection help measure the company's financial health showing the operating cash flows' analysis, return on investment, debt to equity ratio, liquidity ratios, and other relevant financial information. Business owners can use these operational performance graphs both for internal and external purposes.
In particular, they can use these graphs to assess the company's overall financial performance or for the assessment of the project's financial feasibility. Such an approach will improve the financial management efficiency of the company. Business owners can also use these charts and graphs for the presentations for potential investors and bankers. The operational performance graphs have all the necessary pre-built formulas, and they are fully formatted. So, the users can just print out them and bring for the meeting with investors.
Top Expenses
In the Top expenses section of our Soy Production Pro Forma Projection, you can track your more significant expenses divided into four categories. The model also has an 'other' category, and you can expand or change this table according to your needs.
You can reflect your company's historical data or make a Budget Financial Model for the five years.
All in One Place
This Soy Production Cash Flow Proforma is key for investors. You will need a 3 Way Financial Model Template to validate how much money you need to start-up with and how much your investor can make on this investment. Remember that investors are not tolerant to start-ups that do not have a business plan or a Excel Pro Forma Template.
CAPEX
CapEx is important both for the start-ups and actively growing companies that put their efforts in investing in a new property, plant, and equipment (PP&E), as well as new products and new technologies. Such capital expenditures usually make a significant part of the company's expenditures; therefore, financial analysts and investors pay close attention to this financial report.
The company should reflect its capital expenditures in the Balance Sheet, and this type of expenditure does not significantly impact cash flows.
Loan opt-in
Our Pro Forma Template has a built-in loan amortization schedule with both the principal (i.e., the amount of loan borrowed) and the interest calculation. A loan amortization schedule template will calculate your company's payment amount, including the information on the principal, interest rate, time length of the loan, and the payments' frequency.
Profitability KPIs
EBITDA. Earnings before interest, tax, depreciation, and amortization (EBITDA) is a financial metric that shows a company's profitability. This metric includes both monetary and non-monetary items and, therefore, differs from cash flows. EBITDA shows the potential profitability of leveraged buyouts and is widely used in various industries.
Burn and Runway
The cash burn rate shows the difference between the cash inflows and cash outflows of the company. It is essential to monitor this metric because it shows how long the company will last with its current funding level. Business owners can also see a clear picture of how various business strategies change the cash burn rate.
File types:
Excel – Single-User: .xlsx
Excel – Multi-User: .xlsx
Free Demo – .xlsx