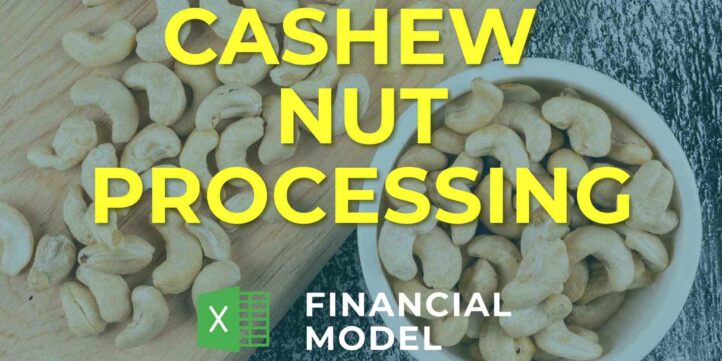 Agriculture, Financial Model, Manufacturing
5-year financial projections, Business Valuation, Excel, Financial Model, Financial Modeling, Financial Projection, Financial Projections, Pro-Forma, Startup Financial Models, Three Statement Model | Three Financial Statements
NOTE: Single-User pertains to a limited Single User License where the template can only be used by one single user; while Multi-User is a license for users sharing the template with up to 20 members. Please refer to Terms of Use and License and Permitted Use for clarification.
CASHEW NUT PROCESSING 3 WAY FINANCIAL MODEL TEMPLATE KEY FEATURES
Video tutorial:

Better decision-making
Make better operational decisions with the help of creating Cash Flow Statement Proforma scenarios in your Excel Template. Perhaps you have to choose between new staff members or investment in equipment, and you are wondering which decision to chose. Variants forecasting will give you the information you need to make these decisions with confidence that you know what impact they will have on your cash balance.
Get a robust, powerful financial model which is fully expandable
This well-tested, robust and powerful Cashew Nut Processing Cash Flow Format In Excel is your solid foundation to plan the Cashew Nut Processing business model. Advanced users are free to expand and tailor all sheets as desired, to handle specific requirements, or to get into greater detail.
Structured
You want a Cashew Nut Processing Financial Projection Model to be as easy to understand as possible. You also want to make it easy for others to be able to audit if needed.
We make this Budget Financial Model a simple as possible.
Predict the Influence of Upcoming Changes
Does your company plan to purchase new equipment or to launch a new product? Pro Forma Cash Flow Projection enables you to obtain a complete picture of the effect that specific changes will have on your Projected Cash Flow Statement. When planning your finances in the Cash Flow Forecast, you will forecast cash inflows and outflows based on future invoices, bills due, and payroll. You can then create multiple 'what if' scenarios, such as buying new equipment to choose the best way for you. Forecasting shows you how the upcoming changes will affect your cash balance.
Saves you time
Allows you to spend less time on Cash Flow Pro Forma and more time on your products, customers, and business development
Identify potential shortfalls in cash balances in advance.
The Cashew Nut Processing Financial Model Excel Spreadsheet works like an 'early warning system.' It is, by far, the most significant reason for a Projected Cash Flow Statement.
REPORTS and INPUTS
Burn and Runway
This Cashew Nut Processing Financial Projection Template naturally figures the cash consumption rate dependent on the contributions from different spreadsheets, specifically, from the Pro Forma Cash Flow Projection.
Dashboard
Our Cashew Nut Processing 3 Way Forecast Excel Template has a dashboard that summarizes information from the other spreadsheets of the Pro Forma. With this dashboard, you can set your key performance indicators (KPIs), and the dashboard will include them in the calculations and the information from the financial statements. You can create the dashboard with core financial information on a month-by-month basis and change it any time you need.
Costs
Start-up costs are an essential part of any Budget Financial Model. They begin to accrue before actual operations start, so it is crucial to monitor them early to avoid overspendings and underfunding. Our Cashew Nut Processing Financial Projection Excel has the proforma for start-up costs that show both funding and expenses. You can use this proforma to monitor your expenses and create cost budgets.
Loan opt-in
The loan amortization schedule template in this Cashew Nut Processing Pro Forma Projection reflects the schedule of repayment of the loan. It shows detailed information about the company's periodic payments or installments that comprise of principal amount and an interest component.
These elements are shown in the loan amortization schedule template for the period till the end of the loan term or up to which the full amount of the loan is paid off.
Sources and Uses
Sources and uses statement is a part of our Cashew Nut Processing Financial Projection Template Excel. It shows the company's stakeholders where all the fund sources for a company come from.
This statement also shows how the company uses these funds.
Performance KPIs
Cost of acquiring new customers. The cost of acquiring new customers is a critical financial metric for start-ups, and it should be in our Cashew Nut Processing Financial Projection Template. The cost of acquiring new customers is the total cost of the marketing divided by the customers' number during the year.