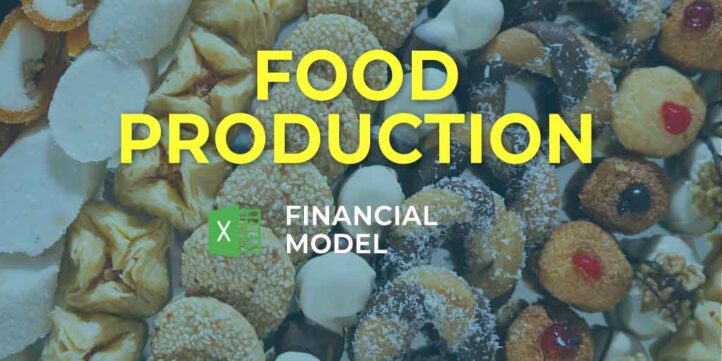 Financial Model, Manufacturing
5-year financial projections, Budgeting, Cash Flow Analysis, Cash Flow Projections, Dashboard, DCF Model, Excel, Financial Model, Financial Modeling, Financial Planning, Financial Projection, Financial Projections, Financial Statements, Investment Multiple, Investor Cash Flows, Pro-Forma, Startup Financial Models, Three Statement Model | Three Financial Statements, Uses and Sources of Funds
Analyze Food Production Revenue Model, Costs, Profit, And Cash Flow With Food Production Financial Model Excel Template. Get It!
Our model will be a substantial financial background for all companies that are involved in the food production process. It will suit both small food production, such as cake making or pizza delivery, and big food production chains.
This model will help food producers, including food delivery services, restaurants, and cafes, to calculate and manage the cost of food production, as well as incomes from the sales.
The model will be beneficial for businesses that have several sales channels.
WHAT'S INSIDE AND FOR WHOM WE DESIGNED THE FOOD PRODUCTION FINANCIAL MODEL?
Our food production financial model has all the required financial reports for the food production company.
It also has additional calculations that will help to analyze and manage food business profitability.
Our financial plan has Excel templates of three primary financial statements, i.e., Income statement, Balance sheet, and Cash flow statement.
It also has the full list of financial calculations and assumptions that you may need while starting your food production business.
The template has pre-built proformas and formulas for the financial planning for up to 10 separate food products.
The model has four pre-built sales channels' proformas. You can include separate sales channels into the model for various products and manage their effectiveness.
The Cost of Sales (COS) calculation template will show you how to control food production expenses. You can easily calculate and analyze the cost of sales for each product separately. COS includes all main components, such as materials, as well as additional expenses on a package, transportation, etc. You can also see the percentage of each product in the total COS.
WHAT WILL I GET WITH FOOD PRODUCTION FINANCIAL MODEL?
You will get a robust and sophisticated financial model designed especially for the food production business. It has all the necessary financial reports and the dashboard with crucial financial information.
You can monitor the financial performance of your products separately. The model allows you to perform the financial analysis for 10 products.
You can include separate sales channels into the financial model for various products and analyze their financial effectiveness. The model has four pre-built sales channels. You can also modify each sales channel according to your business' needs.
The model has a detailed proforma for the cost of sales calculations. You can manage each component of COS for each product separately and be sure that you fully control your expenses.
Our food production business model also allows users to add additional expenses for the cost of sales calculation, e.g., transportation, packaging, etc.
You can calculate production capacity for the food production business, as well as the required number of personnel. The number of workers you may need depends on the desired production capacity level.
You can print out our food production business model in PDF and use this model for negotiations with potential investors. With the help of our model, you will be fully prepared for the investors' meeting, and you will know how to make your food production business will be successful.
Our food production financial model in Excel is fully adjustable and expendable. You can add your products or sales channels, adjust the cost of sales and other expenses, and make all other necessary adjustments.
Get these templates too for a discount!