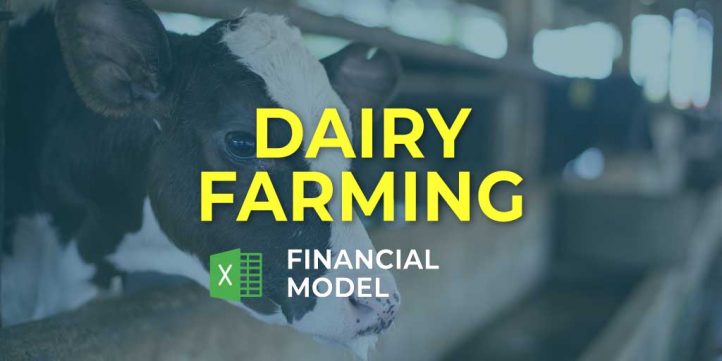 Agriculture, Dairy-Farming, Financial Model
5-year financial projections, Business Valuation, Financial Model, Financial Modeling, Financial Projection, Financial Projections, Pro-Forma, Startup Financial Models, Three Statement Model | Three Financial Statements
NOTE: Single-User pertains to a limited Single User License where the template can only be used by one single user; while Multi-User is a license for users sharing the template with up to 20 members. Please refer to Terms of Use and License and Permitted Use for clarification.
DAIRY FARMING 3 WAY FINANCIAL MODEL KEY FEATURES
Video tutorial:
Identify potential shortfalls in cash balances in advance.
The Dairy Farming Cash Flow Format In Excel works like an 'early warning system.' It is, by far, the most significant reason for a Projected Cash Flow Statement Format.
Get Investors to Notice
Most entrepreneurs can't get investors to return their calls. With the Dairy Farming Three Statement Financial Model, you will secure meetings with potential investors easily.
Plan for Future Growth
Cashflow Forecast can help you plan for future growth and expansion. No matter you're extending your company with new employees and need to take into account increased staff expenses. Or to scale production to keep up with increased sales, future projections help you see accurately where you're running — and how you'll get there. Forecasting is also a well-known goal-setting framework to help you plan out the financial steps your company has to take to reach targets. There's power in Cash Flow Projection and the insight they can provide your business. Fortunately, this competitive advantage comes with little effort when you use the Cash Flow Statement Projection.
Build your plan and pitch for funding
Impress bankers and investors with a proven, strategic Dairy Farming Three Way Financial Model that impresses every time.
It is part of the reports set you need.
It doesn't matter you are worried about cash or not, setting up, and managing a Dairy Farming Financial Model Excel Template should be a cornerstone of your reporting set. It's the main report of your business that must have in place to grow sustainably. Before you rush into rent more office space or making a new hire, you should always run a Cash Flow Statement Projection scenario. You can model how that action would impact your cash balance in the nearest future. Knowing whether or not plans are possible is crucial to minimizing risk.
Save Time and Money
Dairy Farming Financial Model Excel allows you to start planning with minimum fuss and maximum of help. No writing formulas, no formatting, no programming, no charting, and no expensive external consultants. Plan the growth of your business instead of fiddling around with expensive techy things.
REPORTS and INPUTS
All in One Place
We created the fully modular Financial Projection Model that separates the financial core: financial statements, operating costs, hiring plan, cap table, valuation, and actuals reporting. It contains growth forecasts and revenue projections, and you can easily change or delete any input or projection.
The Financial Projection Template Excel structure allows extending it by adding additional details or financial forecasting methods for specific business types. All cells and formulas are completely open and unlocked so that you can edit or change anything in the Dairy Farming Pro Forma Projection.
Performance KPIs
Cost of acquiring new customers. The cost of acquiring new customers is a critical financial metric for start-ups, and it should be in our Dairy Farming Financial Projection Model Excel. The cost of acquiring new customers is the total cost of the marketing divided by the customers' number during the year.
Valuation
With our Dairy Farming Five Year Financial Projection Template, you will get proformas for valuation analysis. You will be able to perform a Discounted Cash Flow (DCF) valuation analysis and other valuations you may need.
Financial Statements
The Dairy Farming Financial Projection Template has a pre-built integrated financial statement structure. It has pre-built templates for the primary financial statements: Balance sheet, profit and loss pro forma, projected cashflow statement, and Statement of Shareholders' Capital. All these financial statements are precisely defined and interconnected with the inputs and other spreadsheets within the model.
Loan opt-in
A Dairy Farming 3 Way Financial Model Template consist a table that provides the stakeholders with the information about the periodic payments for an amortizing loan.
The loan amortization schedule includes information about the loan amount, interest rate, term to maturity, payment periods, and amortization method. In particular, loan amortization methods include the straight line, declining balance, annuity, bullet, balloon, and negative amortization.
CAPEX
A capital expenditure ('CapEx' for short) table reflects the company's expenses, either cash or credit, on purchases of goods that are capitalized on the balance sheet. Such capitalized expenses, the company does not reflect directly in the profit and loss statement as expenses, and such expenses are considered as an investment in the company's expansion.
Top Revenue
The Top revenue tab in the Cash Flow Proforma Template shows off the financial information regarding each of your offerings. In particular, with the help of this Dairy Farming Cash Flow Proforma Template, you can obtain an annual breakdown of your revenue streams, including the revenue depth and revenue bridge.
File types:
Excel – Single-User: .xlsx
Excel – Multi-User: .xlsx
Free Demo – .xlsx