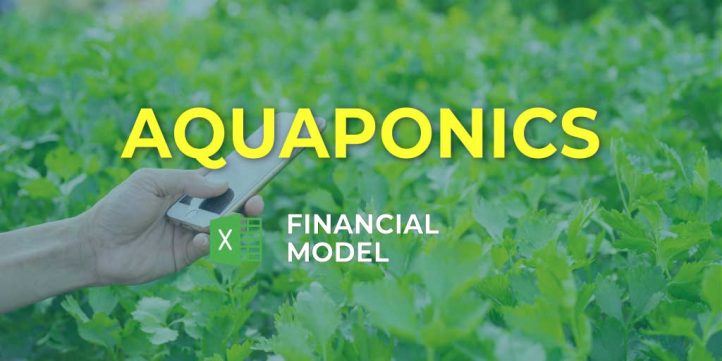 NOTE: Single-User pertains to a limited Single User License where the template can only be used by one single user; while Multi-User is a license for users sharing the template with up to 20 members. Please refer to Terms of Use and License and Permitted Use for clarification.
AQUAPONICS FINANCIAL PROJECTION TEMPLATE KEY FEATURES
Video tutorial:
Simple and Incredibly Practical
Simple-to-use yet very sophisticated Aquaponics Financial Projection tool. Whatever size and stage of development your business is, with minimal planning experience and very basic knowledge of Excel you can get complete and reliable results. Additionally, you will receive uncompromised after-sales service and access to valuable tutorial videos and blog posts.
Generate growth inspiration
By running various scenarios and looking at the effects they could have on your cash balance, you will begin to see which options are best for your business. Ones that are possible, and what is involved in making them work. Organic growth isn't the only option – there are growing funding options becoming available, and Projected Cash Flow Statement Format could be a way of looking at the impact an injection of cash could have on your business and its growth plans.
All necessary reports
When creating a Aquaponics Cash Flow Format In Excel, you will not need to independently prepare financial reports and study the requirements for them. Our Excel template contains all the necessary reports and calculations that correspond with the lenders demand.
Get Investors to Notice
Most entrepreneurs can't get investors to return their calls. With the Aquaponics Financial Model, you will secure meetings with potential investors easily.
Build your plan and pitch for funding
Impress bankers and investors with a proven, solid aquaponics financial model that impresses every time.
Run different scenarios
A Startup Cash Flow Projection shows you what your cash balance will look like taking into account the numbers you put into the template. It means you can play with the various variables that impact your cash flow forecast, i.e., wages, sales inflow, supplier payments, taxes, and so on. By adjusting the input amounts, you will be able to see what impact they will have on your businesses' cash flow and when this impact is likely to occur. A well-known example of this is the ability to forecast the effect a new member of staff might have on your cash flow over different periods. Increase the wage costs and see what happens to your cash flow. Running different scenarios in your Cashflow Forecast can have several benefits.
REPORTS and INPUTS
Top Revenue
When the company's management starts to make a Financial Projection Model, revenue is the most crucial component in the Financial Projection. Revenue is one of the main drivers of the enterprise's value in the Financial Projection Excel. That is why financial analysts must pay special attention to the planning and devising the best strategy to approach modeling future revenue streams.
Revenue forecasts should also have assumptions about the growth rate based on historical financial data. Users can find all the components of wise financial planning of the revenue streams in our Aquaponics 3 Way Forecast.
Profitability KPIs
EBITDA. Earnings before interest, tax, depreciation, and amortization (EBITDA) is the primary measure of a company's operating performance.
CAPEX
Capital expenditures reflect the company's amount on long-term assets expected to bring value for more than one year. For example, the cost of a computer may be capital expenditure included in the balance sheet. In contrast, the electricity cost to run this computer is an expense included in the pro forma profit and loss statement
.
All long term assets have a useful life, and part of the cost of the asset is written off each year to the profit and loss statement proforma as an expense. Users can find these expenses in the p&l projection under the heading of depreciation. The depreciation expense amount reduces the value of the asset shown in the balance sheet for the year.
Simultaneously, the CAPEX report shows the company's stakeholders the full picture of the company's expenditures on assets.
Cash Flow KPIs
Cash balance. The cash balance shows the total amount of money in a financial account of the company. Any company needs to hold in reserve enough amount of cash to meet current obligations.
Cap Table
The P&L Projection and its Capitalization table (or Cap table) summarizes your investors' information, their share in the company, and how much they have paid for these shares.
Break Even
Excel Break Even Formula integrated into this Aquaponics Financial Projection Model shows the sales volume or amount of units sold required to break even after all costs, including fixed and variable expenses related to the business operations.
The break even point analysis calculation is a critical business and financial planning tool because financial assumptions involved in these calculations determine the company's ability to bring profits.
Performance KPIs
Lead-to-client conversion rate. Lead-to-Client Conversion Rate is an essential metric for the businesses that attract new clients with the Internet, social media, and other similar channels. Leads do not turn into customers automatically. Company's sale team need to convert these leads into actual customers.
The Lead-to-Conversion business metric is a good measure of the sales team's performance. Moreover, it indicates the quality of your product. If you have a low conversion rate, it may sign that your product is not attractive to the customers.
File types:
Excel – Single-User: .xlsx
Excel – Multi-User: .xlsx
Free Demo – .xlsx