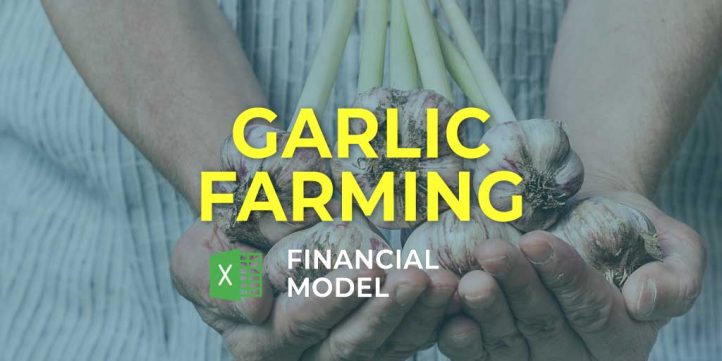 NOTE: Single-User pertains to a limited Single User License where the template can only be used by one single user; while Multi-User is a license for users sharing the template with up to 20 members. Please refer to Terms of Use and License and Permitted Use for clarification.
GARLIC FARMING P&L PROJECTION KEY FEATURES
Video tutorial:
Currency for inputs and denomination
In Financial Model Excel Spreadsheet define any currency code or symbol and preferred denomination (e.g. 000s) to reflect your preferences.
Easy to follow
Clear and transparent Garlic Farming Financial Projection Template Excel structure (15+ separate tabs, each focusing on a specific planning category, colour coded => input, calculation and report sheets).
Get a robust, powerful financial model which is fully expandable
This well-tested, robust and powerful Garlic Farming Cash Flow Proforma is your solid foundation to plan garlic farming business model. Advanced users are free to expand and tailor all sheets as desired, to handle specific requirements or to get into greater detail.
Track your spending and staying within budget
Have you written a vague idea of cash inflows and cash outflows on the back of a napkin? All is well and good. Looking at the pro forma profit and loss statement will give you a snapshot of the past business performance, but it won't show the future in terms of the Projected Cashflow Statement. With a cashflow forecast, you can plan future cash inflows and cash outflows and compare it to the budget, which can be invaluable information.
Get Investors to Notice
Most entrepreneurs can't get investors to return their calls. With the Garlic Farming Cash Flow Proforma, you will secure meetings with potential investors easily.
Generate growth inspiration
By running various scenarios and looking at the effects they could have on your cash balance, you will begin to see which options are best for your business. Ones that are possible, and what is involved in making them work. Organic growth isn't the only option – there are growing funding options becoming available, and Startup Cash Flow Statement could be a way of looking at the impact an injection of cash could have on your business and its growth plans.
REPORTS and INPUTS
Financial KPIs
A Garlic Farming Finance Projection outputs include both company and sector-specific key performance indicators KPIs. These KPIs include profitability metrics, cash flow metrics, and liquidity metrics. It also has KPIs crucial for the attraction of investments.
Top Expenses
The Top expenses tab of the Garlic Farming 3 Way Forecast reflects your company's annual expenses, both total and grouped by four categories.
This Pro Forma Budget provides an overview of annual expenses on customer acquisition, COSS placeholders, wages & salaries, fixed and variable expenses, and all other expenses.
Financial Statements
Our Garlic Farming 3 Way Financial Model Template has a pre-built integrated financial summary that contains all the financial information from other spreadsheets, including the primary financial statements: Balance Sheet, Statement of financial position, and cash flow statement proforma. Our specialists have already formatted this financial summary for your pitch deck.
Performance KPIs
Payback period. The cost of acquiring new customers should be compared to the profits that these customers generate. When these two numbers are divided, the result is called a payback period.
All in One Place
We created the fully modular Pro Forma Template Excel that separates the financial core: financial statements, operating costs, hiring plan, cap table, valuation, and actuals reporting. It contains growth forecasts and revenue projections, and you can easily change or delete any input or projection.
The 3 Way Forecast Model structure allows extending it by adding additional details or financial forecasting methods for specific business types. All cells and formulas are completely open and unlocked so that you can edit or change anything in the Garlic Farming Cash Flow Proforma Template.
Dashboard
A financial dashboard in this Garlic Farming Cash Flow Proforma is a useful financial management tool. It helps track all your relevant finance key performance indicators (KPIs), assures effective cash management, and enables financial management to track expenses, sales, and profits in detail to meet and outperform a department or company's financial objectives.
Profitability KPIs
EBIT. Earnings before interest and tax (EBIT) is also known as operating income. It is a profitability measure that shows the difference between a company's revenues and operating expenses, including the cost of sales, interest on loans, and taxes. This calculation shows the company's ability to generate profits and, therefore, this metric is also named as operating earnings or operating profit.
File types:
Excel – Single-User: .xlsx
Excel – Multi-User: .xlsx
Free Demo – .xlsx