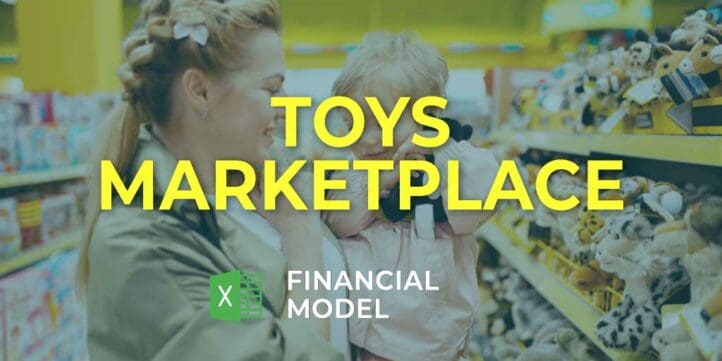 Financial Model, Marketplaces, Online Businesses & IT, Retail
5-year financial projections, Business Valuation, Financial Model, Financial Modeling, Financial Projection, Financial Projections, Free Financial Model Templates, Pro-Forma, Startup Financial Models, Three Statement Model | Three Financial Statements
NOTE: Single-User pertains to a limited Single User License where the template can only be used by one single user; while Multi-User is a license for users sharing the template with up to 20 members. Please refer to Terms of Use and License and Permitted Use for clarification.
TOYS MARKETPLACE FINANCIAL MODEL EXCEL TEMPLATE KEY FEATURES
Simple and Incredibly Practical
Simple-to-use yet very sophisticated Toys Marketplace Financial Projection Template tool. Whatever size and stage of development your business is, with minimal planning experience and very basic knowledge of Excel you can get complete and reliable results. Additionally, you will receive uncompromised after-sales service and access to valuable tutorial videos and blog posts.
Currency for inputs and denomination
In Excel Pro Forma Template define any currency code or symbol and preferred denomination (e.g. 000s) to reflect your preferences.
Generate growth inspiration
By running various scenarios and looking at the effects they could have on your cash balance, you will begin to see which options are best for your business. Ones that are possible, and what is involved in making them work. Organic growth isn't the only option – there are growing funding options becoming available, and Pro Forma Cash Flow Projection could be a way of looking at the impact an injection of cash could have on your business and its growth plans.
Saves you time
Allows you to spend less time on Projected Cash Flow Statement Format and more time on your products, customers, and business development
Update anytime
You can easily adjust inputs at the launch stage and throughout the further activities of your business to refine your Toys Marketplace Startup Financial Model.
Convince investors and lenders
Enhance your pitches and impress potential financiers with a Financial Projection Template Excel delivering the right information and expected financial and operational metrics. Facilitate your negotiations with investors for successful funding. Raise money more quickly and refocus on your core business.
REPORTS and INPUTS
Burn and Runway
The cash burn rate shows the difference between the cash inflows and cash outflows of the company. It is essential to monitor this metric because it shows how long the company will last with its current funding level. Business owners can also see a clear picture of how various business strategies change the cash burn rate.
Break-Even
Break-even is a situation where the company covers all its costs with the revenue earned. In other words, this is a point in time when the company is neither making money nor losing money.
Break-Even Point Analysis is a useful instrument in studying the relation between the variable cost, fixed cost, and the company's revenue earned under these circumstances. Usually, companies with low fixed cost levels have a low break-even point analysis.
All in One Place
This Toys Marketplace 3 Way Financial Model reflects all the main aspects of your business. It will be a roadmap that enables entrepreneurs to understand their business and their perspectives. As a start-up Profit Loss Projection, it will help understand cash flows and determine the cash burn rate. This is very important for any business because it shows how long money will last and which milestones the business owner can achieve with these expenditures.
Benchmarks
Pro Forma benchmark tab calculates the company's key performance indicators, either business or financial, and finds an industry-wide average as a comparison. The industry average metrics are then used to determine the relative value for benchmarking analysis.
Financial benchmarks are essential for the financial planning of companies, especially for start-ups. These studies help companies determine the 'best practice' companies within the industry and compare their own financial results with these best practices. It is a useful financial and strategic management tool.
Dashboard
Our Toys Marketplace Excel Financial Model Template has a dashboard that summarizes information from the other spreadsheets of the Financial Projection Excel. With this dashboard, you can set your key performance indicators (KPIs), and the dashboard will include them in the calculations and the information from the financial statements. You can create the dashboard with core financial information on a month-by-month basis and change it any time you need.
Liquidity KPIs
Quick Ratio or Acid-Test Ratio. The quick ratio or acid-test ratio uses a firm's balance sheet data to analyze if it has sufficient short-term assets to cover its short-term liabilities. This metric ignores less liquid assets like such as inventory.
Cap Table
The Financial Model In Excel Template and its Capitalization table (or Cap table) summarizes your investors' information, their share in the company, and how much they have paid for these shares.
File types:
Excel – Single-User: .xlsx
Excel – Multi-User: .xlsx
Free Demo – .xlsx