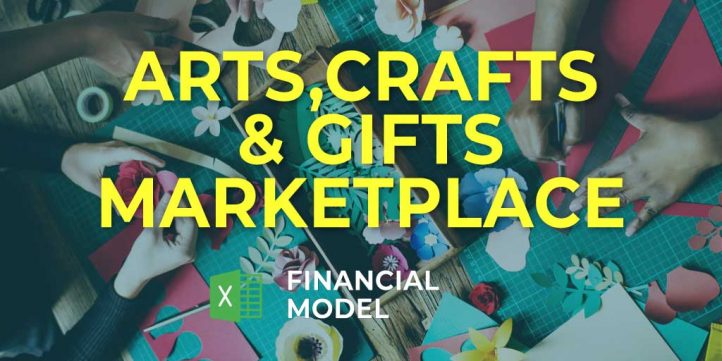 Financial Model, Marketplaces, Online Businesses & IT, Retail
5-year financial projections, Business Valuation, Financial Model, Financial Modeling, Financial Projection, Financial Projections, Free Financial Model Templates, Pro-Forma, Startup Financial Models, Three Statement Model | Three Financial Statements
NOTE: Single-User pertains to a limited Single User License where the template can only be used by one single user; while Multi-User is a license for users sharing the template with up to 20 members. Please refer to Terms of Use and License and Permitted Use for clarification.
ARTS, CRAFTS, AND GIFTS MARKETPLACE THREE STATEMENT FINANCIAL MODEL KEY FEATURES
Identify potential shortfalls in cash balances in advance.
The Arts, Crafts, And Gifts Marketplace Cash Flow Proforma works like an 'early warning system.' It is, by far, the most significant reason for a Cash Flow Forecast.
Saves you time
Allows you to spend less time on Pro Forma Cash Flow Projection and more time on your products, customers, and business development
Get a robust, powerful financial model which is fully expandable
This well-tested, robust and powerful Arts, Crafts And Gifts Marketplace Financial Model In Excel is your solid foundation to plan arts, crafts, and gifts marketplace business model. Advanced users are free to expand and tailor all sheets as desired, to handle specific requirements, or to get into greater detail.
Prove You Can Pay Back the Loan You Requested
When you apply for a business loan, bankers will study your Cash Flow Statement Proforma in an attempt to answer this question: Can this business pay back the loan? Requesting a loan without showing your Cash Flow Statement Proforma for paying it back is a common way to land in the rejection pile. It is exceptionally accurate if your current cash flow won't cover all of your monthly operating expenses — plus your loan payment. Don't fall into this kind of situation. Use Cash Flow Statement Projection to strengthen your case by showing the banker exactly how you plan to use the loan and when you will start repaying the debt. This type of forecasting helps you create a road map that can impress a lender with the confidence they need to approve your loan.
Plan for Future Growth
Cash Flow Statement can help you plan for future growth and expansion. No matter you're extending your company with new employees and need to take into account increased staff expenses. Or to scale production to keep up with increased sales, future projections help you see accurately where you're running — and how you'll get there. Forecasting is also a well-known goal-setting framework to help you plan out the financial steps your company has to take to reach targets. There's power in Cash Flow Statement Proforma and the insight they can provide your business. Fortunately, this competitive advantage comes with little effort when you use the Cash Flow Statement Forecast.
Predict the Influence of Upcoming Changes
Does your company plan to purchase new equipment or to launch a new product? Startup Cash Flow Statement enables you to obtain a complete picture of the effect that specific changes will have on your Cash Flow Statement Proforma. When planning your finances in the Projected Cash Flow Statement Format, you will forecast cash inflows and outflows based on future invoices, bills due, and payroll. You can then create multiple 'what if' scenarios, such as buying new equipment to choose the best way for you. Forecasting shows you how the upcoming changes will affect your cash balance.
REPORTS and INPUTS
All in One Place
Our Arts, Crafts, And Gifts Marketplace Profit Loss Projection has all financial reports crucial for start-ups and existing businesses. It has proformas for pro forma p&l statement, cash flow forecast, and balance sheet. It also has templates for performance reviews and summaries on a monthly, quarterly, and annual basis.
Performance KPIs
Payback period. The cost of acquiring new customers should be compared to the profits that these customers generate. When these two numbers are divided, the result is called a payback period.
Top Revenue
The top line and bottom line are two of the most important lines on a company's statement of profit and loss proforma. Investors and analysts pay special attention to the company's revenue and profits and carefully monitor any changes regarding these financial metrics from quarter to quarter and year to year.
The top line of the projected p&l statement refers to a company's revenues or gross sales. Therefore, when somebody says that the company has 'top-line growth,' it means that the company is experiencing an increase in gross sales or revenues, which should positively impact other company's financials and overall performance.
Top Expenses
The Top expenses tab of the Arts, Crafts, And Gifts Marketplace Cashflow Projection reflects your company's annual expenses, both total and grouped by four categories.
This P&L Projection provides an overview of annual expenses on customer acquisition, COSS placeholders, wages & salaries, fixed and variable expenses, and all other expenses.
Break Even
The break even excel (BEA) is a useful financial tool that helps companies study the relationship between fixed and variable costs and revenue. This analysis calculates the break-even point (BEP), indicating when an investment in the start-up will generate a positive return.
Our Arts, Crafts, And Gifts Marketplace Financial Projection Model represent the break even analysis graphically and as a mathematical calculation. It calculates the required sales volume at a certain sales price that will cover its overall costs.
Burn and Runway
Our Arts, Crafts, And Gifts Marketplace 3 Way Forecast automatically creates cash runway and cash burn analysis based on the forecasted revenues and expenses that, in their turn, show net loss, net profit, cash on hand, and break even analysis. You can also forecast funding requirements using a set of parameters around funding (e.g., equity, debt, grants) and expected runway to raise (for example, 18 months of forecasted expenses).
Sources and Uses
This Arts, Crafts, And Gifts Marketplace Financial Projection has a Sources and Uses template. This tab shows users the company's funding structure and sources and uses of these funds.
File types:
Excel – Single-User: .xlsx
Excel – Multi-User: .xlsx
Free Demo – .xlsx