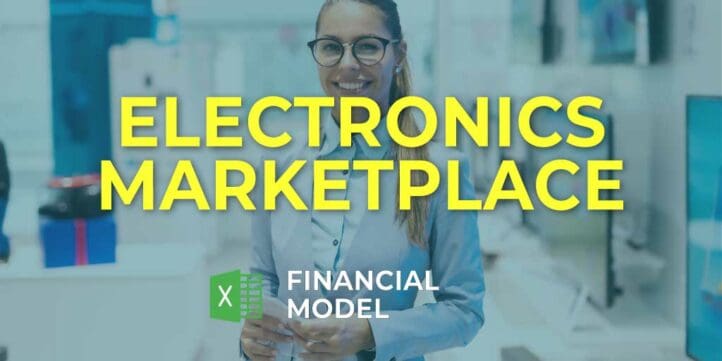 Financial Model, Marketplaces, Online Businesses & IT, Retail
5-year financial projections, Business Valuation, Financial Model, Financial Modeling, Financial Projection, Financial Projections, Free Financial Model Templates, Pro-Forma, Startup Financial Models, Three Statement Model | Three Financial Statements
NOTE: Single-User pertains to a limited Single User License where the template can only be used by one single user; while Multi-User is a license for users sharing the template with up to 20 members. Please refer to Terms of Use and License and Permitted Use for clarification.
ELECTRONICS MARKETPLACE FINANCIAL MODEL EXCEL TEMPLATE KEY FEATURES
Identify cash gaps and surpluses before they happen.
Forecasting your future cash balance helps you see well in advance when you may have a cash deficit that could hurt your business. Cash Flow Forecast will give you enough time to take action to prevent a crisis. It will enable you to access better loan rates or speed up incoming payment to bridge the gap. On the other side, if you know ahead of time that the large lump of cash will lay in your bank account within the next three months. In this case, you might need to explore options to reinvest it in your business to drive growth.
Get a Robust, Powerful, and Flexible Financial Model
This well-tested, robust and powerful Electronics Marketplace Budget Financial Model is your solid foundation to plan a business model. Advanced users are free to expand and tailor all sheets as desired, to handle specific requirements, or to get into greater detail.
Convenient, All-In-One Dashboard
Includes all required forecasting reports, including assumptions, pro forma p&l statement, cash flow statement by month, balance sheets, performance reviews, and summaries for months and years (incl. numerous graphs and KPIs).
Update anytime
You can easily adjust inputs at the launch stage and throughout the further activities of your business to refine your Electronics Marketplace Cash Flow Proforma.
Manage surplus cash
Most companies don't have excess cash in the bank. It is a well-known situation. But managing surplus cash for reinvestment in new market opportunities, or debt repayments can be essential to keeping stay in the business. Managers are entirely ready to plan for what to do with the cash surplus if they have the forecast of when and where the business will have surplus cash in the bank account. Cash Flow Statement By Month will provide supplementary guidance on what to do with a cash surplus.
External stakeholders, such as banks, may require a regular forecast.
If the business has a bank loan, the bank will ask for an Electronics Marketplace Financial Model Excel Spreadsheet regularly.
REPORTS and INPUTS
Profitability KPIs
The Electronics Marketplace Five Year Financial Projection Template contains all performance metrics that correspond with pre-built templates and financial reports. It also has pre-built proformas for profit and loss statement proforma, Balance Sheet, and cash flow statement proforma, which you can use both for financial planning and presentations for investors.
With these reports, you can easily monitor your company's cash flows, revenues, costs, and profitability, including profitability margins, liquidity analysis, sources and uses, and others. The model calculates profitability ratios and other performance metrics, e.g., customer acquisition costs, and SaaS metrics, if applicable.
Costs
Our Electronics Marketplace Financial Model has a well-developed methodology for creating a cost budget. You can plan and forecast your costs from operations and other expenses for up to 72 months. The cost budget has a detailed hiring plan while also automatically handling the expenses' accounting treatment. You can set salaries, job positions, and the time of hiring.
Moreover, the model allows users to calculate hiring as the company scales automatically. Pre-built expense forecasting curves enable users to set how an expense changes over time. These pre-built options include % of revenues, % of salaries, % of any revenue category, growth (or decline) rates that stay the same or change over time, ongoing expenses, expenses that periodically reoccur, expenses that regularly change, and many more. Costs can be allocated to key expense areas and labeled for accounting treatment as SG&A, COGS, or CAPEX.
All in One Place
Our integrated Electronics Marketplace 3 Way Forecast Excel Template includes and connects everything you need for investors' meetings. It has financial assumptions, proformas, calculations, cash flow forecasts, and other templates. Moreover, our 3 Way Financial Model Template presents it in an investor-friendly way.
Performance KPIs
Return on assets. The return on assets financial metric can be calculated based on the information from two main financial statements: The balance Sheet and projected p&l statement. Return on assets measures the accomplishment of earnings to the assets, i.e., the amount of money used to get those earnings.
Benchmarks
A benchmarking study as the element of the Three Statement Financial Model Template is usually used to evaluate a business's performance by focusing on one or more particular indicators and comparing them with similar indicators of other companies in the industry.
In respect of the financial benchmarking study, these indicators could be profit margins, cost margins, cost per unit, productivity margins, or others. Later the company's performance indicators should be compared to that of other companies within the same industry.
Benchmarking is a useful strategic management tool, which is essential for start-ups. Companies can evaluate any economic, business, or financial metric or process and compare them to the processes of 'best practice' companies within the same field or industry.
Top Expenses
It is very important for a start-up and existing company to monitor, plan, and manage its costs and expenses to maintain a good profitability level.
For this purpose, it is necessary to analyze the highest costs and always work on their optimization. In our Profit Loss Projection, we have created a Top expense report that helps users with this task. It summarizes the four biggest expense categories and the rest of the expenses as the 'other', so the users can easily monitor these expenses and track the tendencies related to their increase or decrease from year to year.
Operational KPIs
Our Electronics Marketplace P&L Projection has convenient, informative, and easy-to-use operational performance graphs. Here you may visually track your company's key operational performance indicators (KPIs) in the form of charts. These operational performance graphs show the stakeholders the financial information related to the company's liquidity, revenues, expenses, cash flows, and other financial metrics. This financial information in the form of graphs will help a business owner to create presentations for banks and investors with minimum effort.
File types:
Excel – Single-User: .xlsx
Excel – Multi-User: .xlsx
Free Demo – .xlsx