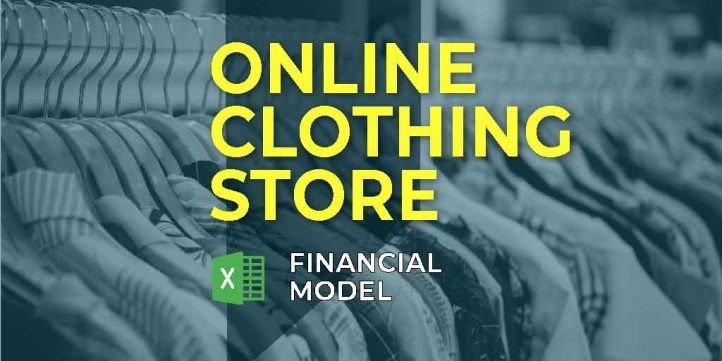 Clothing & Fashion, eCommerce & Webshops, Financial Model, Online Businesses & IT, Retail
5-year financial projections, Break-Even, Budgeting, Business Valuation, Cap Table, Cash Flow Analysis, Cash Flow Projections, Cost Calculation, DCF Model, Debt Amortization, Debt Schedule, Excel, Financial Feasibility, Financial Model, Financial Modeling, Financial Planning, Financial Projection, Financial Projections, Financial Reporting, Financial Statements, Forecast, Forecasting, Free Financial Model Templates, KPIs (Key Performance Indicators), Pre Money Valuation, Pro-Forma, Revenue Projections, Scenario Analysis, Sensitivity Analysis, Startup Financial Models, Three Statement Model | Three Financial Statements, Valuation, WACC (Weighted Average Cost of Capital)
Get an Online Clothing Store Business Plan template. Find out how profitable Online Clothing Store could be. Check how to start an Online Boutique!
Video tutorial

Today e-commerce is one of the quickest growing business lines, more and more people are shopping online, and this trend is increasing every year. If you want to start your online store, but don't know in which direction to choose, online clothing store business plan is a win-win option. For starting online sales, you don't need significant investments — make a high-quality trading platform on the Internet, find suppliers, and of course, follow the trends in the fashion industry.
For retail stores, our template will also be useful — sales forecasts, in this case, are based on marketing leads, and not on walking traffic. Conversion rate depends on the usability of your site, adequately configured sales funnel, and additional service. But like any other e-commerce business, it requires financial calculations and management reporting.
Our online clothing financial plan contains all types of reports and calculations, especially useful for operational management and presentation to investors. You will be able to enter and adjust the input data independently, and our template will do all the calculations.
You will initially understand how much and when your business will bring money and, depending on this, plan a development strategy. You will be able to devote the maximum amount of time to promote your online platform and follow the new trends in e-commerce, with its ever-increasing competition.
It is a very profitable business, and with the help of our clothing boutique business plan outline, you can start it right now.
Online Clothing Store Business Plan Excel Template Will Help You
– Schedule your Startup Loan repayments
– Make a complaint, 5-year Cost Assumptions Plan
– Forecast Salaries and Wages for your personnel
– Calculate break-even point and return on investment
– Choose one of 161 currencies for settlements
– Build a market size forecast for 5 years
– Set up a market share rate of total market size
– Define traffic conversion into shoppers
– Create Sales Mix assumption plan
– Analyze (and adjust to) Seasonality Trends
Benefits of using an Online Clothing Store Station Business Plan Excel Template
Save Time and Money
Excel-Financial-Model allows you to start planning with minimum fuss and maximum of help. No writing formulas, no formatting, no programming, no charting, and no expensive external consultants. Plan the growth of your business instead of fiddling around with expensive techy things.
Graphical visualization in a convenient dashboard all in one
All necessary reports and calculations, including variable data for your easement, are displayed on a convenient dashboard. You do not need to move between sheets to compare important data – everything is visible immediately.
We do the math
Have all the features above ready with no formulas writing, no formatting, no programming, no charting, and no expensive external consultants! Concentrate on the task of planning rather than programming.
Key Metrics Analysis
Creates 5-year financial projections, proforma, financial statements, and financial ratios in GAAP or IFRS formats on the fly.
Great Value for Money
Use a robust and proven financial model based on years of experience at an affordable price. This template has a one-off payment of $79 and absolutely no hidden fees or monthly payments. Your other options? Hiring a financial analyst and pay starting from $30 per hour up to hundreds.
Market Share Approach
To ensure longevity and profitability of your Online Clothing Store business, you need to focus on – the price of your products, and that's up to you to decide. And the number of visitors. That's where we can help you! The model is following a Market Share approach and gives you a clear Online Clothing Store visitors estimation.
Repeat Customer Forecast
Online Clothing Store businesses often have large, repeat customer pool. And we're sure, most people won't be able to resist the desire to try your delicious products over and over again. Online Clothing Store Business Plan Template takes into account repeat customers and gives you a clear repeat customer estimation.
Update anytime
You can easily adjust inputs at the launch stage and throughout the further activities of your store to refine your forecast.
Online Clothing Store Financial Plan Template Reports
Build your plan and pitch for funding
Impress bankers and investors with a proven, solid financial model that impresses every time.
Financial charts
For your Online Clothing Store business plan you will receive the main financial tables in the form of graphs for 2 years and 5 years – revenue breakdown, cash balance, operating cash flow, EBITDA, EBIT.
Loan Amortization Schedule
You can find this in the "Capital" tab, where you can see internal calculations of the loans, interest, and equity.
Balance sheet
It shows the owner and investors where the funds have been invested, what property the business has, what obligations it has and the value of the company as a whole.
Profit and Loss Statement
It indicates how much an enterprise earns, its income and expenses, and its ability to gain money.
Cash Flow Statement
It is one of the most important reports because the main goal of each business is to generate cash flow. It shows how much you have consolidated money, how much is not enough when you need to attract additional financing.
Industry benchmarks
comparison of performance indicators in the model and in the industry.
Break-even point calculation
This indicator is calculated at the beginning of each startup for understanding whether it is appropriate for doing this kind of business. It shows what revenue should be to cover all the costs of doing business, including taxes. When it is reached, the company begins to bring in profits, which means that the investments made in the startup start to pay off.
Valuation
You will receive all the data necessary for the investors. The weighted average cost of capital shows the minimum return on enterprise funds invested in its activities capital.
Free cash flow is the cash flow available to all investors, including shareholders and creditors.
Discounted cash is the value of future cash flows in relation to the current time.
Top Revenue Category Report
It always happens in retail that some products sell better than others, some bring more profit, others less, and some bring nothing at all. In a Online Clothing Store, where you have to work with goods with a short shelf life, it is very important to monitor the indicator of the cost of sales in the context of goods. The report is built for 5 products (or product categories) but if you wish, you can expand it yourself or with our professional help. Top revenue, revenue depth, and revenue bridge are reflected here.
Capitalization table
Shareholder's ownership dilution is calculated here. This tab consists of 4 rounds of financing
Works for startups
Creates a financial summary formatted for your pitch deck.
If you struggling with the question How To Start An Online Boutique, then this template is for you. You should know that nowadays is the best time to launch a business in the fashion industry. The fashion industry shows an increasing trend over the globe, and there is enough opportunity for new entrepreneurs.
That is when the Online Shop Business Plan Financial Model comes in because your Online Clothing Store financial plan is one of the first things your lenders would like to see.
Business plan for an Online Clothing Store provides a framework to foresight the expected cash flows from operations for an Online Clothing Store investment and calculates the financial metrics of relevance to investors and lenders.
The Excel model template provides the following:
– Executive Dashboard with key charts, key metrics, and key assumptions. Just change the inputs on the top-left and see immediately the impact on the graphs for easy to understand
– Yearly financial projections for 5 years
Key Online Clothing Store Metrics are:
o Online Clothing Store Gross Margin, %
o Online Clothing Store Profit Margin, %
o Average Weekly Revenue, $
– Revenue Streams
o Sales by 5 product categories
– Costs
o Variable & Fixed expenses
o Wages and staff strength model
o All other operating expenses (OPEX) costs (modeled as fixed costs)
– Financial Statements (Yearly) – Online Clothing Store Profit and Loss Statement, Balance Sheet, Cash Flow Statement
– Financial Summary provides an annual and monthly overview of the core financial statements
– Top Revenue & Top Expenses reports
– Break-even Analysis
– Valuation based on Discounted Free Cash Flow (DCF) and EBITDA multiple
– Debt Financing and repayment schedule
– Fixed asset depreciation schedule with different categories of fixed assets
– Forecast of all relevant financial ratios
– Print-friendly layout including charts and graphs
Key questions/purposes which will be answered with the help of the Online Clothing Store Financial Plan Excel model are as follows:
– to understand, whether the Online Clothing Store business ideas are profitable;
– to calculate average Online Clothing Shop revenue;
– to understand how to start an online boutique business plan;
– to calculate expenses on salaries and wages of Online Clothing Store workers;
– to calculate Online Clothing Store startup costs and Online Clothing Store monthly expenses;
– to estimate costs of Online Clothing Store finance and time needed to loan payback;
– to craft an effective strategy of how to start an Online Shop;
– to estimate how much does it cost to start an online boutique;
BENEFITS OF USING ONLINE CLOTHING STORE BUSINESS PLAN FINANCIAL MODEL
First and foremost, we did not hard-code any assumptions.
It is very helpful both for the client and financial modeler, as all the variables could be edited directly from the dashboard or the revenue/expense/wages/etc sections.
Thanks to that, we could test different alternatives and make any edits literally on the fly.
Besides it, the fiscal year is editable. You may start your Online Clothing Boutique business plan financial model in the middle of the year.
Last but not least, the Online Clothing Boutique business plan financial model considered the interest and the repayment period of the debt.
In result, the user received a maximally accurate financial statements summary.
Thus, our Online Clothing Store financial metrics are flexible and editable, which provides the client with great user experience and confidence in the profitability of your business idea.
Use our professional Online Clothing Store business model Excel template when starting a Hair Salon. Financial planning is one of the crucial steps in starting an Online Clothing Store business. Every Online Clothing Shop can benefit from a best-practice Online Clothing Boutique business plan enhanced with a budget for starting an Online Clothing Store business.
Users who purchased Online Clothing Boutique Business Plan Financial Model Excel Template, also purchased:
Get these templates too for a discount!