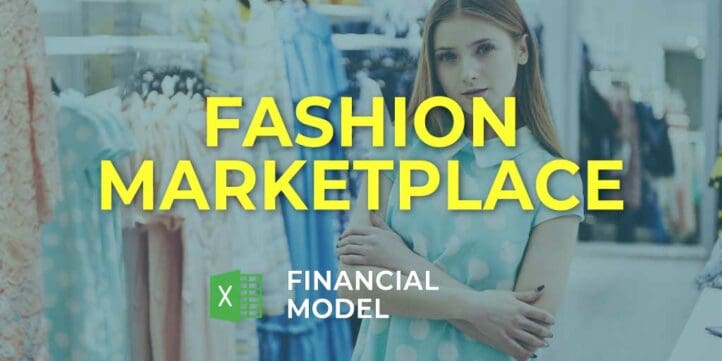 Clothing & Fashion, Financial Model, Marketplaces, Online Businesses & IT, Retail
5-year financial projections, Business Valuation, Financial Model, Financial Modeling, Financial Projection, Financial Projections, Pro-Forma, Startup Financial Models, Three Statement Model | Three Financial Statements
NOTE: Single-User pertains to a limited Single User License where the template can only be used by one single user; while Multi-User is a license for users sharing the template with up to 20 members. Please refer to Terms of Use and License and Permitted Use for clarification.
FASHION MARKETPLACE PRO FORMA PROJECTION KEY FEATURES
Gaining trust from stakeholders
Investors and financing providers tend to think in terms of the big picture. They want the c-level of the companies they invest in to do the same to ensure they maintain a clear idea of the future. Providing stakeholders with a monthly startup cash flow projection will demonstrate a level of awareness that leads to confidence and trust and will make it easier to raise more investment.
Convince investors and lenders
Enhance your pitches and impress potential financiers with a 3 Way Forecast Excel Template delivering the right information and expected financial and operational metrics. Facilitate your negotiations with investors for successful funding. Raise money more quickly and refocus on your core business.
External stakeholders, such as banks, may require a regular forecast.
If the business has a bank loan, the bank will ask for a Fashion Marketplace Pro Forma Budget regularly.
Saves you time
Pro Forma allows you to spend less time on finances and more time on your products, customers, and business development
Avoid Cash Flow Shortfalls
Unexpected Statement Of Cash Flows shortfalls can cause significant damage to your business, and it may take months to recover. Negative Cash Flow can appear if you don't continuously track the incoming cash and outgoing of your business. Fortunately, you can solve Cash Flow Statement By Month shortfalls with a bit of effort. Forecasting your Cash Flow Statement Projection will help you identify — and plan for — market fluctuations, sales seasonality, and other cases that can lead to unpredictable Startup Cash Flow Statement. Startup Cash Flow Statement can even help you visualize Statement Of Cash Flows trends with the help of automatically generated charts and graphs.
Get it Right the First Time
Funding is a binary event: either you succeed or you fail. If you fail, most investors won't give you a second chance. Learn about the pros and cons with Fashion Marketplace Cash Flow Proforma.
REPORTS and INPUTS
Dashboard
Our Fashion Marketplace Pro Forma Template Excel has an integrated all-in-one dashboard. This dashboard consists of statements of cash flows, a Balance Sheet, and a cash flow forecast, and users can perform the monthly or annual breakdown for these statements. Users can also obtain information from the dashboard, both in the form of figures and charts.
Liquidity KPIs
Working Capital. The working capital financial metric reflects the money you need for short-term operations. Working capital shows the difference between current assets and current liabilities.
Burn and Runway
This Fashion Marketplace Cashflow Projection automatically calculates the cash burn rate based on the inputs from other spreadsheets, in particular, from the startup cash flow projection.
Cap Table
The Three Statement Financial Model and its Capitalization table (or Cap table) summarize your investors' information, their share in the company, and how much they have paid for these shares.
Performance KPIs
Return on equity. The return on equity financial metric can be calculated based on the information both from the Balance Sheet and income statement projection. It measures the correspondence of earnings to the equity, i.e., the amount of money used to get profits.
CAPEX
Capital expenditures reflect the company's amount on long-term assets expected to bring value for more than one year. For example, the cost of a computer may be capital expenditure included in the balance sheet. In contrast, the electricity cost to run this computer is an expense included in the p&l proforma
.
All long-term assets have a useful life, and part of the cost of the asset is written off each year to the pro forma income statement for a startup as an expense. Users can find these expenses in the profit and loss statement proforma under the heading of depreciation. The depreciation expense amount reduces the value of the asset shown in the balance sheet for the year.
Simultaneously, the CAPEX report shows the company's stakeholders the full picture of the company's expenditures on assets.
Profitability KPIs
Return on investment (ROI). ROI is an essential measure of profitability. Return on investment (ROI) shows a ratio between cash inflows and cash outflows that follow from the investments. The ROI ratio can be calculated as net investment gains divided by total investment costs.
File types:
Excel – Single-User: .xlsx
Excel – Multi-User: .xlsx
Free Demo – .xlsx