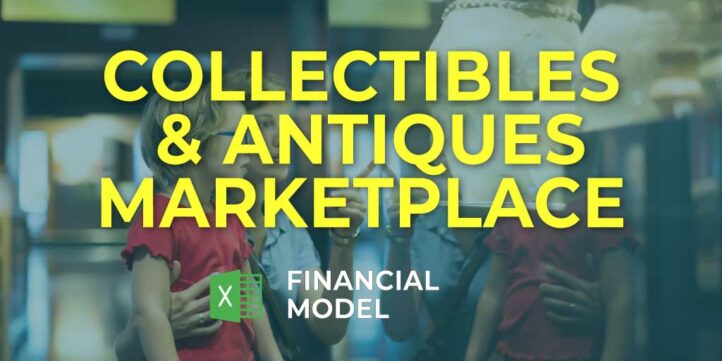 Financial Model, Marketplaces, Online Businesses & IT, Retail, Specialty Stores
5-year financial projections, Business Valuation, Financial Model, Financial Modeling, Financial Projection, Financial Projections, Free Financial Model Templates, Pro-Forma, Startup Financial Models, Three Statement Model | Three Financial Statements
NOTE: Single-User pertains to a limited Single User License where the template can only be used by one single user; while Multi-User is a license for users sharing the template with up to 20 members. Please refer to Terms of Use and License and Permitted Use for clarification.
COLLECTIBLES AND ANTIQUES MARKETPLACE EXCEL FINANCIAL MODEL TEMPLATE KEY FEATURES
Generate growth inspiration
By running various scenarios and looking at the effects they could have on your cash balance, you will begin to see which options are best for your business. Ones that are possible, and what is involved in making them work. Organic growth isn't the only option – there are growing funding options becoming available, and Projected Cash Flow Statement Format could be a way of looking at the impact an injection of cash could have on your business and its growth plans.
Run different scenarios
A Statement Of Cash Flows shows you what your cash balance will look like taking into account the numbers you put into the template. It means you can play with the various variables that impact your cash flow forecast, i.e., wages, sales inflow, supplier payments, taxes, and so on. By adjusting the input amounts, you will be able to see what impact they will have on your businesses' cash flow and when this impact is likely to occur. A well-known example of this is the ability to forecast the effect a new member of staff might have on your cash flow over different periods. Increase the wage costs and see what happens to your cash flow. Running different scenarios in your Projected Cashflow Statement can have several benefits.
Integrated Model to convince Investors
Excel Pro Forma includes and connects everything (assumptions, calculations, outputs) and presents it in an investor-friendly, deal-proven way.
Saves you time
Allows you to spend less time on Statement Of Cash Flows and more time on your products, customers, and business development
Gaining trust from stakeholders
Investors and financing providers tend to think in terms of the big picture. They want the c-level of the companies they invest in to do the same to ensure they maintain a clear idea of the future. Providing stakeholders with a monthly projected cash flow statement will demonstrate a level of awareness that leads to confidence and trust and will make it easier to raise more investment.
Key Metrics Analysis
Creates 5-year Collectibles And Antiques Marketplace Financial Model In Excel, proforma, financial statements, and financial ratios in GAAP or IFRS formats on the fly.
REPORTS and INPUTS
Cap Table
The Collectibles And Antiques Marketplace 3 Way Financial Model has built-in proformas to calculate discounted cash flows and various sales' and EBITDA valuations. Business owners can use these valuations to assess the exit value and perform the financial projections of returns to investors.
Users can use the Cap table or ignore it; it will not have a negative impact on the other financial calculations in the model.
Break Even
Our Collectibles And Antiques Marketplace 3 Way Forecast has proforma for the break even formula excel. Companies use break even formula excel to determine the price for their products or services that will generate enough revenue for the company to cover its costs.
Top Revenue
When the company's management starts to make a Financial Model Excel Spreadsheet, revenue is the most crucial component in the 3 Way Forecast Model. Revenue is one of the main drivers of the enterprise's value in the Excel Pro Forma Template. That is why financial analysts must pay special attention to planning and devising the best strategy to approach modeling future revenue streams.
Revenue forecasts should also have assumptions about the growth rate based on historical financial data. Users can find all the components of wise financial planning of the revenue streams in our Collectibles And Antiques Marketplace 3 Way Forecast.
Costs
Start-up costs are an essential part of any Excel Financial Model Template. They begin to accrue before actual operations start, so it is crucial to monitor them early to avoid overspendings and underfunding. Our Collectibles And Antiques Marketplace Financial Projection Model Template has the proforma for start-up costs that show both funding and expenses. You can use this proforma to monitor your expenses and create cost budgets.
Cash Flow KPIs
Cash balance. The cash balance shows the total amount of money in the financial account of the company. Any company needs to hold in reserve enough amount of cash to meet current obligations.
Loan opt-in
Calculating the necessary payments related to the obtained loan or mortgage is essential, especially for start-ups. At the same time, many companies may find this calculation to be a difficult task. In this case, our Financial Model In Excel has a loan amortization schedule with an amortization calculator that will help to plan and list these loan payments.
Financial KPIs
In the Financial Projection Template Excel, you can visually track your key financial indicators (KPIs) for 24 months and up to five years.
The model all KPIs you might need for your company:
– EBITDA/EBIT shows your company's operational performance;
– CASH FLOWS show your company's inflows and outflows;
– CASH BALANCE this is the forecast of cash in hand you will have.
File types:
Excel – Single-User: .xlsx
Excel – Multi-User: .xlsx
Free Demo – .xlsx