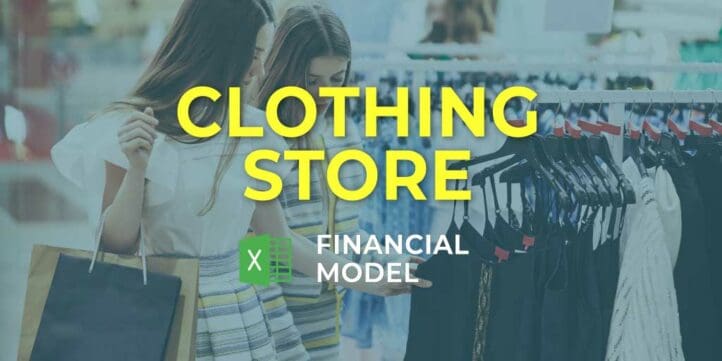 Clothing & Fashion, Distribution, Financial Model, FMCG (Fast-Moving Consumer Goods), Kiosks, Retail
5-year financial projections, Budgeting, Business Valuation, Cap Table, Cash Flow Projections, Cost Projections, DCF Model, Debt Amortization, Debt Schedule, Excel, Financial Feasibility, Financial Model, Financial Modeling, Financial Planning, Financial Projection, Financial Projections, Financial Reporting, Financial Statements, Forecast, Forecasting, Free Financial Model Templates, Investor Cash Flows, KPIs (Key Performance Indicators), NPV (Net Present Value), Pro-Forma, Revenue Projections, Scenario Analysis, Sensitivity Analysis, Startup Financial Models, Three Statement Model | Three Financial Statements, Uses and Sources of Funds, Valuation, WACC (Weighted Average Cost of Capital)
NOTE: Single-User pertains to a limited Single User License where the template can only be used by one single user; while Multi-User is a license for users sharing the template with up to 20 members. Please refer to Terms of Use and License and Permitted Use for clarification.
CLOTHING STORE FINANCIAL PROJECTION MODEL TEMPLATE KEY FEATURES
Video tutorial:
We do the math
Pro Forma Template Excel has all the required features ready with no formula writing, no formatting, no programming, no charting, and no expensive external consultants! Concentrate on the task of planning rather than programming.
Integrated Model to convince Investors
Financial Projection Excel includes and connects everything (assumptions, calculations, outputs) and presents it in an investor-friendly, deal-proven way.
Track your spending and staying within budget
Have you written a vague idea of cash inflows and cash outflows on the back of a napkin? All is well and good. Looking at the pro forma p&l statement will give you a snapshot of the past business performance, but it won't show the future in terms of the Cash Flow Pro Forma. With a cash flow statement for 5 years, you can plan future cash inflows and cash outflows and compare it to the budget, which can be invaluable information.
Works for startups
Three Statement Financial Model Template creates a financial summary formatted for your pitch deck
Update anytime
With Excel Financial Model Template you can easily adjust inputs at the launch stage and throughout the further activities of your store to refine your forecast.
Avoid Cash Flow Shortfalls
Unexpected Projected Cashflow Statement shortfalls can cause significant damage to your business, and it may take months to recover. Negative Cash Flow can appear if you don't continuously track the incoming cash and outgoing of your business. Fortunately, you can solve Projected Cash Flow Statement Format shortfalls with a bit of effort. Forecasting your Projected Cashflow Statement will help you identify — and plan for — market fluctuations, sales seasonality, and other cases that can lead to unpredictable Cash Flow Pro Forma. Cash Flow Statement Proforma can even help you visualize Projected Cashflow Statement trends with the help of automatically generated charts and graphs.
REPORTS and INPUTS
Performance KPIs
Sales growth is year-to-date. Every entrepreneur wants to see the company grow month-over-month. In some industries, sales depend on the season or other external factors. The sales growth year-to-date metric shows the pace at which the company's sales revenue increases or decreases.
Users can monitor sales volumes over various periods – daily, weekly, monthly, or yearly. Sales growth metric helps to manage sales growth goals in the form of a percentage of last month's sales volume or others. If the company has several sales teams, the management can monitor this metric for each team separately. It will help to monitor better each team's achievements.
Burn and Runway
The cash burn rate is one of the tabs your future investors may be very interested in. This metrics shows the time left to a complete cash burn. Also, this template shows a cash burn ratio. The calculation is based on your average annual cash balance and average monthly operating cash outflows.
Profitability KPIs
Growth of net income. Many financial metrics can be calculated from the Clothing Store Startup Financial Model. Entrepreneurs want to see the growth of their company, and the growth of net income is one of the essential metrics that shows that the company is growing and developing. This metric means that the sales are growing and costs are managed wisely, and, respectively, the forecasted income statement shows the net income growth.
Top Expenses
The Top expenses tab of the Clothing Store Financial Projection Template Excel reflects your company's annual expenses, both total and grouped by four categories.
This 3 Way Financial Model provides an overview of annual expenses on customer acquisition, COSS placeholders, wages & salaries, fixed and variable expenses, and all other expenses.
All in One Place
Get a sophisticated but easy-to-use Excel Pro Forma Template that is fully expandable. Our robust and powerful Clothing Store Financial Model Excel Template will be your roadmap for many different business models. If you have financial experience, you can expand and tailor all sheets as desired.
Sources and Uses
Sources and Uses of Funds Statement is a critical financial spreadsheet in our Clothing Store Profit Loss Projection. Business owners will need this statement for bank loan applications and the meeting with potential investors. Many banks include this statement in the application process for a business loan. The Sources and Uses statement is equally important both for large companies and for start-ups.
Large companies include Sources and Uses statements in their annual report for investors. The start-ups need to manage each source of funding and control each separate expense.
Lenders appreciate the Sources and Uses of Funds Statement because it excellently summarizes its financial plans and financial management strategies. This statement puts together the company's vision regarding the financing of the start-up or future expansion.
Cash Flow KPIs
Cash balance. The cash balance shows the total amount of money in the financial account of the company. Any company needs to hold in reserve enough amount of cash to meet current obligations.
File types:
Excel – Single-User: .xlsx
Excel – Multi-User: .xlsx
Free Demo – .xlsx