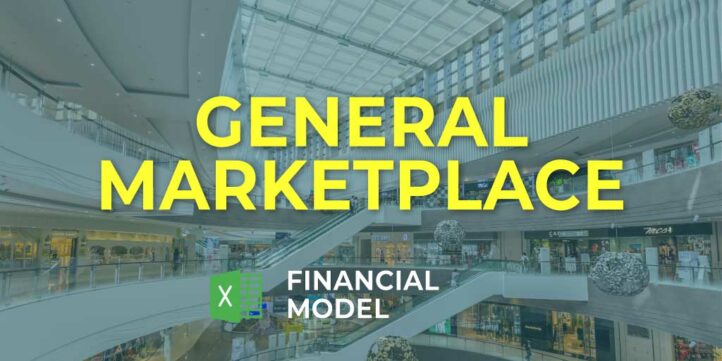 Financial Model, Marketplaces, Online Businesses & IT
5-year financial projections, Business Valuation, Financial Model, Financial Modeling, Financial Projection, Financial Projections, Free Financial Model Templates, Pro-Forma, Startup Financial Models, Three Statement Model | Three Financial Statements
NOTE: Single-User pertains to a limited Single User License where the template can only be used by one single user; while Multi-User is a license for users sharing the template with up to 20 members. Please refer to Terms of Use and License and Permitted Use for clarification.
GENERAL MARKETPLACE BUDGET SPREADSHEET KEY FEATURES
Saves you time
Cash Flow Proforma Template allows you to spend less time on finances and more time on your products, customers, and business development
Gaining trust from stakeholders
Investors and financing providers tend to think in terms of the big picture. They want the c-level of the companies they invest in to do the same to ensure they maintain a clear idea of the future. Providing stakeholders with a monthly projected cash flow statement will demonstrate a level of awareness that leads to confidence and trust and will make it easier to raise more investment.
Track your spending and staying within budget
Have you written a vague idea of cash inflows and cash outflows on the back of a napkin? All is well and good. Looking at the pro forma p&l statement will give you a snapshot of the past business performance, but it won't show the future in terms of the Projected Cashflow Statement. With a projected cash flow statement format, you can plan future cash inflows and cash outflows and compare them to the budget, which can be invaluable information.
Predict the Influence of Upcoming Changes
Does your company plan to purchase new equipment or to launch a new product? Cash Flow Pro Forma enables you to obtain a complete picture of the effect that specific changes will have on your Pro Forma Cash Flow Projection. When planning your finances in the Cash Flow Statement Projection, you will forecast cash inflows and outflows based on future invoices, bills due, and payroll. You can then create multiple 'what if' scenarios, such as buying new equipment to choose the best way for you. Forecasting shows you how the upcoming changes will affect your cash balance.
Simple and Incredibly Practical
Simple-to-use yet very sophisticated General Marketplace Three Statement Financial Model Template tool. Whatever size and stage of development your business is, with minimal planning experience and very basic knowledge of Excel you can get complete and reliable results. Additionally, you will receive uncompromised after-sales service and access to valuable tutorial videos and blog posts.
Save time and money
Via Financial Projection Model Template you can without effort and special education get all the necessary calculations and you will not need to spend money on expensive financial consultants. Your task is building a strategy, evolution, and creativity, and we have already done the routine calculations instead of you.
REPORTS and INPUTS
Benchmarks
Our Three Statement Financial Model has the proforma for industry benchmark analysis. Industry benchmarks, including the financial benchmarks, show users the comparison of performance indicators, e.g., financial indicators, with similar performance indicators of the other companies in the same industry.
Financial Statements
The template has a three-statement Excel Financial Model Template with integrated proformas. It allows users to create a company's Balance Sheet, p&l projection, and a cash flow statement proforma with minimum effort. For these proformas, users can input either historical or forecasted financial data. Forecasted financial statements show how a company will perform under various circumstances and allow users to integrate different assumptions in the Excel Pro Forma.
For example, the company's management can see the economic impact of its decisions, such as price changes.
Our well-built General Marketplace Cash Flow Proforma Template shows stakeholders how the company's functions work together and how management's decisions impact its overall financial performance.
Top Expenses
It is very important for a start-up and existing company to monitor, plan, and manage its costs and expenses to maintain a good profitability level.
For this purpose, it is necessary to analyze the highest costs and always work on their optimization. In our Five Year Financial Projection Template, we have created a Top expense report that helps users with this task. It summarizes the four biggest expense categories and the rest of the expenses as the 'other', so the users can easily monitor these expenses and track the tendencies related to their increase or decrease from year to year.
Top Revenue
When the company's management starts to make a Financial Projection Model, revenue is the most crucial component in the Three Statement Financial Model Template. Revenue is one of the main drivers of the enterprise's value in the Financial Projection Model Excel. That is why financial analysts must pay special attention to planning and devising the best strategy to approach modeling future revenue streams.
Revenue forecasts should also have assumptions about the growth rate based on historical financial data. Users can find all the components of wise financial planning of the revenue streams in our General Marketplace Financial Model Excel.
Valuation
With our pre-built valuation template in the General Marketplace Financial Projection Template, you will receive all the data your investors might need.
The weighted average cost of capital (WACC) will show your stakeholders the minimum return on enterprise funds invested in its activities capital. Free cash flow valuation will show a cash flow available to all investors, including shareholders and creditors. Discounted cash flow will reflect the value of future cash flows in relation to the current time.
Performance KPIs
Cost of acquiring new customers. The cost of acquiring new customers is a critical financial metric for start-ups, and it should be in our General Marketplace Pro Forma Template. The cost of acquiring new customers is the total cost of the marketing divided by the customers' number during the year.
Financial KPIs
In the Pro Forma Template Excel, you can visually track your key financial indicators (KPIs) for 24 months and up to five years.
The model all KPIs you might need for your company:
– EBITDA/EBIT shows your company's operational performance;
– CASH FLOWS show your company's inflows and outflows;
– CASH BALANCE this is the forecast of cash in hand you will have.
File types:
Excel – Single-User: .xlsx
Excel – Multi-User: .xlsx
Free Demo – .xlsx