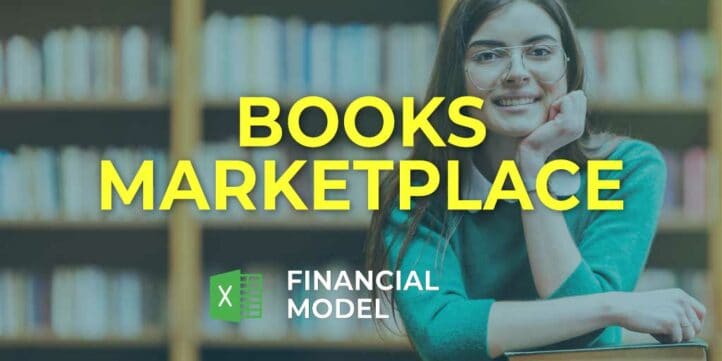 Financial Model, Marketplaces, Online Businesses & IT
5-year financial projections, Business Valuation, Financial Model, Financial Modeling, Financial Projection, Financial Projections, Free Financial Model Templates, Pro-Forma, Startup Financial Models, Three Statement Model | Three Financial Statements
NOTE: Single-User pertains to a limited Single User License where the template can only be used by one single user; while Multi-User is a license for users sharing the template with up to 20 members. Please refer to Terms of Use and License and Permitted Use for clarification.
BOOKS MARKETPLACE FINANCIAL PROJECTION KEY FEATURES
Convenient, All-In-One Dashboard
Includes all required forecasting reports, including assumptions, p&l proforma, cash flow forecast, balance sheets, performance reviews and summaries for months and years (incl. numerous graphs and KPIs).
Predict the Influence of Upcoming Changes
Does your company plan to purchase new equipment or to launch a new product? Cash Flow Statement enable you to obtain a complete picture of the effect that specific changes will have on your Cash Flow Statement For 5 Years. When planning your finances in the Cash Flow Statement For 5 Years, you will forecast cash inflows and outflows based on future invoices, bills due, and payroll. You can then create multiple 'what if' scenarios, such as buying new equipment to choose the best way for you. Forecasting shows you how the upcoming changes will affect your cash balance.
Great Value for Money
Use a robust and proven Books Marketplace 3 Way Forecast Excel Template based on years of experience at an affordable price. This financial model in excel has a one-off payment and absolutely no hidden fees or monthly payments.
Get a robust, powerful financial model which is fully expandable
This well-tested, robust and powerful Books Marketplace Excel Financial Model Template is your solid foundation to plan books marketplace business model. Advanced users are free to expand and tailor all sheets as desired, to handle specific requirements or to get into greater detail.
Run different scenarios
A Cash Flow Statement Forecast shows you what your cash balance will look like taking into account the numbers you put into the template. It means you can play with the various variables that impact your cash flow forecast, i.e., wages, sales inflow, supplier payments, taxes, and so on. By adjusting the input amounts, you will be able to see what impact they will have on your businesses' cash flow and when this impact is likely to occur. A well-known example of this is the ability to forecast the effect a new member of staff might have on your cash flow over different periods. Increase the wage costs and see what happens to your cash flow. Running different scenarios in your Projected Cash Flow Statement Format can have several benefits.
Currency for inputs and denomination
In Pro Forma Projection define any currency code or symbol and preferred denomination (e.g. 000s) to reflect your preferences.
REPORTS and INPUTS
Costs
A Books Marketplace Profit Loss Projection is an important financial tool that enables users to identify actual and forecasted expenditures, as well as financial resources needed to cover these costs. With a well-developed cost budget, you can see the areas where you can save money and the areas of high priority. As a part of a business plan, the cost budget supports the process of pitching to investors and loan applications.
Top Expenses
The Top expenses tab of the Books Marketplace Three Statement Financial Model Template reflects your company's annual expenses, both total and grouped by four categories.
This Pro Forma Projection provides an overview of annual expenses on customer acquisition, COSS placeholders, wages & salaries, fixed and variable expenses, and all other expenses.
Sources and Uses
The sources and uses of funds proforma in this Books Marketplace Financial Projection Template Excel tell stakeholders the sources where a company obtains its money and how it spends it.
Financial KPIs
The Books Marketplace Startup Financial Model has key financial indicators (KPIs) that show sales and profitability performance: revenue growth rate, gross margin, and EBITDA margin.
It also has KPIs related to cash flows and raising investment: the cash burn rate, runway and funding need. You can choose the KPIs relevant to your company and industry, and monitor your company's performance. For example, SaaS companies typically monitor and manage customer lifetime value (LTV), customer acquisition costs (CAC), LTV/CAC ratio, and the churn rate. For SaaS businesses, these KPIs are crucial.
Operational KPIs
Our Books Marketplace Pro Forma Template has convenient, informative, and easy-to-use operational performance graphs. Here you may visually track your company's key operational performance indicators (KPIs) in the form of charts. These operational performance graphs show the stakeholders the financial information related to the company's liquidity, revenues, expenses, cash flows, and other financial metrics. This financial information in the form of graphs will help a business owner to create presentations for banks and investors with minimum effort.
Dashboard
Our Books Marketplace 3 Way Financial Model Template has a dashboard that summarizes information from the other spreadsheets of the Financial Model In Excel. With this dashboard, you can set your key performance indicators (KPIs), and the dashboard will include them in the calculations and the information from the financial statements. You can create the dashboard with core financial information on a month-by-month basis and change it any time you need.
All in One Place
Get a sophisticated but easy-to-use Financial Projection that is fully expandable. Our robust and powerful Books Marketplace Cash Flow Proforma will be your roadmap for many different business models. If you have financial experience, you can expand and tailor all sheets as desired.
File types:
Excel – Single-User: .xlsx
Excel – Multi-User: .xlsx
Free Demo – .xlsx