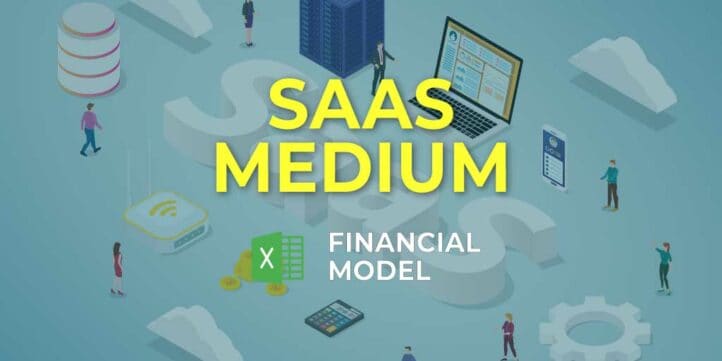 Financial Model, Mobile Apps, Online Businesses & IT, SaaS
5-year financial projections, Accounts Payable, Accounts Receivable, ARPU, ARR, Break-Even, Budgeting, Business Valuation, Cap Table, Cash Flow Analysis, Cash Flow Projections, Churn, Cost Calculation, Cost Projections, CPC, Customer Acquisition Costs (CAC), Customer Lifetime Value, Dashboard, DCF Model, Debt Schedule, Excel, Financial Debt, Financial Feasibility, Financial Model, Financial Modeling, Financial Planning, Financial Projections, Financial Reporting, Financial Statements, Forecast, Fundraising, Investor Cash Flows, MRR, NPV (Net Present Value), Payback Period, Post Money Valuation, Pre Money Valuation, Pro-Forma, Revenue Projections, Startup Financial Models, Subscribers, Three Statement Model | Three Financial Statements, Valuation
NOTE: Single-User pertains to a limited Single User License where the template can only be used by one single user; while Multi-User is a license for users sharing the template with up to 20 members. Please refer to Terms of Use and License and Permitted Use for clarification.
MONTHLY RECURRING REVENUE SAAS FINANCIAL PROJECTION EXCEL KEY FEATURES
Video tutorial:
Graphical visualization in a convenient dashboard all in one
All necessary reports and calculations, including variable data for your easement, are displayed on a convenient Financial Projection Model Excel dashboard tab. You do not need to move between sheets to compare important data – everything is visible immediately.
Convince investors and lenders
Enhance your pitches and impress potential financiers with a Financial Model In Excel delivering the right information and expected financial and operational metrics. Facilitate your negotiations with investors for successful funding. Raise money more quickly and refocus on your core business.
Print-ready Reports
Solid package of print-ready reports, including a pro forma income statement, pro forma cash flow projection, a balance sheet, and a complete set of financial ratios.
Simple and Incredibly Practical
Simple-to-use yet very sophisticated Monthly Recurring Revenue SaaS Financial Projection Model tool. Whatever size and stage of development your business is, with minimal planning experience and very basic knowledge of Excel you can get complete and reliable results. Additionally, you will receive uncompromised after-sales service and access to valuable tutorial videos and blog posts.
Better decision making
Make better operational decisions with the help of creating Projected Cash Flow Statement Format scenarios in your Excel Template. Perhaps you have to choose between new staff members or investment in equipment, and you are wondering which decision to chose. Variants forecasting will give you the information you need to make these decisions with confidence that you know what impact they will have on your cash balance.
Update anytime
With 3 Way Forecast Model you can easily adjust inputs at the launch stage and throughout the further activities of your store to refine your forecast.
REPORTS and INPUTS
Top Revenue
This Startup Financial Model has a tab for a detailed analysis of the company's revenue streams. With this template, users can analyze the revenue streams by each product or service category separately.
Cap Table
The Budget Spreadsheet and its Capitalization table (or Cap table) summarizes your investors' information, their share in the company, and how much they have paid for these shares.
All in One Place
A well-developed and easy-to-use Excel Financial Model. You do not to be a financial expert to design your start-up Financial Model. Everything you need is the right set of financial tools, and our Monthly Recurring Revenue SaaS Excel Financial Model Template will give you them.
Benchmarks
Our Cash Flow Proforma has the proforma for industry benchmark analysis. Industry benchmarks, including the financial benchmarks, show users the comparison of performance indicators, e.g., financial indicators, with similar performance indicators of the other companies in the same industry.
Loan opt-in
Calculating the necessary payments related to the obtained loan or mortgage is essential, especially for start-ups. At the same time, many companies may find this calculation to be a difficult task. In this case, our Financial Model Excel has a loan amortization schedule with an amortization calculator will help to plan and list these loan payments.
Profitability KPIs
EBITDA. Earnings before interest, tax, depreciation, and amortization (EBITDA) is a financial metric that shows a company's profitability. This metric includes both monetary and non-monetary items and, therefore, differs from cash flows. EBITDA shows the potential profitability of leveraged buyouts and is widely used in various industries.
Valuation
With our pre-built valuation template in the Monthly Recurring Revenue SaaS 3 Way Financial Model, you will receive all the data your investors might need.
The weighted average cost of capital (WACC) will show your stakeholders the minimum return on enterprise funds invested in its activities capital. Free cash flow valuation will show a cash flow available to all investors, including shareholders and creditors. Discounted cash flow will reflect the value of future cash flows in relation to the current time.
File types:
Excel – Single-User: .xlsx
Excel – Multi-User: .xlsx
Free Demo – .xlsx