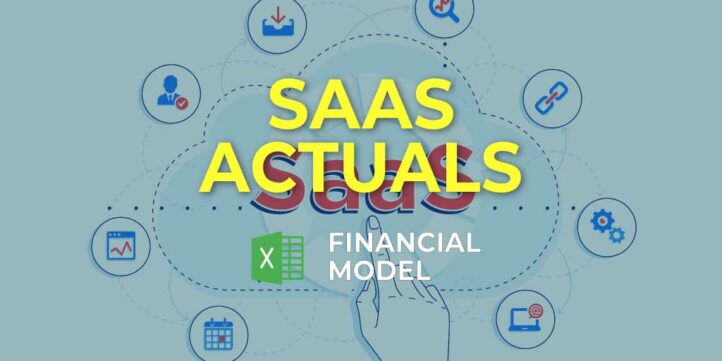 Financial Model, Online Businesses & IT, SaaS
5-year financial projections, Accounts Payable, Accounts Receivable, ARPU, Break-Even, Budgeting, Business Valuation, Cap Table, Cash Flow Analysis, Cash Flow Projections, Churn, Cost Calculation, Cost Projections, CPC, Customer Acquisition Costs (CAC), Customer Lifetime Value, Dashboard, DCF Model, Debt Amortization, Debt Schedule, Excel, Financial Feasibility, Financial Model, Financial Modeling, Financial Planning, Financial Projection, Financial Projections, Financial Reporting, Financial Statements, Forecast, Forecasting, Free Financial Model Templates, Fundraising, MRR, NPV (Net Present Value), Pro-Forma, Revenue Projections, Startup Financial Models, Subscribers, Terminal Value, Three Statement Model | Three Financial Statements, Valuation, WACC (Weighted Average Cost of Capital)
NOTE: Single-User pertains to a limited Single User License where the template can only be used by one single user; while Multi-User is a license for users sharing the template with up to 20 members. Please refer to Terms of Use and License and Permitted Use for clarification.
SAAS ACTUALS OPT-IN FINANCE PROJECTION KEY FEATURES
Video tutorial:
Convince investors and lenders
Enhance your pitches and impress potential financiers with a Budget Spreadsheet delivering the right information and expected financial and operational metrics. Facilitate your negotiations with investors for successful funding. Raise money more quickly and refocus on your core business.
We do the math
Excel Financial Model Template has all the required features ready with no formula writing, no formatting, no programming, no charting, and no expensive external consultants! Concentrate on the task of planning rather than programming.
Identify cash gaps and surpluses before they happen.
Forecasting your future cash balance helps you see well in advance when you may have a cash deficit that could hurt your business. Cash Flow Statement Projection will give you enough time to take action to prevent a crisis. It will enable you to access better loan rates or speed up incoming payment to bridge the gap. On the other side, if you know ahead of time that the large lump of cash will lay in your bank account within the next three months. In this case, you might need to explore options to reinvest it in your business to drive growth.
Integrated Model to convince Investors
3 Way Financial Model Template includes and connects everything (assumptions, calculations, outputs) and presents it in an investor-friendly, deal-proven way.
Get Investors to Notice
Most entrepreneurs can't get investors to return their calls. With the SaaS Actuals Opt-In Five Year Financial Projection Template, you will secure meetings with potential investors easily.
Print-ready Reports
Solid package of print-ready reports, including a p&l projection, cash flow statement projection, a balance sheet, and a complete set of financial ratios.
REPORTS and INPUTS
Benchmarks
A benchmarking study as the element of the Pro Forma Template is usually used to evaluate a business's performance by focusing on one or more particular indicators and comparing them with similar indicators of other companies in the industry.
In respect of the financial benchmarking study, these indicators could be profit margins, cost margins, cost per unit, productivity margins, or others. Later the company's performance indicators should be compared to that of other companies within the same industry.
Benchmarking is a useful strategic management tool, which is essential for start-ups. Companies can evaluate any economic, business, or financial metric or process and compare them to the processes of 'best practice' companies within the same field or industry.
Financial Statements
The SaaS Actuals Opt-In Excel Financial Model has pre-built proformas for the balance sheet, the proforma income statement, and the cashflow forecast. These proformas allow users to create statements both on a monthly and annual basis.
Users can create detailed financial statements using the financial assumptions inputted in the Financial Projection Model.
Dashboard
The All-in-one dashboard in this SaaS Actuals Opt-In Cash Flow Proforma contains all core financial inputs and core start-up metrics critical for the companies' financial analysis. It reflects the financial data from a Balance Sheet, an p&l projection, and a cash flow pro forma. Moreover, users can obtain financial information in the form of graphs or charts.
Top Expenses
The Top expenses tab of the SaaS Actuals Opt-In Excel Financial Model Template reflects your company's annual expenses, both total and grouped by four categories.
This Financial Model provides an overview of annual expenses on customer acquisition, COSS placeholders, wages & salaries, fixed and variable expenses, and all other expenses.
Cash Flow KPIs
Cash balance. The cash balance shows the total amount of money in the financial account of the company. Any company needs to hold in reserve enough amount of cash to meet current obligations.
Cap Table
Financial Projection Model Excel consists of a Capitalization Table is one of the essential spreadsheets for start-ups. It reflects the company's overall ownership structure and depicts who owns what, how much possesses, and at what value. A capitalization table shows equity shares, preferred shares, options, and stakeholders' prices for such securities.
All in One Place
We created the fully modular Pro Forma Budget that separates the financial core: financial statements, operating costs, hiring plan, cap table, valuation, and actuals reporting. It contains growth forecasts and revenue projections, and you can easily change or delete any input or projection.
The Pro Forma Projection structure allows extending it by adding additional details or financial forecasting methods for specific business types. All cells and formulas are completely open and unlocked so that you can edit or change anything in the SaaS Actuals Opt-In Cash Flow Format In Excel.
File types:
Excel – Single-User: .xlsx
Excel – Multi-User: .xlsx
Free Demo – .xlsx