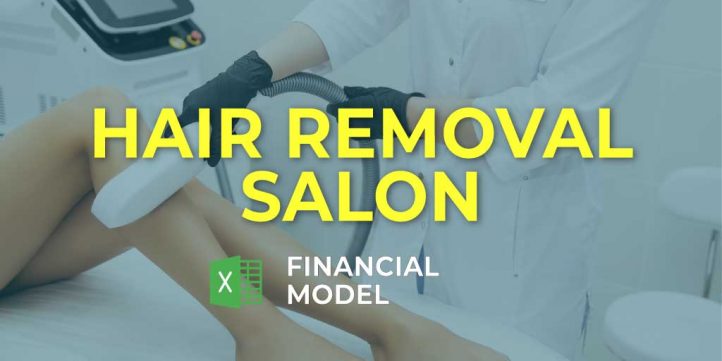 Beauty Shops & Centers, Financial Model, Retail
5-year financial projections, Business Valuation, Financial Model, Financial Modeling, Financial Projection, Financial Projections, Pro-Forma, Startup Financial Models, Three Statement Model | Three Financial Statements
NOTE: Single-User pertains to a limited Single User License where the template can only be used by one single user; while Multi-User is a license for users sharing the template with up to 20 members. Please refer to Terms of Use and License and Permitted Use for clarification.
HAIR REMOVAL SALON CASH FLOW FORMAT IN EXCEL KEY FEATURES
Video tutorial:
All necessary reports
When creating a Hair Removal Salon Cashflow Projection, you will not need to independently prepare financial reports and study the requirements for them. Our Excel template contains all the necessary reports and calculations that correspond with the lenders demand.
Convince investors and lenders
Enhance your pitches and impress potential financiers with a Financial Projection Template delivering the right information and expected financial and operational metrics. Facilitate your negotiations with investors for successful funding. Raise money more quickly and refocus on your core business.
Get a Robust, Powerful and Flexible Financial Model
This well-tested, robust and powerful Hair Removal Salon Financial Projection Excel is your solid foundation to plan a business model. Advanced users are free to expand and tailor all sheets as desired, to handle specific requirements or to get into greater detail.
Manage accounts receivable.
By creating a cash flow statement proforma that takes invoices and bills into account, you'll be more easily able to identify who is systematically paying late. You could even go on to model different payment dates on overdue invoices to see the real effect of late payments on your cash flow.
Update anytime
You can easily adjust inputs at the launch stage and throughout the further activities of your business to refine your Hair Removal Salon Financial Model Excel.
Print-ready Reports
Solid package of print-ready reports, including a projected income statement, cashflow forecast, a balance sheet, and a complete set of financial ratios.
REPORTS and INPUTS
Cap Table
A capitalization table or the cap table is an essential financial tool for start-up companies. A cap table in our Hair Removal Salon Cashflow Projection has four rounds of raising funding. This approach will help users anticipate the company's ownership stakes by its shareholders, which will lead to dilution of existing shares. A cap table considers equity shares, preferred shares, share options, employee stock options, convertible bonds, and others.
Liquidity KPIs
Accounts receivable turnover (ART). In the 3 Way Financial Model, the accounts receivables turnover ratio (ART) calculates a metric that assesses a company's effectiveness in collecting its receivables. This ratio shows how successful the company is in managing its debts.
Valuation
With our pre-built valuation template in the Hair Removal Salon Financial Projection Model Excel, you will receive all the data your investors might need.
The weighted average cost of capital (WACC) will show your stakeholders the minimum return on enterprise funds invested in its activities capital. Free cash flow valuation will show a cash flow available to all investors, including shareholders and creditors. Discounted cash flow will reflect the value of future cash flows in relation to the current time.
Burn and Runway
This Hair Removal Salon Financial Model In Excel Template automatically calculates the cash burn rate based on the inputs from other spreadsheets, in particular, from the cash flow projection.
Break Even
Break Even Formula Excel studies the volume of sales or units the company needs to break even to cover its variable and fixed costs. This Hair Removal Salon Pro Forma Budget helps companies determine the period when it is supposed to become profitable.
The calculation of the break-even point helps financial specialists in several ways. First of all, it shows the company's owners if this type of business is worthy of starting up. It also helps the company's managers determine the price for its products or services that will help cover all company's costs, both fixed and variable.
Top Expenses
In the Top expenses section of our Hair Removal Salon Three Way Financial Model, you can track your more significant expenses divided into four categories. The model also has an 'other' category, and you can expand or change this table according to your needs.
You can reflect your company's historical data or make a Budget Spreadsheet for the five years.
Top Revenue
When the company's management starts to make a Excel Pro Forma Template, revenue is the most crucial component in the Profit Loss Projection. Revenue is one of the main drivers of the enterprise's value in the Financial Model. That is why financial analysts must pay special attention to the planning and devising the best strategy to approach modeling future revenue streams.
Revenue forecasts should also have assumptions about the growth rate based on historical financial data. Users can find all the components of wise financial planning of the revenue streams in our Hair Removal Salon Startup Financial Model.
File types:
Excel – Single-User: .xlsx
Excel – Multi-User: .xlsx
Free Demo – .xlsx