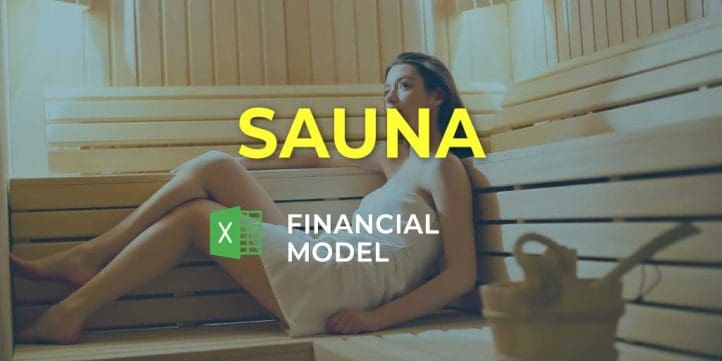 Beauty Shops & Centers, Financial Model, Retail
5-year financial projections, Business Valuation, Financial Model, Financial Modeling, Financial Projection, Financial Projections, Pro-Forma, Startup Financial Models, Three Statement Model | Three Financial Statements
NOTE: Single-User pertains to a limited Single User License where the template can only be used by one single user; while Multi-User is a license for users sharing the template with up to 20 members. Please refer to Terms of Use and License and Permitted Use for clarification.
SAUNA FINANCIAL MODEL KEY FEATURES
Video tutorial:
Track your spending and staying within budget
Have you written a vague idea of cash inflows and cash outflows on the back of a napkin? All is well and good. Looking at the p&l projection will give you a snapshot of the past business performance, but it won't show the future in terms of the Cash Flow Statement. With a startup cash flow statement, you can plan future cash inflows and cash outflows and compare it to the budget, which can be invaluable information.
Update anytime
You can easily adjust inputs at the launch stage and throughout the further activities of your business to refine your Sauna Financial Projection.
5 years forecast horizon
Generate fully-integrated Sauna Pro Forma Template Excel for 5 years (on a monthly basis). Automatic aggregation of annual summaries on outputs tabs.
Get a robust, powerful financial model which is fully expandable
This well-tested, robust and powerful Sauna Cash Flow Format In Excel is your solid foundation to plan sauna business model. Advanced users are free to expand and tailor all sheets as desired, to handle specific requirements or to get into greater detail.
Get a Robust, Powerful and Flexible Financial Model
This well-tested, robust and powerful Sauna Financial Projection Model Excel is your solid foundation to plan a business model. Advanced users are free to expand and tailor all sheets as desired, to handle specific requirements or to get into greater detail.
Get Investors to Notice
Most entrepreneurs can't get investors to return their calls. With the Sauna 3 Way Financial Model Template, you will secure meetings with potential investors easily.
REPORTS and INPUTS
Cap Table
A capitalization table or the cap table is an essential financial tool for start-up companies. A cap table in our Sauna Pro Forma Projection has four rounds of raising funding. This approach will help users anticipate the company's ownership stakes by its shareholders, which will lead to dilution of existing shares. A cap table considers equity shares, preferred shares, share options, employee stock options, convertible bonds, and others.
Financial Statements
The template has a three-statement Financial Projection Template with integrated proformas. It allows users to create a company's Balance Sheet, p&l forecast, and a projected cashflow statement with minimum efforts. For these proformas, users can input either historical or forecasted financial data. Forecasted financial statements show how a company will perform under various circumstances and allow users to integrate different assumptions in the 3 Way Forecast Model.
For example, the company's management can see the economic impact of its decisions, such as price changes.
Our well-built Sauna Excel Pro Forma Template shows stakeholders how the company's functions work together and how management's decisions impact its overall financial performance.
Benchmarks
The financial benchmarking study tab in this 3 Way Forecast will help the companies assess their key performance indicators and compare them with other companies' KPIs.
The term 'benchmarking' means the process of comparing the business, financial or other metrics of your company to that of other firms within the same industry. It is essential to use other businesses' best practices in the same industry as a 'benchmark' to improve your own company's standards.
As a result of the benchmarking study, companies can learn how to operate in a certain industry more efficiently. This benefit makes the financial benchmarking study an essential planning tool for start-ups.
Loan opt-in
A loan amortization schedule is a table that shows the company's stakeholders the details of the periodic payments for an amortizing loan. It reflects the principal of an amortizing loan that is paid down over the life of the loan. In most cases, such payments have equal amounts, and the company regularly makes them during a certain period.
A Sauna Pro Forma includes the pre-built amortization calculator, which reflects the initial amount, periodic terms, and interest rate of the loan. With this loan amortization schedule, the companies can better plan and track how much they still owe and how they plan to repay the loans.
Cash Flow KPIs
Operating cash flow. Operating cash flow calculation shows how much cash the company generates from the business operations. This calculation does not include secondary sources of revenue, like interest or investments.
Operational KPIs
Our Sauna Excel Financial Model has convenient, informative, and easy-to-use operational performance graphs. Here you may visually track your company's key operational performance indicators (KPIs) in the form of charts. These operational performance graphs show the stakeholders the financial information related to the company's liquidity, revenues, expenses, cash flows, and other financial metrics. This financial information in the form of graphs will help a business owner to create presentations for banks and investors with minimum efforts.
Valuation
Our Sauna 3 Way Financial Model has two integrated valuation methods. It has a discounted cash flow (DCF) and the weighted average cost of capital (WACC) calculations to show a company's forecasted financial performance.
File types:
Excel – Single-User: .xlsx
Excel – Multi-User: .xlsx
Free Demo – .xlsx