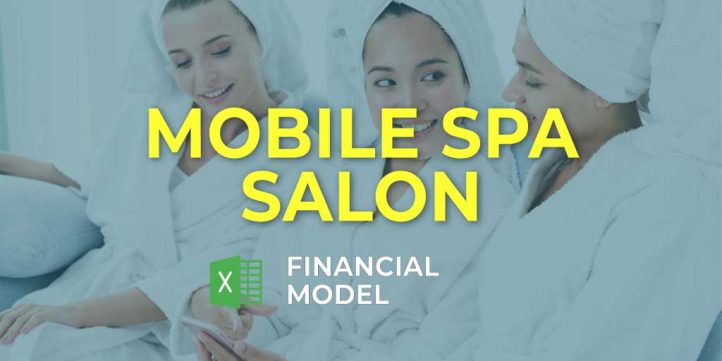 Beauty Shops & Centers, Financial Model, Retail
5-year financial projections, Business Valuation, Financial Model, Financial Modeling, Financial Projection, Financial Projections, Pro-Forma, Startup Financial Models, Three Statement Model | Three Financial Statements
NOTE: Single-User pertains to a limited Single User License where the template can only be used by one single user; while Multi-User is a license for users sharing the template with up to 20 members. Please refer to Terms of Use and License and Permitted Use for clarification.
MOBILE SPA SALON FINANCIAL MODEL EXCEL SPREADSHEET KEY FEATURES
Video tutorial:
Integrated Model to convince Investors
Finance Projection includes and connects everything (assumptions, calculations, outputs) and presents it in an investor-friendly, deal-proven way.
Predict the Influence of Upcoming Changes
Does your company plan to purchase new equipment or to launch a new product? Projected Cash Flow Statement Format enable you to obtain a complete picture of the effect that specific changes will have on your Cash Flow Statement By Month. When planning your finances in the Cash Flow Projection, you will forecast cash inflows and outflows based on future invoices, bills due, and payroll. You can then create multiple 'what if' scenarios, such as buying new equipment to choose the best way for you. Forecasting shows you how the upcoming changes will affect your cash balance.
It is part of the reports set you need.
It doesn't matter you are worried about cash or not, setting up, and managing a Mobile Spa Salon Budget Financial Model should be a cornerstone of your reporting set. It's the main report of your business that must have in place to grow sustainably. Before you rush into rent more office space or making a new hire, you should always run a Cash Flow Pro Forma scenario. You can model how that action would impact your cash balance in the nearest future. Knowing whether or not plans are possible is crucial to minimizing risk.
Track your spending and staying within budget
Have you written a vague idea of cash inflows and cash outflows on the back of a napkin? All is well and good. Looking at the income statement projection will give you a snapshot of the past business performance, but it won't show the future in terms of the Cash Flow Statement. With a startup cash flow statement, you can plan future cash inflows and cash outflows and compare it to the budget, which can be invaluable information.
Great Value for Money
Use a robust and proven Mobile Spa Salon Finance Projection based on years of experience at an affordable price. This pro forma has a one-off payment and absolutely no hidden fees or monthly payments.
Get it Right the First Time
Funding is a binary event: either you succeed or you fail. If you fail, most investors won't give you a second chance. Learn about the pros and cons with Mobile Spa Salon Financial Projection Template.
REPORTS and INPUTS
Burn and Runway
The cash burn rate is one of the tabs your future investors may be very interested in. This metrics shows the time left to a complete cash burn. Also, this template shows a cash burn ratio. The calculation is based on your average annual cash balance and average monthly operating cash outflows.
Cash Flow KPIs
Cash balance. The cash balance shows the total amount of money in a financial account of the company. Any company needs to hold in reserve enough amount of cash to meet current obligations.
CAPEX
A capital expenditure ('CapEx' for short) table reflects the company's expenses, either cash or credit, on purchases of goods that are capitalized on the balance sheet. Such capitalized expenses, the company does not reflect directly in the profit and loss projection as expenses, and such expenses are considered as an investment in the company's expansion.
Benchmarks
This Financial Model Excel Spreadsheet has a tab for financial benchmarking study. This study involves a financial analysis performance and comparing the company's results with other companies' financial indicators in the industry. Conduction of the financial benchmarking study helps users assess a company's overall competitiveness, efficiency, and productivity.
Sources and Uses
The Sources and Uses statement in our Mobile Spa Salon 3 Way Financial Model Template shows users that financial planning does not have to be complicated. This statement shows the company's stakeholders, e.g., lenders, how much financing the company needs, and how it plans to get it. There may be cases when the company does not need more funding. It wants to show its current investors that it has additional or alternative funding sources it can attract in case of unexpected events. These additional sources of funding may be interesting for banks, for example.
While putting together the Sources and Uses statement, companies and especially start-ups can include alternative funding sources, such as crowdfunding campaigns.
Another part of the Sources and Uses statement is the ways the company plans to use obtained funds. The total figure in this section should balance with the figure if the 'Sources' section, i.e., both parts of the Sources and Uses section, should balance.
Costs
A Mobile Spa Salon Cash Flow Format In Excel is an important financial tool that enables users to identify actual and forecasted expenditures, as well as financial resources needed to cover these costs. With a well-developed cost budget, you can see the areas where you can save money and the areas of high priority. As a part of a business plan, the cost budget supports the process of pitching to investors and loan applications.
Cap Table
The Cap table in our Mobile Spa Salon Financial Projection Model Excel is integrated into the cash flows. It maps the funding rounds to the financial instruments, such as equity or convertible notes. The Cap table also shows the impact of the company's decisions on share ownership and dilution.
File types:
Excel – Single-User: .xlsx
Excel – Multi-User: .xlsx
Free Demo – .xlsx