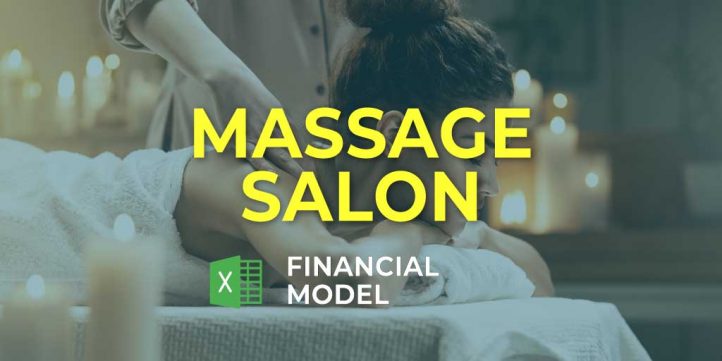 Beauty Shops & Centers, Financial Model, Retail
5-year financial projections, Business Valuation, Financial Model, Financial Modeling, Financial Projection, Financial Projections, Pro-Forma, Startup Financial Models, Three Statement Model | Three Financial Statements
NOTE: Single-User pertains to a limited Single User License where the template can only be used by one single user; while Multi-User is a license for users sharing the template with up to 20 members. Please refer to Terms of Use and License and Permitted Use for clarification.
MASSAGE SALON CASH FLOW FORMAT IN EXCEL KEY FEATURES
Video tutorial:
Identify cash gaps and surpluses before they happen.
Forecasting your future cash balance helps you see well in advance when you may have a cash deficit that could hurt your business. Startup Cash Flow Projection will give you enough time to take action to prevent a crisis. It will enable you to access better loan rates or speed up incoming payment to bridge the gap. On the other side, if you know ahead of time that the large lump of cash will lay in your bank account within the next three months. In this case, you might need to explore options to reinvest it in your business to drive growth.
Simple and Incredibly Practical
Simple-to-use yet very sophisticated Massage Salon P&L Projection tool. Whatever size and stage of development your business is, with minimal planning experience and very basic knowledge of Excel you can get complete and reliable results. Additionally, you will receive uncompromised after-sales service and access to valuable tutorial videos and blog posts.
Manage surplus cash
Most companies don't have excess cash in the bank. It is a well-known situation. But managing surplus cash for reinvestment in new market opportunities, or debt repayments can be essential to keeping stay in the business. Managers are entirely ready to plan for what to do with the cash surplus if they have the forecast of when and where the business will have surplus cash in the bank account. Startup Cash Flow Statement will provide supplementary guidance on what to do with a cash surplus.
Investors ready
Print ready (including a pro forma profit and loss, a Projected Cash Flow Statement Format, a balance sheet, and a complete set of financial ratios).
External stakeholders, such as banks, may require a regular forecast.
If the business has a bank loan, the bank will ask for a Massage Salon Finance Projection regularly.
Works for startups
Pro Forma Template creates a financial summary formatted for your pitch deck
REPORTS and INPUTS
CAPEX
This Financial Projection Template has a template for the automatic calculation of capital requirements and funding based on an implied cash flow waterfall (different equity and debt tranches with alternative funding priorities).
Financial Statements
The Massage Salon Financial Projection Excel has pre-built proformas for the balance sheet, the projected income statement, and the cash flow statement by month. These proformas allow users to create statements both on a monthly and annual basis.
Users can create detailed financial statements using the financial assumptions inputted in the Financial Model.
Burn and Runway
The cash burn rate shows the difference between the cash inflows and cash outflows of the company. It is essential to monitor this metric because it shows how long the company will last with its current funding level. Business owners can also see a clear picture of how various business strategies change the cash burn rate.
Costs
Start-up costs are an essential part of any Budget Spreadsheet. They begin to accrue before actual operations start, so it is crucial to monitor them early to avoid overspendings and underfunding. Our Massage Salon Excel Pro Forma Template has the proforma for start-up costs that show both funding and expenses. You can use this proforma to monitor your expenses and create cost budgets.
Operational KPIs
Financial graphs and charts in this Massage Salon Financial Model help the stakeholders visually track liquidity, budgets, expenses, cash flow, and many other company financial metrics. These graphs will also help a company's management avoid problems by reflecting its financial data in real-time, with a comprehensive financial information overview.
These operational performance graphs will help the business owners and financial managers ensure the best possible performance and financial health of their company because regular financial analytics procedures and the highest quality of financial data are the company's top priorities.
Our financial graphs will also help the company's financial specialists raise financial issues at the general meetings and deliver understandable financial information to other departments and external stakeholders.
Cap Table
Financial Projection Model Template consist of a Capitalization Table is one of the essential spreadsheets for start-ups. It reflects the company's overall ownership structure and depicts who owns what, how much possesses, and at what value. A capitalization table shows equity shares, preferred shares, options, and stakeholders' prices for such securities.
Benchmarks
Our Cash Flow Proforma has the proforma for industry benchmark analysis. Industry benchmarks, including the financial benchmarks, show users the comparison of performance indicators, e.g., financial indicators, with similar performance indicators of the other companies in the same industry.
File types:
Excel – Single-User: .xlsx
Excel – Multi-User: .xlsx
Free Demo – .xlsx