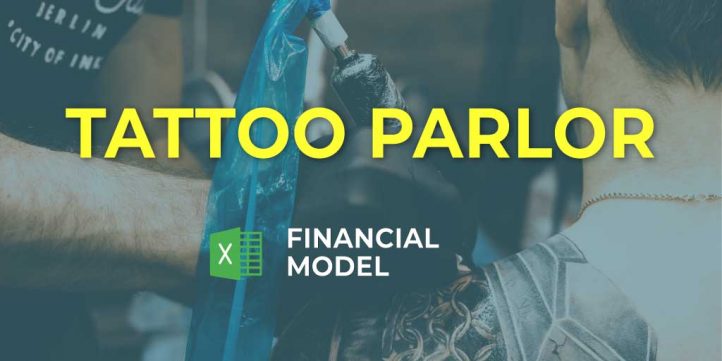 Beauty Shops & Centers, Financial Model, Retail
5-year financial projections, Business Valuation, Financial Model, Financial Modeling, Financial Projection, Financial Projections, Pro-Forma, Startup Financial Models, Three Statement Model | Three Financial Statements
NOTE: Single-User pertains to a limited Single User License where the template can only be used by one single user; while Multi-User is a license for users sharing the template with up to 20 members. Please refer to Terms of Use and License and Permitted Use for clarification.
TATTOO PARLOR 3 WAY FORECAST MODEL KEY FEATURES
Video tutorial:
Graphical visualization in a convenient dashboard all in one
All necessary reports and calculations, including variable data for your easement, are displayed on a convenient Excel Financial Model Template dashboard tab. You do not need to move between sheets to compare important data – everything is visible immediately.
Key Metrics Analysis
Creates 5-year Tattoo Parlor Three Statement Financial Model, proforma, financial statements, and financial ratios in GAAP or IFRS formats on the fly.
Currency for inputs and denomination
In 3 Way Forecast Model define any currency code or symbol and preferred denomination (e.g. 000s) to reflect your preferences.
Better decision making
Make better operational decisions with the help of creating Pro Forma Cash Flow Projection scenarios in your Excel Template. Perhaps you have to choose between new staff members or investment in equipment, and you are wondering which decision to chose. Variants forecasting will give you the information you need to make these decisions with confidence that you know what impact they will have on your cash balance.
Save Time and Money
Tattoo Parlor Financial Model Excel Template allows you to start planning with minimum fuss and maximum of help. No writing formulas, no formatting, no programming, no charting, and no expensive external consultants. Plan the growth of your business instead of fiddling around with expensive techy things.
Manage surplus cash
Most companies don't have excess cash in the bank. It is a well-known situation. But managing surplus cash for reinvestment in new market opportunities, or debt repayments can be essential to keeping stay in the business. Managers are entirely ready to plan for what to do with the cash surplus if they have the forecast of when and where the business will have surplus cash in the bank account. Statement Of Cash Flows will provide supplementary guidance on what to do with a cash surplus.
REPORTS and INPUTS
Burn and Runway
Our Tattoo Parlor Excel Pro Forma automatically creates cash runway and cash burn analysis based on the forecasted revenues and expenses that, in their turn, show net loss, net profit, cash on hand, and excel break even formula. You can also forecast funding requirements using a set of parameters around funding (e.g., equity, debt, grants) and expected runway to raise (for example, 18 months of forecasted expenses).
Break Even
The break even excel (BEA) is a useful financial tool that helps companies study the relationship between fixed and variable costs and revenue. This analysis calculates the break-even point (BEP), indicating when an investment in the start-up will generate a positive return.
Our Tattoo Parlor Excel Financial Model represents the excel break even formula graphically and as a mathematical calculation. It calculates the required sales volume at a certain sales price that will cover its overall costs.
Dashboard
The All-in-one dashboard in this Tattoo Parlor Pro Forma Budget contains all core financial inputs and core start-up metrics critical for the companies' financial analysis. It reflects the financial data from a Balance Sheet, an pro forma income statement, and a cash flow statement. Moreover, users can obtain financial information in the form of graphs or charts.
Financial KPIs
In the Budget Financial Model you can visually track key financial indicators over the five years period as well as 24 months period.
– EBITDA/EBIT shows your company's operational performance
– CASH FLOWS shows your company's inflows and outflows
– CASH BALANCE this is the forecast of cash in hand you will have.
Financial Statements
With our Financial Projection Model, you can easily create an pro forma p&l statement, a Balance Sheet, and a cash flow statement proforma for your company. You can choose these statements' format and make any financial statement with a monthly or annual breakdown, or for five years.
Operational KPIs
Our Tattoo Parlor Financial Model has convenient, informative, and easy-to-use operational performance graphs. Here you may visually track your company's key operational performance indicators (KPIs) in the form of charts. These operational performance graphs show the stakeholders the financial information related to the company's liquidity, revenues, expenses, cash flows, and other financial metrics. This financial information in the form of graphs will help a business owner to create presentations for banks and investors with minimum efforts.
All in One Place
A well-developed and easy-to-use Budget Spreadsheet. You do not to be a financial expert to design your start-up Financial Projection Model. Everything you need is the right set of financial tools, and our Tattoo Parlor Three Statement Financial Model Template will give you them.
File types:
Excel – Single-User: .xlsx
Excel – Multi-User: .xlsx
Free Demo – .xlsx