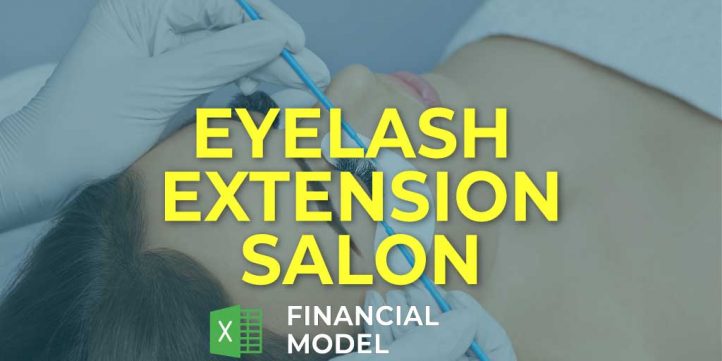 Beauty Shops & Centers, Financial Model, Retail
5-year financial projections, Business Valuation, Financial Model, Financial Modeling, Financial Projection, Financial Projections, Pro-Forma, Startup Financial Models, Three Statement Model | Three Financial Statements
NOTE: Single-User pertains to a limited Single User License where the template can only be used by one single user; while Multi-User is a license for users sharing the template with up to 20 members. Please refer to Terms of Use and License and Permitted Use for clarification.
EYELASH EXTENSION SALON STARTUP FINANCIAL MODEL KEY FEATURES
Video tutorial:
Simple-to-use
A very sophisticated Eyelash Extension Salon Cash Flow Proforma, whatever size and stage of development your business is. Minimal previous planning experience and very basic knowledge of Excel is required: however, fully sufficient to get quick and reliable results.
Easy to follow
Clear and transparent Eyelash Extension Salon Financial Projection Model Excel structure (15+ separate tabs, each focusing on a specific planning category, colour coded => input, calculation and report sheets).
Confidence in the future
Using our financial model, you can effectively plan, prevent risks, manage stocks and Cash Flow Statement Projection and foresee your prospects for the next 5 years.
Integrated Model to convince Investors
Financial Projection Model includes and connects everything (assumptions, calculations, outputs) and presents it in an investor-friendly, deal-proven way.
Plan for Future Growth
Projected Cash Flow Statement Format can help you plan for future growth and expansion. No matter you're extending your company with new employees and need to take into account increased staff expenses. Or to scale production to keep up with increased sales, future projections help you see accurately where you're running — and how you'll get there. Forecasting is also a well-known goal-setting framework to help you plan out the financial steps your company has to take to reach targets. There's power in Cash Flow Forecast and the insight they can provide your business. Fortunately, this competitive advantage comes with little effort when you use the Projected Cash Flow Statement Format.
Gaining trust from stakeholders
Investors and financing providers tend to think in terms of the big picture. They want the c-level of the companies they invest in to do the same to ensure they maintain a clear idea of the future. Providing stakeholders with a monthly cash flow statement proforma will demonstrate a level of awareness that leads to confidence and trust and will make it easier to raise more investment.
REPORTS and INPUTS
Operational KPIs
Our Eyelash Extension Salon Financial Model Excel Spreadsheet has convenient, informative, and easy-to-use operational performance graphs. Here you may visually track your company's key operational performance indicators (KPIs) in the form of charts. These operational performance graphs show the stakeholders the financial information related to the company's liquidity, revenues, expenses, cash flows, and other financial metrics. This financial information in the form of graphs will help a business owner to create presentations for banks and investors with minimum efforts.
Costs
A Eyelash Extension Salon Financial Projection Template is an important financial tool that enables users to identify actual and forecasted expenditures, as well as financial resources needed to cover these costs. With a well-developed cost budget, you can see the areas where you can save money and the areas of high priority. As a part of a business plan, the cost budget supports the process of pitching to investors and loan applications.
Burn and Runway
This Eyelash Extension Salon Excel Financial Model Template automatically calculates the cash burn rate based on the inputs from other spreadsheets, in particular, from the cash flow forecast.
CAPEX
A capital expenditure (CAPEX) reflects the company's investment in a business. Such an investment can be made in a piece of manufacturing equipment, an office supply, a vehicle, or others.
A CAPEX is typically steered towards the goal of rolling out a new product line or expanding a company's existing operations. The company does not report the money spent on CAPEX purchases directly in the pro forma profit and loss statement. It reflects these expenses as an asset in the balance sheets and, at the same time, deducts a part of this amount in the form of depreciation expenses for several years.
Financial Statements
Our Eyelash Extension Salon 3 Way Financial Model Template has a pre-built integrated financial summary that contains all the financial information from other spreadsheets, including the primary financial statements: Balance Sheet, Statement of financial position, and cash flow forecast. Our specialists have already formatted this financial summary for your pitch deck.
Cap Table
The capitalization table helps business owners to calculate shareholder's ownership dilution. The Cap table in our Eyelash Extension Salon 3 Way Forecast Model has four rounds of funding, and users can apply all of them or one or two rounds for their financial projections.
Performance KPIs
Payback period. The cost of acquiring new customers should be compared to the profits that these customers generate. When these two numbers are divided, the result is called a payback period.
File types:
Excel – Single-User: .xlsx
Excel – Multi-User: .xlsx
Free Demo – .xlsx