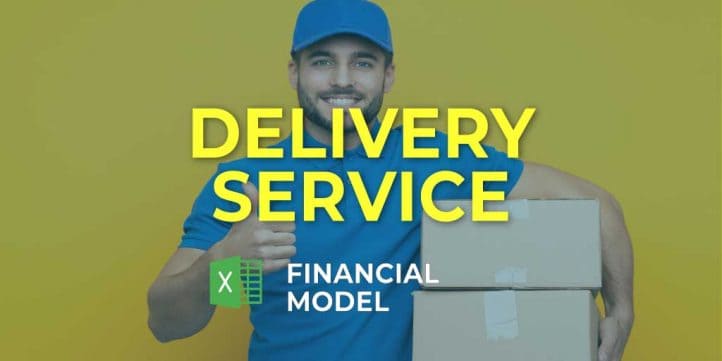 Distribution, Financial Model, Hospitality, Service Businesses, Transport
5-year financial projections, Business Valuation, Financial Model, Financial Modeling, Financial Projection, Financial Projections, Free Financial Model Templates, Pro-Forma, Startup Financial Models, Three Statement Model | Three Financial Statements
DELIVERY SERVICE FINANCIAL PROJECTION EXCEL KEY FEATURES
Video tutorial:
Generate growth inspiration
By running various scenarios and looking at the effects they could have on your cash balance, you will begin to see which options are best for your business. Ones that are possible, and what is involved in making them work. Organic growth isn't the only option – there are growing funding options becoming available, and Cash Flow Projection could be a way of looking at the impact an injection of cash could have on your business and its growth plans.
Avoid cash flow problems.
Cash flow, and especially Cash Flow Statement Forecast from operations, is the lifeblood of your business – do not ignore it! The level of cash flow in your company dictates the decisions you can make and how quickly you can grow your business. So you should monitor and manage cash flow regularly. Monthly cash flow forecasting will give you a current view of the cash inflows and outflows within your business and also what the next period looks like. Regular Cash Flow Statement Proforma forecasting can highlight where cash gaps will be in the future and where there could be improvements made. Most importantly, a Cashflow Forecast will give you a good idea of the health of your business cash flow at a glance. Finding potential cash flow gaps ahead of time can save you and your business both time and money. You can make decisions and take actions before things get too bad, ensuring your Cash Flow Pro Forma is maintained, based on your forecasts.
Update anytime
You can easily adjust inputs at the launch stage and throughout the further activities of your business to refine your Delivery Service Excel Pro Forma.
Get a robust, powerful financial model which is fully expandable
This well-tested, robust and powerful Delivery Service Financial Model Excel Spreadsheet is your solid foundation to plan delivery service business model. Advanced users are free to expand and tailor all sheets as desired, to handle specific requirements or to get into greater detail.
Identify potential shortfalls in cash balances in advance.
The Delivery Service Financial Model In Excel Template works like an 'early warning system.' It is, by far, the most significant reason for a Cash Flow Pro Forma.
Manage surplus cash
Most companies don't have excess cash in the bank. It is a well-known situation. But managing surplus cash for reinvestment in new market opportunities, or debt repayments can be essential to keeping stay in the business. Managers are entirely ready to plan for what to do with the cash surplus if they have the forecast of when and where the business will have surplus cash in the bank account. Cash Flow Pro Forma will provide supplementary guidance on what to do with a cash surplus.
REPORTS and INPUTS
CAPEX
Capital expenditure (or CapEX) is an essential part of any Cashflow Projection. Financial specialists calculate CapEx to monitor investment in the fixed assets to handle depreciation, additions, and/or disposals related to the property, plant, and equipment (PPE).
CAPEX calculation also includes the company's assets' additions, including the assets in financial leasing.
Profitability KPIs
Earnings growth. The Delivery Service Financial Model has many financial metrics, including the earning growth and growth of net income. Starting the company, we want to see its growth, and the pro forma p&l statement is the best way to monitor such development and to be sure that the company is developing in the right way. In particular, we can monitor sales and revenue growth reflected in the earnings growth.
Cap Table
Financial Projection Template consist of a Capitalization Table is one of the essential spreadsheets for start-ups. It reflects the company's overall ownership structure and depicts who owns what, how much possesses, and at what value. A capitalization table shows equity shares, preferred shares, options, and stakeholders' prices for such securities.
Loan opt-in
Similar to the amortization of the Delivery Service Financial Model In Excel Template assets, a loan amortization reflects the spreading out the repayment of a loan for a certain period that covers several reporting periods. The process of loan amortization includes a series of fixed payments over time. Usually, companies make these payments on a monthly basis, but there may also be quarterly or annual payments.
Valuation
This Delivery Service Excel Pro Forma Template contains a valuation analysis template that will allow users to perform a Discounted Cash Flow valuation (DCF). It will also help users analyze such financial metrics as residual value, replacement costs, market comparables, recent transaction comparables, etc.
Burn and Runway
This Delivery Service Excel Financial Model Template automatically calculates the cash burn rate based on the inputs from other spreadsheets, in particular, from the cash flow statement.
Top Expenses
In the Top expenses section of our Delivery Service Cashflow Projection, you can track your more significant expenses divided into four categories. The model also has an 'other' category, and you can expand or change this table according to your needs.
You can reflect your company's historical data or make a Financial Projection Excel for the five years.