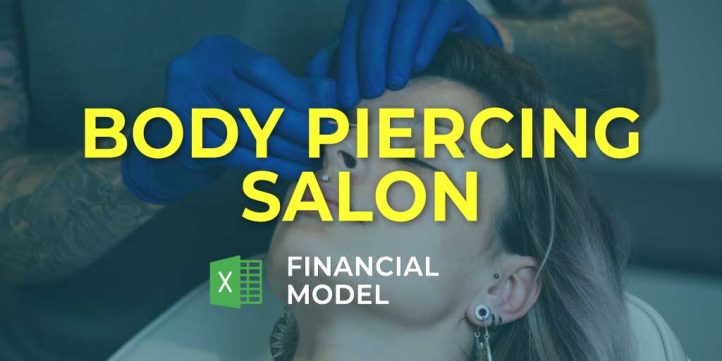 Beauty Shops & Centers, Financial Model, Retail
5-year financial projections, Business Valuation, Financial Model, Financial Modeling, Financial Projection, Financial Projections, Pro-Forma, Startup Financial Models, Three Statement Model | Three Financial Statements
NOTE: Single-User pertains to a limited Single User License where the template can only be used by one single user; while Multi-User is a license for users sharing the template with up to 20 members. Please refer to Terms of Use and License and Permitted Use for clarification.
BODY PIERCING SALON THREE STATEMENT FINANCIAL MODEL TEMPLATE KEY FEATURES
Video tutorial:
Identify potential shortfalls in cash balances in advance.
The Body Piercing Salon 3 Way Financial Model Template works like an 'early warning system.' It is, by far, the most significant reason for a Cash Flow Forecast.
Easy to follow
Clear and transparent Body Piercing Salon Budget Spreadsheet structure (15+ separate tabs, each focusing on a specific planning category, colour coded => input, calculation and report sheets).
External stakeholders, such as banks, may require a regular forecast.
If the business has a bank loan, the bank will ask for a Body Piercing Salon Financial Model In Excel regularly.
Spot problems with customer payments
Preparing the Cash Flow Statement Proforma encourages the business to look at how quickly customers are paying their debts. Identify unpaid invoices and take necessary actions to make them pay.
Convenient, All-In-One Dashboard
Includes all required forecasting reports, including assumptions, proforma income statement, cash flow projection, balance sheets, performance reviews and summaries for months and years (incl. numerous graphs and KPIs).
We do the math
Pro Forma Template has all the required features ready with no formula writing, no formatting, no programming, no charting, and no expensive external consultants! Concentrate on the task of planning rather than programming.
REPORTS and INPUTS
Sources and Uses
The statement of the sources and uses of cash gives users a summary of where capital will come from (the ""Sources"") and how this capital will be spent (the ""Uses""). The statement is structured in the way that the total amounts of the sources and uses accounts should equal each other.
The sources and uses statement is critical for the situations when the company considers recapitalization, restructuring, or mergers & acquisitions (M&A) procedures.
CAPEX
CapEx is important both for the start-ups and actively growing companies that put their efforts in investing in a new property, plant, and equipment (PP&E), as well as new products and new technologies. Such capital expenditures usually make a significant part of the company's expenditures; therefore, financial analysts and investors pay close attention to this financial report.
The company should reflect its capital expenditures in the Balance Sheet, and this type of expenditure does not significantly impact cash flows.
Dashboard
Our Excel Pro Forma has an all-in-one dashboard. This dashboard is a useful financial planning tool that helps financial professionals create fast, reliable, and transparent financial reports to the management and other company's stakeholders.
With this financial dashboard's help, users can assess the company's financial data, drill into financial details, or validate figures fast and easy. Our specialists understand that the company's financial management, especially the start-up's management, is under pressure to deliver fast decisions and results. This all-in-one financial dashboard is an effective financial tool that will help with these tasks.
With this dashboard, you will get data at your fingertips. You will be able to perform financial analysis, assess key performance indicators (KPIs), and other financial information you may need to generate actionable insights and make wise financial decisions.
Top Expenses
The Top expenses tab of the Body Piercing Salon Financial Projection Model Excel reflects your company's annual expenses, both total and grouped by four categories.
This 3 Way Forecast provides an overview of annual expenses on customer acquisition, COSS placeholders, wages & salaries, fixed and variable expenses, and all other expenses.
Operational KPIs
Our Body Piercing Salon Pro Forma Template Excel has various operational performance graphs that will help business owners manage their business' finances and measure their overall performance. These operational performance graphs also help in making wise business decisions that consider the company's financial capability.
The financial graphs in this Body Piercing Salon Excel Financial Model Template help measure the company's financial health showing the operating cash flows' analysis, return on investment, debt to equity ratio, liquidity ratios, and other relevant financial information. Business owners can use these operational performance graphs both for internal and external purposes.
In particular, they can use these graphs to assess the company's overall financial performance or for the assessment of the project's financial feasibility. Such an approach will improve the financial management efficiency of the company. Business owners can also use these charts and graphs for the presentations for potential investors and bankers. The operational performance graphs have all the necessary pre-built formulas, and they are fully formatted. So, the users can just print out them and bring for the meeting with investors.
Burn and Runway
The cash burn rate shows the difference between the cash inflows and cash outflows of the company. It is essential to monitor this metric because it shows how long the company will last with its current funding level. Business owners can also see a clear picture of how various business strategies change the cash burn rate.
Break Even
This Financial Projection Template Excel has a break even point analysis for five years. It presents the calculation of the breakeven analysis, both numeric and in the form of a chart.
File types:
Excel – Single-User: .xlsx
Excel – Multi-User: .xlsx
Free Demo – .xlsx