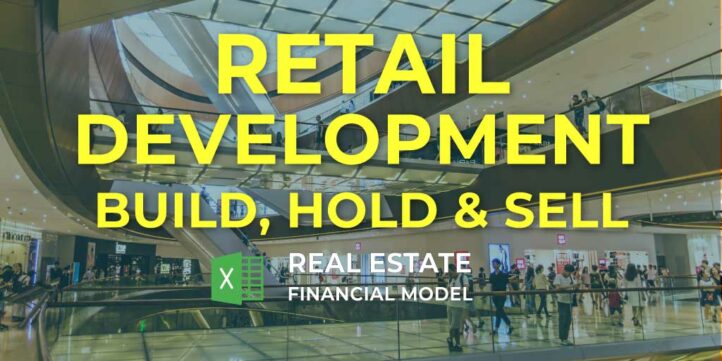 Commercial Properties, Development, Financial Model, Real Estate
5-year financial projections, Business Valuation, Financial Model, Financial Modeling, Financial Projection, Financial Projections, Free Financial Model Templates, Pro-Forma, Startup Financial Models, Three Statement Model | Three Financial Statements
NOTE: Single-User pertains to a limited Single User License where the template can only be used by one single user; while Multi-User is a license for users sharing the template with up to 20 members. Please refer to Terms of Use and License and Permitted Use for clarification.
RETAIL DEVELOPMENT REFM FINANCIAL MODEL KEY FEATURES
Video tutorial:
We do the math
Three Statement Financial Model has all the required features ready with no formula writing, no formatting, no programming, no charting, and no expensive external consultants! Concentrate on the task of planning rather than programming.
Saves you time
Allows you to spend less time on Cash Flow Statement By Month and more time on your products, customers, and business development
We do the math
Financial Model Excel Template has all the features above ready with no formula writing, no formatting, no programming, no charting, and no expensive external consultants!
Simple-to-use
A very sophisticated Retail Development REFM Three Statement Financial Model, whatever size and stage of development your business is. Minimal previous planning experience and very basic knowledge of Excel are required: however, fully sufficient to get quick and reliable results.
Save time and money
Via Excel Financial Model you can without effort and special education get all the necessary calculations and you will not need to spend money on expensive financial consultants. Your task is building a strategy, evolution, and creativity, and we have already done the routine calculations instead of you.
Generate growth inspiration
By running various scenarios and looking at the effects they could have on your cash balance, you will begin to see which options are best for your business. Ones that are possible, and what is involved in making them work. Organic growth isn't the only option – there are growing funding options becoming available, and Cash Flow Statement For 5 Years could be a way of looking at the impact an injection of cash could have on your business and its growth plans.
REPORTS and INPUTS
Top Expenses
This Retail Development REFM Excel Pro Forma Template has a Top expenses tab that displays your company's four most significant expense categories and the rest of the expenses as the 'other'.
Top Revenue
When the company's management starts to make a Pro Forma Template, revenue is the most crucial component in the Financial Model In Excel Template. Revenue is one of the main drivers of the enterprise's value in the Cash Flow Proforma Template. That is why financial analysts must pay special attention to planning and devising the best strategy to approach modeling future revenue streams.
Revenue forecasts should also have assumptions about the growth rate based on historical financial data. Users can find all the components of wise financial planning of the revenue streams in our Retail Development REFM Pro Forma Template.
Cap Table
The Cap table in our Retail Development REFM Financial Projection Model is integrated into the cash flows. It maps the funding rounds to the financial instruments, such as equity or convertible notes. The Cap table also shows the impact of the company's decisions on share ownership and dilution.
Liquidity KPIs
Current Ratio. The current ratio is a liquidity ratio that helps users measure a company's ability to meet short-term obligations that should be paid within a year. This financial metric tells investors how a company can maximize the current assets on its balance sheet to cover its current debts.
CAPEX
This 3 Way Financial Model Template has a template for the automatic calculation of capital requirements and funding based on an implied cash flow waterfall (different equity and debt tranches with alternative funding priorities).
Burn and Runway
The cash burn rate shows the difference between the cash inflows and cash outflows of the company. It is essential to monitor this metric because it shows how long the company will last with its current funding level. Business owners can also see a clear picture of how various business strategies change the cash burn rate.
Valuation
This Financial Model Excel has a valuation report template that will allow users to perform a Discounted Cash Flow valuation with just a few rate inputs in the Cost of Capital.
File types:
Excel – Single-User: .xlsx
Excel – Multi-User: .xlsx
Free Demo – .xlsx