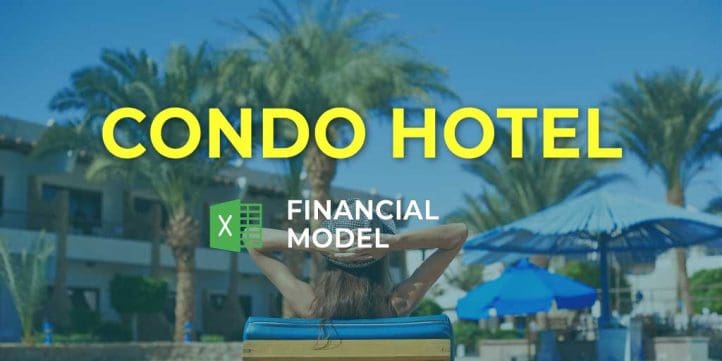 Commercial Properties, Development, Financial Model, Hospitality, Hotel, Investment, Real Estate, Residential Properties
5-year financial projections, Business Valuation, Financial Model, Financial Modeling, Financial Projection, Financial Projections, Free Financial Model Templates, Pro-Forma, Startup Financial Models, Three Statement Model | Three Financial Statements
NOTE: Single-User pertains to a limited Single User License where the template can only be used by one single user; while Multi-User is a license for users sharing the template with up to 20 members. Please refer to Terms of Use and License and Permitted Use for clarification.
CONDO HOTEL PRO FORMA PROJECTION KEY FEATURES
Video tutorial:
Simple-to-use
A very sophisticated Condo Hotel Budget Financial Model, whatever size and stage of development your business is. Minimal previous planning experience and very basic knowledge of Excel are required: however, fully sufficient to get quick and reliable results.
Get a Robust, Powerful, and Flexible Financial Model
This well-tested, robust and powerful Condo Hotel Cash Flow Format In Excel is your solid foundation to plan a business model. Advanced users are free to expand and tailor all sheets as desired, to handle specific requirements, or to get into greater detail.
Investors ready
Print-ready (including a profit and loss proforma, a Cash Flow Statement For 5 Years, a balance sheet, and a complete set of financial ratios).
Identify potential shortfalls in cash balances in advance.
The Condo Hotel Budget Spreadsheet works like an 'early warning system.' It is, by far, the most significant reason for a Cash Flow Pro Forma.
Update anytime
You can easily adjust inputs at the launch stage and throughout the further activities of your business to refine your Condo Hotel Financial Model.
All necessary reports
When creating a Condo Hotel Three Statement Financial Model Template, you will not need to independently prepare financial reports and study the requirements for them. Our Excel template contains all the necessary reports and calculations that correspond with the lenders' demand.
REPORTS and INPUTS
Financial KPIs
In the Financial Projection Model Excel, you can visually track key financial indicators over the five years period as well as 24 months period.
– EBITDA/EBIT shows your company's operational performance
– CASH FLOWS shows your company's inflows and outflows
– CASH BALANCE this is the forecast of cash in hand you will have.
Cash Flow KPIs
Operating cash flow. Operating cash flow calculation shows how much cash the company generates from the business operations. This calculation does not include secondary sources of revenue, like interest or investments.
All in One Place
Our Condo Hotel Finance Projection has all financial reports crucial for start-ups and existing businesses. It has proformas for profit and loss projection, cash flow statement by month, and balance sheet. It also has templates for performance reviews and summaries on a monthly, quarterly, and annual basis.
Break-Even
Break-Even Point Analysis studies the volume of sales or units the company needs to break even to cover its variable and fixed costs. This Condo Hotel Startup Financial Model helps companies determine the period when it is supposed to become profitable.
The calculation of the break-even point helps financial specialists in several ways. First of all, it shows the company's owners if this type of business is worthy of starting up. It also helps the company's managers determine the price for its products or services that will help cover all company's costs, both fixed and variable.
Costs
Start-up costs are an essential part of any Excel Pro Forma. They begin to accrue before actual operations start, so it is crucial to monitor them early to avoid overspendings and underfunding. Our Condo Hotel Cash Flow Proforma Template has the proforma for start-up costs that show both funding and expenses. You can use this proforma to monitor your expenses and create cost budgets.
Dashboard
The All-in-one dashboard in this Condo Hotel Budget Spreadsheet contains all core financial inputs and core start-up metrics critical for the companies' financial analysis. It reflects the financial data from a Balance Sheet, an projected income statement, and a cash flow statement. Moreover, users can obtain financial information in the form of graphs or charts.
Sources and Uses
The Sources and Uses statement in our Condo Hotel Pro Forma Projection shows users that financial planning does not have to be complicated. This statement shows the company's stakeholders, e.g., lenders, how much financing the company needs, and how it plans to get it. There may be cases when the company does not need more funding. It wants to show its current investors that it has additional or alternative funding sources it can attract in case of unexpected events. These additional sources of funding may be interesting for banks, for example.
While putting together the Sources and Uses statement, companies and especially start-ups can include alternative funding sources, such as crowdfunding campaigns.
Another part of the Sources and Uses statement is the ways the company plans to use obtained funds. The total figure in this section should balance with the figure if the 'Sources' section, i.e., both parts of the Sources and Uses section, should balance.
File types:
Excel – Single-User: .xlsx
Excel – Multi-User: .xlsx
Free Demo – .xlsx