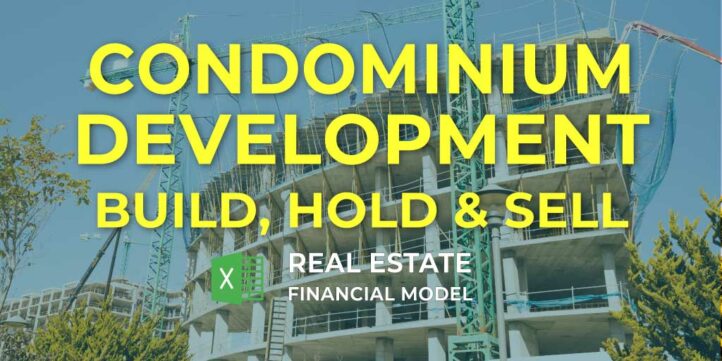 Commercial Properties, Development, Financial Model, Investment, Real Estate, Residential Properties
5-year financial projections, Business Valuation, Financial Model, Financial Modeling, Financial Projection, Financial Projections, Free Financial Model Templates, Pro-Forma, Startup Financial Models, Three Statement Model | Three Financial Statements
NOTE: Single-User pertains to a limited Single User License where the template can only be used by one single user; while Multi-User is a license for users sharing the template with up to 20 members. Please refer to Terms of Use and License and Permitted Use for clarification.
CONDOMINIUM DEVELOPMENT REFM FINANCIAL MODEL IN EXCEL TEMPLATE KEY FEATURES
Video tutorial:
5 years forecast horizon
Generate fully-integrated Condominium Development REFM Financial Projection Template for 5 years (on a monthly basis). Automatic aggregation of annual summaries on outputs tabs.
Manage accounts receivable.
By creating a cash flow statement that takes invoices and bills into account, you'll be more easily able to identify who is systematically paying late. You could even go on to model different payment dates on overdue invoices to see the real effect of late payments on your cash flow.
Saves you time
Financial Model In Excel allows you to spend less time on finances and more time on your products, customers, and business development
Simple-to-use
A very sophisticated Condominium Development REFM 3 Way Financial Model, whatever size and stage of development your business is. Minimal previous planning experience and very basic knowledge of Excel are required: however, fully sufficient to get quick and reliable results.
It is part of the reports set you need.
It doesn't matter you are worried about cash or not, setting up, and managing a Condominium Development REFM Pro Forma Template Excel should be a cornerstone of your reporting set. It's the main report of your business that must have in place to grow sustainably. Before you rush into rent more office space or making a new hire, you should always run a Cash Flow Projection scenario. You can model how that action would impact your cash balance in the nearest future. Knowing whether or not plans are possible is crucial to minimizing risk.
Convince investors and lenders
Enhance your pitches and impress potential financiers with a Financial Projection delivering the right information and expected financial and operational metrics. Facilitate your negotiations with investors for successful funding. Raise money more quickly and refocus on your core business.
REPORTS and INPUTS
Benchmarks
Financial Model In Excel benchmark tab calculates the company's key performance indicators, either business or financial, and finds an industry-wide average as a comparison. The industry average metrics are then used to determine the relative value for benchmarking analysis.
Financial benchmarks are essential for the financial planning of companies, especially for start-ups. These studies help companies determine the 'best practice' companies within the industry and compare their own financial results with these best practices. It is a useful financial and strategic management tool.
Top Expenses
The Top expenses tab of the Condominium Development REFM Finance Projection reflects your company's annual expenses, both total and grouped by four categories.
This Cash Flow Format In Excel provides an overview of annual expenses on customer acquisition, COSS placeholders, wages & salaries, fixed and variable expenses, and all other expenses.
Loan opt-in
A Condominium Development REFM Cash Flow Format In Excel consists of a table that provides the stakeholders with information about the periodic payments for an amortizing loan.
The loan amortization schedule includes information about the loan amount, interest rate, term to maturity, payment periods, and amortization method. In particular, loan amortization methods include the straight line, declining balance, annuity, bullet, balloon, and negative amortization.
Profitability KPIs
EBITDA. Earnings before interest, tax, depreciation, and amortization (EBITDA) is a financial metric that shows a company's profitability. This metric includes both monetary and non-monetary items and, therefore, differs from cash flows. EBITDA shows the potential profitability of leveraged buyouts and is widely used in various industries.
Costs
Start-up costs are an essential part of any Financial Model In Excel. They begin to accrue before actual operations start, so it is crucial to monitor them early to avoid overspendings and underfunding. Our Condominium Development REFM Excel Pro Forma has the proforma for start-up costs that show both funding and expenses. You can use this proforma to monitor your expenses and create cost budgets.
Top Revenue
This Startup Financial Model has a tab for a detailed analysis of the company's revenue streams. With this template, users can analyze the revenue streams by each product or service category separately.
All in One Place
Get a sophisticated but easy-to-use 3 Way Forecast Model that is fully expandable. Our robust and powerful Condominium Development REFM Financial Projection Excel will be your roadmap for many different business models. If you have financial experience, you can expand and tailor all sheets as desired.
File types:
Excel – Single-User: .xlsx
Excel – Multi-User: .xlsx
Free Demo – .xlsx