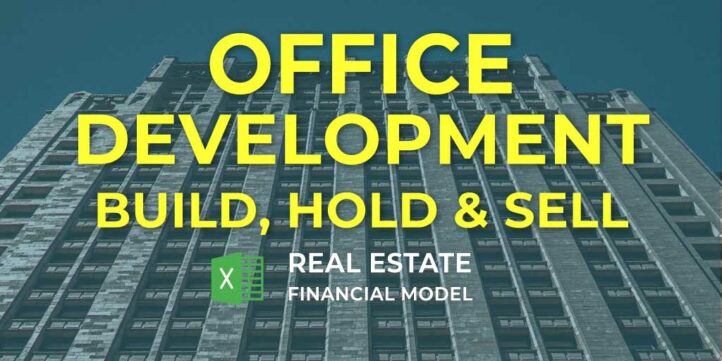 Commercial Properties, Development, Financial Model, Real Estate, Serviced Office
5-year financial projections, Business Valuation, Financial Model, Financial Modeling, Financial Projection, Financial Projections, Free Financial Model Templates, Pro-Forma, Startup Financial Models, Three Statement Model | Three Financial Statements
NOTE: Single-User pertains to a limited Single User License where the template can only be used by one single user; while Multi-User is a license for users sharing the template with up to 20 members. Please refer to Terms of Use and License and Permitted Use for clarification.
OFFICE DEVELOPMENT REFM THREE STATEMENT FINANCIAL MODEL TEMPLATE KEY FEATURES
Video tutorial:
Currency for inputs and denomination
In Profit Loss Projection define any currency code or symbol and preferred denomination (e.g. 000s) to reflect your preferences.
Gaining trust from stakeholders
Investors and financing providers tend to think in terms of the big picture. They want the c-level of the companies they invest in to do the same to ensure they maintain a clear idea of the future. Providing stakeholders with a monthly statement of cash flows will demonstrate a level of awareness that leads to confidence and trust and will make it easier to raise more investment.
Investors ready
Print-ready (including a profit and loss statement proforma, a Startup Cash Flow Statement, a balance sheet, and a complete set of financial ratios).
We do the math
Financial Projection Model has all the features above ready with no formula writing, no formatting, no programming, no charting, and no expensive external consultants!
Simple and Incredibly Practical
Simple-to-use yet very sophisticated Office Development REFM Cashflow Projection tool. Whatever size and stage of development your business is, with minimal planning experience and very basic knowledge of Excel you can get complete and reliable results. Additionally, you will receive uncompromised after-sales service and access to valuable tutorial videos and blog posts.
All necessary reports
When creating an Office Development REFM Financial Projection Model Excel, you will not need to independently prepare financial reports and study the requirements for them. Our Excel template contains all the necessary reports and calculations that correspond with the lenders' demand.
REPORTS and INPUTS
Financial KPIs
In the Three-Way Financial Model, you can visually track key financial indicators over the five years period as well as 24 months period.
– EBITDA/EBIT shows your company's operational performance
– CASH FLOWS shows your company's inflows and outflows
– CASH BALANCE this is the forecast of cash in hand you will have.
Sources and Uses
The 3 Way Forecast Model Sources and Uses (or so-called S&U) statement shows the stakeholders how the company plans to finance its project or overall business activities and where the capital will go.
The Sources and Uses of cash statement's primary rule are that the funds' sources must balance with the combined uses. This report can have a basic format, or you can extend it and change it in a way that fits best with your company's needs.
In the Sources part of the statement, the business owner should mention the funding sources on a line-by-line basis. Similarly, the Uses section should reflect on a line-by-line basis the company's plan on how to use these funds.
Ideally, the Sources and Uses section of this statement should match, or the Sources section should be bigger.
If the Sources section is bigger than the Uses section, it means that the company has more funds than it needs for the current business activities. In this case, the company may plan an extension of the business or other cash flow distribution ways.
Otherwise, if the Uses section is bigger than the Sources section, it means that the company requires additional equity.
Break-Even
The Office Development REFM Excel Pro Forma has an integrated template for the break-even analysis. The excel break-even formula calculation helps the company's management understand when the company is expected to become profitable. This Cash Flow Proforma Template will automatically generate y break-even timing, break-even units, and break-even revenue of the company.
Cash Flow KPIs
Cash balance. The cash balance shows the total amount of money in the financial account of the company. Any company needs to hold in reserve enough amount of cash to meet current obligations.
Valuation
With our pre-built valuation template in the Office Development REFM Financial Model Excel Template, you will receive all the data your investors might need.
The weighted average cost of capital (WACC) will show your stakeholders the minimum return on enterprise funds invested in its activities capital. Free cash flow valuation will show a cash flow available to all investors, including shareholders and creditors. Discounted cash flow will reflect the value of future cash flows in relation to the current time.
Dashboard
The financial dashboard in our Financial Projection Template Excel is a great financial planning tool that helps to display the results of financial analysis. This financial summary in the form of charts and graphs will help analysts to explain clearly the numbers from the financial statements.
With this dashboard's help, users can analyze and present to other stakeholders' revenue forecasts, financial margins, profit charts, and separate items from the balance sheet, pro forma p&l statement, and cash flow statement forecast.
Operational KPIs
Our Office Development REFM Financial Model Excel Spreadsheet has various operational performance graphs that will help business owners manage their business' finances and measure their overall performance. These operational performance graphs also help in making wise business decisions that consider the company's financial capability.
The financial graphs in this Office Development REFM Budget Financial Model help measure the company's financial health showing the operating cash flows' analysis, return on investment, debt to equity ratio, liquidity ratios, and other relevant financial information. Business owners can use these operational performance graphs both for internal and external purposes.
In particular, they can use these graphs to assess the company's overall financial performance or for the assessment of the project's financial feasibility. Such an approach will improve the financial management efficiency of the company. Business owners can also use these charts and graphs for presentations for potential investors and bankers. The operational performance graphs have all the necessary pre-built formulas, and they are fully formatted. So, the users can just print out them and bring them to the meeting with investors.
File types:
Excel – Single-User: .xlsx
Excel – Multi-User: .xlsx
Free Demo – .xlsx