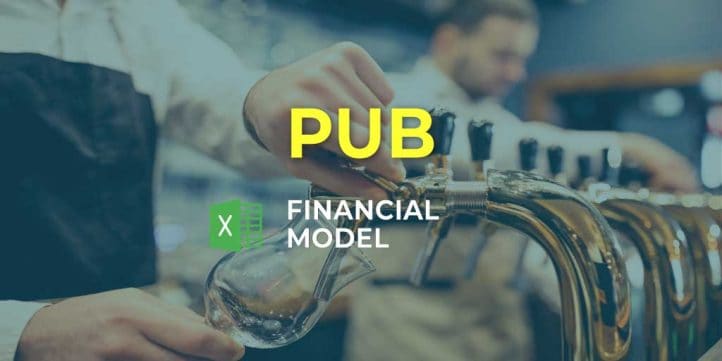 Financial Model, Hospitality, Restaurant
5-year financial projections, Business Valuation, Financial Model, Financial Modeling, Financial Projection, Financial Projections, Pro-Forma, Startup Financial Models, Three Statement Model | Three Financial Statements
NOTE: Single-User pertains to a limited Single User License where the template can only be used by one single user; while Multi-User is a license for users sharing the template with up to 20 members. Please refer to Terms of Use and License and Permitted Use for clarification.
PUB CASHFLOW PROJECTION KEY FEATURES
Video tutorial:
Track your spending and staying within budget
Have you written a vague idea of cash inflows and cash outflows on the back of a napkin? All is well and good. Looking at the projected income statement will give you a snapshot of the past business performance, but it won't show the future in terms of the Cash Flow Statement By Month. With a startup cash flow projection, you can plan future cash inflows and cash outflows and compare it to the budget, which can be invaluable information.
5 years forecast horizon
Generate fully-integrated Pub Financial Model Excel Template for 5 years (on a monthly basis). Automatic aggregation of annual summaries on outputs tabs.
Works for startups
Budget Spreadsheet creates a financial summary formatted for your pitch deck
Run different scenarios
A Projected Cash Flow Statement Format shows you what your cash balance will look like taking into account the numbers you put into the template. It means you can play with the various variables that impact your cash flow forecast, i.e., wages, sales inflow, supplier payments, taxes, and so on. By adjusting the input amounts, you will be able to see what impact they will have on your businesses' cash flow and when this impact is likely to occur. A well-known example of this is the ability to forecast the effect a new member of staff might have on your cash flow over different periods. Increase the wage costs and see what happens to your cash flow. Running different scenarios in your Startup Cash Flow Statement can have several benefits.
Save time and money
Via Pro Forma Projection you can without effort and special education get all the necessary calculations and you will not need to spend money on expensive financial consultants. Your task is building a strategy, evolution, and creativity, and we have already done the routine calculations instead of you.
External stakeholders, such as banks, may require a regular forecast.
If the business has a bank loan, the bank will ask for a Pub Financial Projection Excel regularly.
REPORTS and INPUTS
Financial Statements
Our Pub Financial Model In Excel has pre-built consolidated financial statements: profit and loss statement proforma, Balance Sheet, and startup cash flow projection. These financial statements can be presented on a monthly, quarterly, and annual basis.
Users can also import existing financial statements and reports from Quickbooks, Xero, Freshbooks, and other accounting software to create rolling forecasts and to make actuals vs. forecasts comparison.
Profitability KPIs
EBITDA. Earnings before interest, tax, depreciation, and amortization (EBITDA) is the primary measure of a company's operating performance.
Costs
A Pub Excel Financial Model is an important financial tool that enables users to identify actual and forecasted expenditures, as well as financial resources needed to cover these costs. With a well-developed cost budget, you can see the areas where you can save money and the areas of high priority. As a part of a business plan, the cost budget supports the process of pitching to investors and loan applications.
Burn and Runway
This Pub Cash Flow Proforma automatically calculates the cash burn rate based on the inputs from other spreadsheets, in particular, from the projected cash flow statement format.
Valuation
This Pub Three Statement Financial Model contains a valuation analysis template that will allow users to perform a Discounted Cash Flow valuation (DCF). It will also help users analyze such financial metrics as residual value, replacement costs, market comparables, recent transaction comparables, etc.
Cap Table
The capitalization table helps business owners to calculate shareholder's ownership dilution. The Cap table in our Pub Financial Model Excel Template has four rounds of funding, and users can apply all of them or one or two rounds for their financial projections.
Top Revenue
This 3 Way Forecast Excel Template has a tab for a detailed analysis of the company's revenue streams. With this template, users can analyze the revenue streams by each product or service category separately.
File types:
Excel – Single-User: .xlsx
Excel – Multi-User: .xlsx
Free Demo – .xlsx