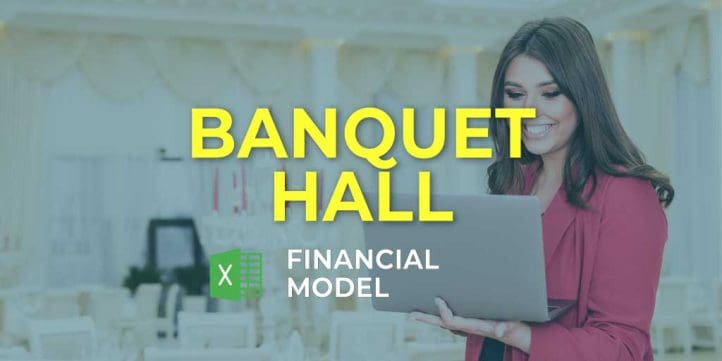 Catering, Financial Model, Hospitality, Hotel, Restaurant
5-year financial projections, Business Valuation, Financial Model, Financial Modeling, Financial Projection, Financial Projections, Pro-Forma, Startup Financial Models, Three Statement Model | Three Financial Statements
NOTE: Single-User pertains to a limited Single User License where the template can only be used by one single user; while Multi-User is a license for users sharing the template with up to 20 members. Please refer to Terms of Use and License and Permitted Use for clarification.
BANQUET HALL FINANCIAL PROJECTION MODEL KEY FEATURES
Video tutorial:
Simple and Incredibly Practical
Simple-to-use yet very sophisticated Banquet Hall Financial Model Excel. Whatever size and stage of development your business is, with minimal planning experience and very basic knowledge of Excel you can get complete and reliable results.
Update anytime
You can easily adjust inputs at the launch stage and throughout the further activities of your business to refine your Banquet Hall Pro Forma Template.
Spot problems with customer payments
Preparing the Statement Of Cash Flows encourages the business to look at how quickly customers are paying their debts. Identify unpaid invoices and take necessary actions to make them pay.
Get a Robust, Powerful and Flexible Financial Model
This well-tested, robust and powerful Banquet Hall Financial Projection Model Template is your solid foundation to plan a business model. Advanced users are free to expand and tailor all sheets as desired, to handle specific requirements or to get into greater detail.
Prove You Can Pay Back the Loan You Requested
When you apply for a business loan, bankers will study your Cash Flow Projection in an attempt to answer this question: Can this business pay back the loan? Requesting a loan without showing your Statement Of Cash Flows for paying it back is a common way to land in the rejection pile. It is exceptionally accurate if your current cash flow won't cover all of your monthly operating expenses — plus your loan payment. Don't fall into this kind of situation. Use Cash Flow Statement Forecast to strengthen your case by showing the banker exactly how you plan to use the loan and when you will start repaying the debt. This type of forecasting helps you create a road map that can impress a lender with the confidence they need to approve your loan.
Great Value for Money
Use a robust and proven Banquet Hall Budget Financial Model based on years of experience at an affordable price. This 3 way forecast has a one-off payment and absolutely no hidden fees or monthly payments.
REPORTS and INPUTS
Top Expenses
It is very important for a start-up and existing company to monitor, plan, and manage its costs and expenses to maintain a good profitability level.
For this purpose, it is necessary to analyze the highest costs and always work on their optimization. In our Financial Model Excel we have created a Top expense report helps users with this task. It summarizes the four biggest expense categories and the rest of the expenses as the 'other', so the users can easily monitor these expenses and track the tendencies related to their increase or decrease from year to year.
CAPEX
CapEx is important both for the start-ups and actively growing companies that put their efforts in investing in a new property, plant, and equipment (PP&E), as well as new products and new technologies. Such capital expenditures usually make a significant part of the company's expenditures; therefore, financial analysts and investors pay close attention to this financial report.
The company should reflect its capital expenditures in the Balance Sheet, and this type of expenditure does not significantly impact cash flows.
Loan opt-in
Calculating the necessary payments related to the obtained loan or mortgage is essential, especially for start-ups. At the same time, many companies may find this calculation to be a difficult task. In this case, our Three Way Financial Model has a loan amortization schedule with an amortization calculator will help to plan and list these loan payments.
Dashboard
This Banquet Hall Pro Forma Template has an all-in-one dashboard. This tab is a snapshot of a business's start-up metrics at a particular point in time. You can see your core start-up financials, revenue breakdown by years, cash flow statement data, profitability forecasts, and cumulative cash flow on this dashboard in the form of charts and graphs.
Operational KPIs
Financial graphs and charts in this Banquet Hall Excel Financial Model Template help the stakeholders visually track liquidity, budgets, expenses, cash flow, and many other company financial metrics. These graphs will also help a company's management avoid problems by reflecting its financial data in real-time, with a comprehensive financial information overview.
These operational performance graphs will help the business owners and financial managers ensure the best possible performance and financial health of their company because regular financial analytics procedures and the highest quality of financial data are the company's top priorities.
Our financial graphs will also help the company's financial specialists raise financial issues at the general meetings and deliver understandable financial information to other departments and external stakeholders.
Sources and Uses
The sources and uses statements presented in this Banquet Hall Excel Pro Forma show where a company is making money and spending those funds.
Top Revenue
The Top revenue tab in the 3 Way Forecast Model shows off the financial information regarding each of your offerings. In particular, with the help of this Banquet Hall P&L Projection, you can obtain an annual breakdown of your revenue streams, including the revenue depth and revenue bridge.