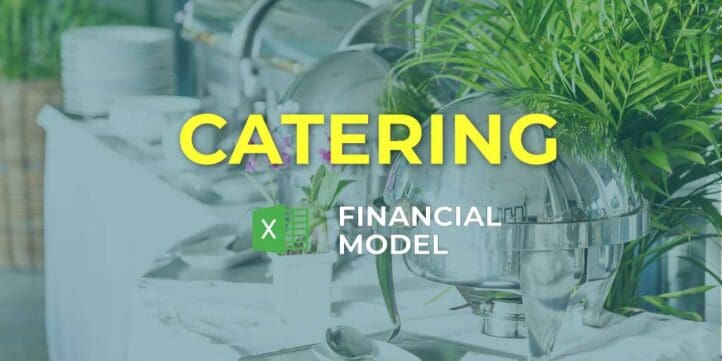 Catering, Financial Model, Hospitality, Restaurant, Service Businesses
5-year financial projections, Accounting, Break-Even, Budgeting, Business Valuation, Cap Table, Cash Flow Projections, Cost Calculation, Cost Projections, Dashboard, DCF Model, Employee Performance, Excel, Financial Feasibility, Financial Model, Financial Modeling, Financial Planning, Financial Projection, Financial Projections, Financial Reporting, Financial Statements, Forecast, Forecasting, Free Financial Model Templates, Investor Cash Flows, NPV (Net Present Value), Pro-Forma, Startup Financial Models, Terminal Value, Three Statement Model | Three Financial Statements, Uses and Sources of Funds, Valuation
NOTE: Single-User pertains to a limited Single User License where the template can only be used by one single user; while Multi-User is a license for users sharing the template with up to 20 members. Please refer to Terms of Use and License and Permitted Use for clarification.
CATERING FINANCIAL PROJECTION MODEL TEMPLATE KEY FEATURES
Video tutorial:
Works for startups
Financial Projection Template Excel creates a financial summary formatted for your pitch deck
Plan for Future Growth
Cash Flow Statement Proforma can help you plan for future growth and expansion. No matter you're extending your company with new employees and need to take into account increased staff expenses. Or to scale production to keep up with increased sales, future projections help you see accurately where you're running — and how you'll get there. Forecasting is also a well-known goal-setting framework to help you plan out the financial steps your company has to take to reach targets. There's power in Cash Flow Forecast and the insight they can provide your business. Fortunately, this competitive advantage comes with little effort when you use the Projected Cash Flow Statement Format.
Confidence in the future
Using our financial model, you can effectively plan, prevent risks, manage stocks and Startup Cash Flow Statement and foresee your prospects for the next 5 years.
Get a Robust, Powerful and Flexible Financial Model
This well-tested, robust and powerful Catering P&L Projection is your solid foundation to plan a business model. Advanced users are free to expand and tailor all sheets as desired, to handle specific requirements or to get into greater detail.
Build your plan and pitch for funding
Impress bankers and investors with a proven, strategic Catering Cash Flow Proforma that impresses every time.
Spot problems with customer payments
Preparing the Startup Cash Flow Projection encourages the business to look at how quickly customers are paying their debts. Identify unpaid invoices and take necessary actions to make them pay.
REPORTS and INPUTS
Profitability KPIs
Earnings growth. The Catering Financial Projection Model Template has many financial metrics, including the earning growth and growth of net income. Starting the company, we want to see its growth, and the forecasted income statement is the best way to monitor such development and to be sure that the company is developing in the right way. In particular, we can monitor sales and revenue growth reflected in the earnings growth.
Liquidity KPIs
Accounts receivable turnover (ART). In the Financial Model Excel Template, the accounts receivables turnover ratio (ART) calculates a metric that assesses a company's effectiveness in collecting its receivables. This ratio shows how successful the company is in managing its debts.
Cash Flow KPIs
Cash balance. The cash balance shows the total amount of money in a financial account of the company. Any company needs to hold in reserve enough amount of cash to meet current obligations.
Valuation
Our Catering Financial Model In Excel Template has two integrated valuation methods. It has a discounted cash flow (DCF) and the weighted average cost of capital (WACC) calculations to show a company's forecasted financial performance.
Cap Table
A capitalization table or the cap table is an essential financial tool for start-up companies. A cap table in our Catering Financial Projection Model Excel has four rounds of raising funding. This approach will help users anticipate the company's ownership stakes by its shareholders, which will lead to dilution of existing shares. A cap table considers equity shares, preferred shares, share options, employee stock options, convertible bonds, and others.
Loan opt-in
Our Catering Pro Forma Projection has a pre-built feature for automatic loan calculation. This Cashflow Projection includes the fees, interest, and principal payments.
Costs
Start-up costs are an essential part of any Financial Projection Model Excel. They begin to accrue before actual operations start, so it is crucial to monitor them early to avoid overspendings and underfunding. Our Catering Pro Forma has the proforma for start-up costs that show both funding and expenses. You can use this proforma to monitor your expenses and create cost budgets.
File types:
Excel – Single-User: .xlsx
Excel – Multi-User: .xlsx
Free Demo – .xlsx