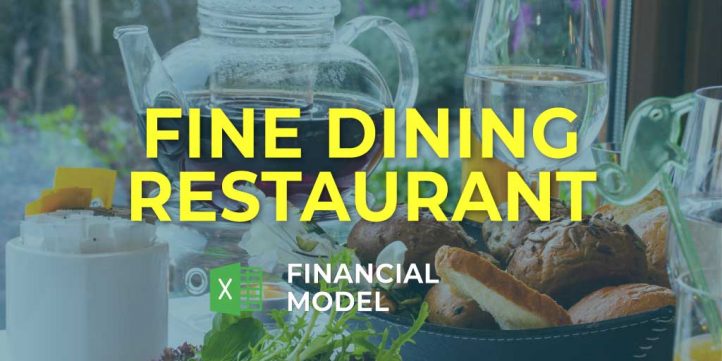 Financial Model, Hospitality, Restaurant
5-year financial projections, Business Valuation, Financial Model, Financial Modeling, Financial Projection, Financial Projections, Pro-Forma, Startup Financial Models, Three Statement Model | Three Financial Statements
NOTE: Single-User pertains to a limited Single User License where the template can only be used by one single user; while Multi-User is a license for users sharing the template with up to 20 members. Please refer to Terms of Use and License and Permitted Use for clarification.
FINE DINING RESTAURANT FINANCIAL PROJECTION MODEL EXCEL KEY FEATURES
Video tutorial:
Get a robust, powerful financial model which is fully expandable
This well-tested, robust and powerful Fine Dining Restaurant Financial Model In Excel is your solid foundation to plan fine dining restaurant business model. Advanced users are free to expand and tailor all sheets as desired, to handle specific requirements or to get into greater detail.
Key Metrics Analysis
Creates 5-year Fine Dining Restaurant Three Statement Financial Model, proforma, financial statements, and financial ratios in GAAP or IFRS formats on the fly.
Build your plan and pitch for funding
Impress bankers and investors with a proven, solid fine dining restaurant financial model that impresses every time.
Plan for Future Growth
Startup Cash Flow Projection can help you plan for future growth and expansion. No matter you're extending your company with new employees and need to take into account increased staff expenses. Or to scale production to keep up with increased sales, future projections help you see accurately where you're running — and how you'll get there. Forecasting is also a well-known goal-setting framework to help you plan out the financial steps your company has to take to reach targets. There's power in Projected Cash Flow Statement and the insight they can provide your business. Fortunately, this competitive advantage comes with little effort when you use the Cash Flow Statement For 5 Years.
Print-ready Reports
Solid package of print-ready reports, including a p&l proforma, pro forma cash flow projection, a balance sheet, and a complete set of financial ratios.
It is part of the reports set you need.
It doesn't matter you are worried about cash or not, setting up, and managing a Fine Dining Restaurant Financial Projection Model Excel should be a cornerstone of your reporting set. It's the main report of your business that must have in place to grow sustainably. Before you rush into rent more office space or making a new hire, you should always run a Projected Cash Flow Statement scenario. You can model how that action would impact your cash balance in the nearest future. Knowing whether or not plans are possible is crucial to minimizing risk.
REPORTS and INPUTS
Operational KPIs
Our Fine Dining Restaurant Financial Projection Excel has various operational performance graphs that will help business owners manage their business' finances and measure their overall performance. These operational performance graphs also help in making wise business decisions that consider the company's financial capability.
The financial graphs in this Fine Dining Restaurant Cash Flow Format In Excel help measure the company's financial health showing the operating cash flows' analysis, return on investment, debt to equity ratio, liquidity ratios, and other relevant financial information. Business owners can use these operational performance graphs both for internal and external purposes.
In particular, they can use these graphs to assess the company's overall financial performance or for the assessment of the project's financial feasibility. Such an approach will improve the financial management efficiency of the company. Business owners can also use these charts and graphs for the presentations for potential investors and bankers. The operational performance graphs have all the necessary pre-built formulas, and they are fully formatted. So, the users can just print out them and bring for the meeting with investors.
CAPEX
A capital expenditure ('CapEx' for short) table reflects the company's expenses, either cash or credit, on purchases of goods that are capitalized on the balance sheet. Such capitalized expenses, the company does not reflect directly in the pro forma income statement for startup as expenses, and such expenses are considered as an investment in the company's expansion.
Profitability KPIs
EBITDA. Earnings before interest, tax, depreciation, and amortization (EBITDA) measures a company's operating performance based on the Income Statement figures. It is calculated by deduction from the earnings such expenses as interest, taxes, depreciation, and amortization. The formula is: EBITDA = Revenue – Expenses (excluding interest, taxes, depreciation, and amortization).
Costs
Our Fine Dining Restaurant Cash Flow Proforma has a well-developed methodology for creating a cost budget. You can plan and forecast your costs from operations and other expenses for up to 72 months. The cost budget has a detailed hiring plan while also automatically handling the expenses' accounting treatment. You can set salaries, job positions, and the time of hiring.
Moreover, the model allows users to calculate hiring as the company scales automatically. Pre-built expense forecasting curves enable users to set how an expense changes over time. These pre-built options include % of revenues, % of salaries, % of any revenue category, growth (or decline) rates that stay the same or change over time, ongoing expenses, expenses that periodically reoccur, expenses that regularly change, and many more. Costs can be allocated to key expense areas and labeled for accounting treatment as SG&A, COGS, or CAPEX.
Cash Flow KPIs
Operating cash flow. Operating cash flow calculation shows how much cash the company generates from the business operations. This calculation does not include secondary sources of revenue, like interest or investments.
Loan opt-in
Calculating the necessary payments related to the obtained loan or mortgage is essential, especially for start-ups. At the same time, many companies may find this calculation to be a difficult task. In this case, our Financial Projection Excel has a loan amortization schedule with an amortization calculator will help to plan and list these loan payments.
Burn and Runway
Our Fine Dining Restaurant Financial Model automatically creates cash runway and cash burn analysis based on the forecasted revenues and expenses that, in their turn, show net loss, net profit, cash on hand, and break even point analysis. You can also forecast funding requirements using a set of parameters around funding (e.g., equity, debt, grants) and expected runway to raise (for example, 18 months of forecasted expenses).
File types:
Excel – Single-User: .xlsx
Excel – Multi-User: .xlsx
Free Demo – .xlsx