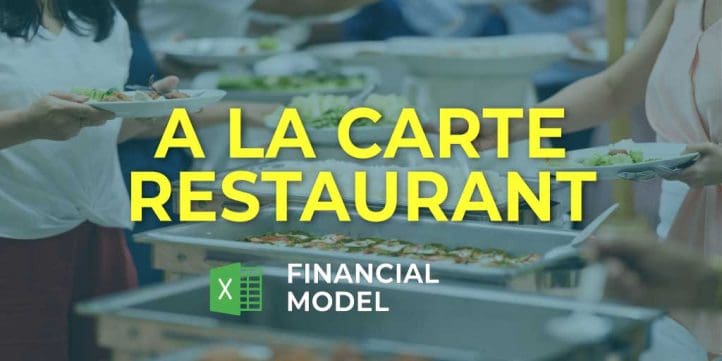 Financial Model, Hospitality, Restaurant
5-year financial projections, Business Valuation, Financial Model, Financial Modeling, Financial Planning, Financial Projection, Financial Projections, Pro-Forma, Startup Financial Models, Three Statement Model | Three Financial Statements
NOTE: Single-User pertains to a limited Single User License where the template can only be used by one single user; while Multi-User is a license for users sharing the template with up to 20 members. Please refer to Terms of Use and License and Permitted Use for clarification.
A LA CARTE RESTAURANT FINANCIAL MODEL EXCEL KEY FEATURES
Video tutorial:
Update anytime
With Excel Financial Model Template you can easily adjust inputs at the launch stage and throughout the further activities of your store to refine your forecast.
Gaining trust from stakeholders
Investors and financing providers tend to think in terms of the big picture. They want the c-level of the companies they invest in to do the same to ensure they maintain a clear idea of the future. Providing stakeholders with a monthly statement of cash flows will demonstrate a level of awareness that leads to confidence and trust and will make it easier to raise more investment.
Saves you time
Allows you to spend less time on Projected Cash Flow Statement and more time on your products, customers, and business development
Print-ready Reports
Solid package of print-ready reports, including a profit and loss pro forma, cash flow pro forma, a balance sheet, and a complete set of financial ratios.
Great Value for Money
Use a robust and proven A La Carte Restaurant Startup Financial Model based on years of experience at an affordable price. This excel financial model template has a one-off payment and absolutely no hidden fees or monthly payments.
Saves you time
Pro Forma Projection allows you to spend less time on finances and more time on your products, customers, and business development
REPORTS and INPUTS
Financial KPIs
The A La Carte Restaurant Financial Projection Model Template has key financial indicators (KPIs) that show sales and profitability performance: revenue growth rate, gross margin, and EBITDA margin.
It also has KPIs related to cash flows and raising investment: the cash burn rate, runway, and funding need. You can choose the KPIs relevant to your company and industry, and monitor your company's performance. For example, SaaS companies typically monitor and manage customer lifetime value (LTV), customer acquisition costs (CAC), LTV/CAC ratio, and the churn rate. For SaaS businesses, these KPIs are crucial.
Performance KPIs
Lead-to-client conversion rate. Lead-to-Client Conversion Rate is an essential metric for the businesses that attract new clients with the Internet, social media, and other similar channels. Leads do not turn into customers automatically. Company's sale team need to convert these leads into actual customers.
The Lead-to-Conversion business metric is a good measure of the sales team's performance. Moreover, it indicates the quality of your product. If you have a low conversion rate, it may sign that your product is not attractive to the customers.
Financial Statements
Our A La Carte Restaurant Startup Financial Model has pre-built consolidated financial statements: forecasted income statement, Balance Sheet, and cash flow statement by month. These financial statements can be presented on a monthly, quarterly, and annual basis.
Users can also import existing financial statements and reports from Quickbooks, Xero, Freshbooks, and other accounting software to create rolling forecasts and to make actuals vs. forecasts comparison.
Liquidity KPIs
Accounts receivable turnover (ART). In the Pro Forma Projection, the accounts receivables turnover ratio (ART) calculates a metric that assesses a company's effectiveness in collecting its receivables. This ratio shows how successful the company is in managing its debts.
Benchmarks
A benchmarking study as the element of the Pro Forma Projection is usually used to evaluate a business's performance by focusing on one or more particular indicators and comparing them with similar indicators of other companies in the industry.
In respect of the financial benchmarking study, these indicators could be profit margins, cost margins, cost per unit, productivity margins, or others. Later the company's performance indicators should be compared to that of other companies within the same industry.
Benchmarking is a useful strategic management tool, which is essential for start-ups. Companies can evaluate any economic, business, or financial metric or process and compare them to the processes of 'best practice' companies within the same field or industry.
Dashboard
Our A La Carte Restaurant Excel Pro Forma Template has an integrated all-in-one dashboard. This dashboard consists of a cash flow statement projection, Balance Sheet, and cash flow statement, and users can perform the monthly or annual breakdown for these statements. Users can also obtain information from the dashboard, both in the form of figures and charts.
Costs
Start-up costs are an essential part of any Financial Projection Template Excel. They begin to accrue before actual operations start, so it is crucial to monitor them early to avoid overspendings and underfunding. Our A La Carte Restaurant Pro Forma has the proforma for start-up costs that show both funding and expenses. You can use this proforma to monitor your expenses and create cost budgets.
Increase your productivity with Excel Templates. Plan future Cash Flow Statements to avoid Cash Flow shortfalls. Manage finance with Budgeting Spreadsheets.
File types:
Excel – Single-User: .xlsx
Excel – Multi-User: .xlsx
Free Demo – .xlsx