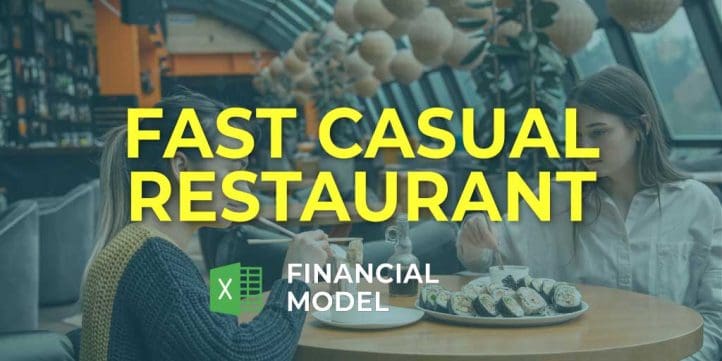 F&B (Food & Beverages), Financial Model, Hospitality, Restaurant
5-year financial projections, Business Valuation, Financial Model, Financial Modeling, Financial Projection, Financial Projections, Pro-Forma, Startup Financial Models, Three Statement Model | Three Financial Statements
NOTE: Single-User pertains to a limited Single User License where the template can only be used by one single user; while Multi-User is a license for users sharing the template with up to 20 members. Please refer to Terms of Use and License and Permitted Use for clarification.
FAST CASUAL RESTAURANT FINANCIAL PROJECTION KEY FEATURES
Video tutorial:
Get a robust, powerful financial model which is fully expandable
This well-tested, robust and powerful Fast Casual Restaurant 3 Way Forecast Model is your solid foundation to plan fast casual restaurant business model. Advanced users are free to expand and tailor all sheets as desired, to handle specific requirements or to get into greater detail.
Generate growth inspiration
By running various scenarios and looking at the effects they could have on your cash balance, you will begin to see which options are best for your business. Ones that are possible, and what is involved in making them work. Organic growth isn't the only option – there are growing funding options becoming available, and Cash Flow Statement By Month could be a way of looking at the impact an injection of cash could have on your business and its growth plans.
Plan for Future Growth
Projected Cashflow Statement can help you plan for future growth and expansion. No matter you're extending your company with new employees and need to take into account increased staff expenses. Or to scale production to keep up with increased sales, future projections help you see accurately where you're running — and how you'll get there. Forecasting is also a well-known goal-setting framework to help you plan out the financial steps your company has to take to reach targets. There's power in Cash Flow Forecast and the insight they can provide your business. Fortunately, this competitive advantage comes with little effort when you use the Statement Of Cash Flows.
Integrated Model to convince Investors
Budget Spreadsheet includes and connects everything (assumptions, calculations, outputs) and presents it in an investor-friendly, deal-proven way.
External stakeholders, such as banks, may require a regular forecast.
If the business has a bank loan, the bank will ask for a Fast Casual Restaurant Financial Projection Template Excel regularly.
Investors ready
Print ready (including a projected income statement, a Cashflow Forecast, a balance sheet, and a complete set of financial ratios).
REPORTS and INPUTS
Financial Statements
The Fast Casual Restaurant Financial Projection Template has a pre-built integrated financial statement structure. It has pre-built templates for the primary financial statements: Balance sheet, forecasted income statement, cash flow statement projection, and Statement of Shareholders' Capital. All these financial statements are precisely defined and interconnected with the inputs and other spreadsheets within the model.
Dashboard
A financial dashboard in this Fast Casual Restaurant Cash Flow Proforma is a useful financial management tool. It helps track all your relevant finance key performance indicators (KPIs), assures effective cash management, and enables financial management to track expenses, sales, and profits in detail to meet and outperform a department or company's financial objectives.
Financial KPIs
In the Pro Forma Template you can visually track your key financial indicators (KPIs) for 24 months and up to five years.
The model all KPIs you might need for your company:
– EBITDA/EBIT shows your company's operational performance;
– CASH FLOWS show your company's inflows and outflows;
– CASH BALANCE this is the forecast of cash in hand you will have.
Sources and Uses
The Excel Pro Forma Template Sources and Uses (or so-called S&U) statement shows the stakeholders how the company plans to finance its project or overall business activities and where the capital will go.
The Sources and Uses of cash statement's primary rule is that the funds' sources must balance with the combined uses. This report can have a basic format, or you can extend it and change it in a way that fits best with your company's needs.
In the Sources part of the statement, the business owner should mention the funding sources on a line-by-line basis. Similarly, the Uses section should reflect on a line-by-line basis the company's plan on how to use these funds.
Ideally, the Sources and Uses section of this statement should match, or the Sources section should be bigger.
If the Sources section is bigger than the Uses section, it means that the company has more funds than it needs for the current business activities. In this case, the company may plan an extension of the business or other cash flow distribution ways.
Otherwise, if the Uses section is bigger than the Sources section, it means that the company requires additional equity.
Top Expenses
This Fast Casual Restaurant 3 Way Financial Model Template has a Top expenses tab that displays your company's four most significant expense categories and the rest of the expenses as the 'other'.
Burn and Runway
This Fast Casual Restaurant Pro Forma Projection automatically calculates the cash burn rate based on the inputs from other spreadsheets, in particular, from the cash flow statement by month.
Cap Table
Our Fast Casual Restaurant Excel Financial Model Templatehas a cap table proforma on a separate Excel spreadsheet. It shows the ownership breakdown of your start-up at different periods. A cap table tells investors how much money they will make if they decide to exit.
File types:
Excel – Single-User: .xlsx
Excel – Multi-User: .xlsx
Free Demo – .xlsx