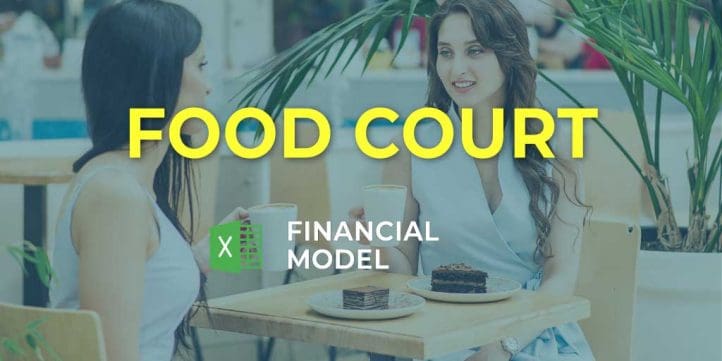 F&B (Food & Beverages), Financial Model, Hospitality, Restaurant
5-year financial projections, Business Valuation, Financial Model, Financial Modeling, Financial Projection, Financial Projections, Pro-Forma, Startup Financial Models, Three Statement Model | Three Financial Statements
NOTE: Single-User pertains to a limited Single User License where the template can only be used by one single user; while Multi-User is a license for users sharing the template with up to 20 members. Please refer to Terms of Use and License and Permitted Use for clarification.
FOOD COURT 3 WAY FINANCIAL MODEL KEY FEATURES
Video tutorial:
Save Time and Money
Food Court 3 Way Financial Model Template allows you to start planning with minimum fuss and maximum of help. No writing formulas, no formatting, no programming, no charting, and no expensive external consultants. Plan the growth of your business instead of fiddling around with expensive techy things.
Avoid cash flow problems.
Cash flow, and especially Cash Flow Statement For 5 Years from operations, is the lifeblood of your business – do not ignore it! The level of cash flow in your company dictates the decisions you can make and how quickly you can grow your business. So you should monitor and manage cash flow regularly. Monthly cash flow forecasting will give you a current view of the cash inflows and outflows within your business and also what the next period looks like. Regular Projected Cash Flow Statement forecasting can highlight where cash gaps will be in the future and where there could be improvements made. Most importantly, a Cash Flow Forecast will give you a good idea of the health of your business cash flow at a glance. Finding potential cash flow gaps ahead of time can save you and your business both time and money. You can make decisions and take actions before things get too bad, ensuring your Startup Cash Flow Statement is maintained, based on your forecasts.
Prove You Can Pay Back the Loan You Requested
When you apply for a business loan, bankers will study your Projected Cashflow Statement in an attempt to answer this question: Can this business pay back the loan? Requesting a loan without showing your Projected Cash Flow Statement Format for paying it back is a common way to land in the rejection pile. It is exceptionally accurate if your current cash flow won't cover all of your monthly operating expenses — plus your loan payment. Don't fall into this kind of situation. Use Cash Flow Statement Forecast to strengthen your case by showing the banker exactly how you plan to use the loan and when you will start repaying the debt. This type of forecasting helps you create a road map that can impress a lender with the confidence they need to approve your loan.
Better decision making
Make better operational decisions with the help of creating Projected Cash Flow Statement scenarios in your Excel Template. Perhaps you have to choose between new staff members or investment in equipment, and you are wondering which decision to chose. Variants forecasting will give you the information you need to make these decisions with confidence that you know what impact they will have on your cash balance.
Get a robust, powerful financial model which is fully expandable
This well-tested, robust and powerful Food Court Finance Projection is your solid foundation to plan food court business model. Advanced users are free to expand and tailor all sheets as desired, to handle specific requirements or to get into greater detail.
Simple-to-use
A very sophisticated Food Court Financial Projection Model, whatever size and stage of development your business is. Minimal previous planning experience and very basic knowledge of Excel is required: however, fully sufficient to get quick and reliable results.
REPORTS and INPUTS
Costs
A Food Court Financial Model is an important financial tool that enables users to identify actual and forecasted expenditures, as well as financial resources needed to cover these costs. With a well-developed cost budget, you can see the areas where you can save money and the areas of high priority. As a part of a business plan, the cost budget supports the process of pitching to investors and loan applications.
Financial Statements
Our Food Court Financial Projection has a pre-built integrated financial summary that contains all the financial information from other spreadsheets, including the primary financial statements: Balance Sheet, Statement of financial position, and cash flow statement by month. Our specialists have already formatted this financial summary for your pitch deck.
Operational KPIs
Financial graphs and charts in this Food Court Cash Flow Proforma Template help the stakeholders visually track liquidity, budgets, expenses, cash flow, and many other company financial metrics. These graphs will also help a company's management avoid problems by reflecting its financial data in real-time, with a comprehensive financial information overview.
These operational performance graphs will help the business owners and financial managers ensure the best possible performance and financial health of their company because regular financial analytics procedures and the highest quality of financial data are the company's top priorities.
Our financial graphs will also help the company's financial specialists raise financial issues at the general meetings and deliver understandable financial information to other departments and external stakeholders.
Valuation
This Excel Pro Forma Template has a valuation report template that will allow users to perform a Discounted Cash Flow valuation with just a few rate inputs in the Cost of Capital.
Benchmarks
The financial benchmarking study tab in this Pro Forma Projection will help the companies assess their key performance indicators and compare them with other companies' KPIs.
The term 'benchmarking' means the process of comparing the business, financial or other metrics of your company to that of other firms within the same industry. It is essential to use other businesses' best practices in the same industry as a 'benchmark' to improve your own company's standards.
As a result of the benchmarking study, companies can learn how to operate in a certain industry more efficiently. This benefit makes the financial benchmarking study an essential planning tool for start-ups.
CAPEX
A capital expenditure (CAPEX) reflects the company's investment in a business. Such an investment can be made in a piece of manufacturing equipment, an office supply, a vehicle, or others.
A CAPEX is typically steered towards the goal of rolling out a new product line or expanding a company's existing operations. The company does not report the money spent on CAPEX purchases directly in the forecasted income statement. It reflects these expenses as an asset in the balance sheets and, at the same time, deducts a part of this amount in the form of depreciation expenses for several years.
Profitability KPIs
Return on investment (ROI). ROI is an essential measure of profitability. Return on investment (ROI) shows a ratio between cash inflows and cash outflows that follow from the investments. The ROI ratio can be calculated as net investment gains divided by total investment costs.
File types:
Excel – Single-User: .xlsx
Excel – Multi-User: .xlsx
Free Demo – .xlsx