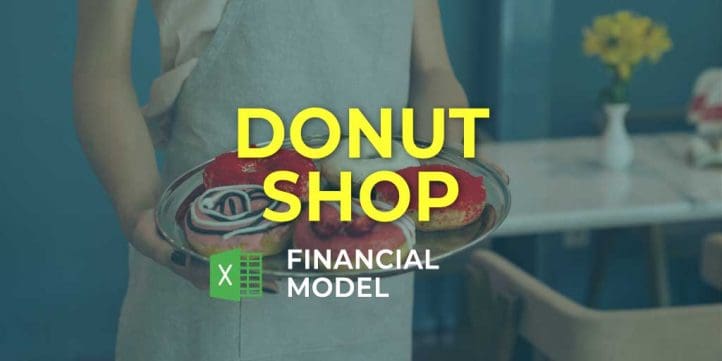 F&B (Food & Beverages), Financial Model, Hospitality, Restaurant
5-year financial projections, Business Valuation, Financial Model, Financial Modeling, Financial Projection, Financial Projections, Pro-Forma, Startup Financial Models, Three Statement Model | Three Financial Statements
NOTE: Single-User pertains to a limited Single User License where the template can only be used by one single user; while Multi-User is a license for users sharing the template with up to 20 members. Please refer to Terms of Use and License and Permitted Use for clarification.
DONUT SHOP 3 WAY FINANCIAL MODEL KEY FEATURES
Video tutorial:
Avoid Cash Flow Shortfalls
Unexpected Cash Flow Statement Projection shortfalls can cause significant damage to your business, and it may take months to recover. Negative Cash Flow can appear if you don't continuously track the incoming cash and outgoing of your business. Fortunately, you can solve Cash Flow Statement Projection shortfalls with a bit of effort. Forecasting your Cash Flow Statement Forecast will help you identify — and plan for — market fluctuations, sales seasonality, and other cases that can lead to unpredictable Cash Flow Statement By Month. Statement Of Cash Flows can even help you visualize Cash Flow Statement Projection trends with the help of automatically generated charts and graphs.
Prove You Can Pay Back the Loan You Requested
When you apply for a business loan, bankers will study your Cash Flow Statement By Month in an attempt to answer this question: Can this business pay back the loan? Requesting a loan without showing your Cash Flow Forecast for paying it back is a common way to land in the rejection pile. It is exceptionally accurate if your current cash flow won't cover all of your monthly operating expenses — plus your loan payment. Don't fall into this kind of situation. Use Cash Flow Pro Forma to strengthen your case by showing the banker exactly how you plan to use the loan and when you will start repaying the debt. This type of forecasting helps you create a road map that can impress a lender with the confidence they need to approve your loan.
Update anytime
You can easily adjust inputs at the launch stage and throughout the further activities of your business to refine your Donut Shop Financial Model Excel.
Print-ready Reports
Solid package of print-ready reports, including a profit and loss proforma, cash flow forecast, a balance sheet, and a complete set of financial ratios.
Save time and money
Via Pro Forma Budget you can without effort and special education get all the necessary calculations and you will not need to spend money on expensive financial consultants. Your task is building a strategy, evolution, and creativity, and we have already done the routine calculations instead of you.
Build your plan and pitch for funding
Impress bankers and investors with a proven, solid donut shop financial model that impresses every time.
REPORTS and INPUTS
Financial Statements
Our Donut Shop Three Statement Financial Model has a pre-built integrated financial statement structure that contains all the primary financial statements (Balance sheet, profit and loss projection, and projected cashflow statement) and creates financial forecasts for the next five years automatically.
This integrated financial statement structure has pre-built proformas, financial and managerial reports, and financial ratios. Users can choose the presentation of financial information in GAAP or IFRS format for their convenience.
All in One Place
This Donut Shop Five Year Financial Projection Template will give the entrepreneurs financial assumptions regarding costs and income that can be brought together to get the business's full picture.
Liquidity KPIs
Accounts receivable turnover (ART). In the Cash Flow Format In Excel, the accounts receivables turnover ratio (ART) calculates a metric that assesses a company's effectiveness in collecting its receivables. This ratio shows how successful the company is in managing its debts.
Break Even
This Donut Shop Three Way Financial Model has a template for a break even point excel. This financial instrument helps users identify when the revenue of the company starts exceeding its total cost. This is the time point when the project under consideration or a company as a whole will start generating profits. Studying the relationship between the company's revenue and its fixed and variable costs is crucial for its success.
The break-even point calculation helps the company's management determine the necessary level of sales and product price that will cover the total cost of business, i.e., fixed and variable costs. It shows users how to calculate the time point when a company is expected to make a profit.
Benchmarks
Our Excel Pro Forma Template has the proforma for industry benchmark analysis. Industry benchmarks, including the financial benchmarks, show users the comparison of performance indicators, e.g., financial indicators, with similar performance indicators of the other companies in the same industry.
Sources and Uses
As you can understand from the title, a Sources and Uses of Funds statement represents the company's financing sources and spending policies.
In respect of the 'Sources', this statement shows the company's money for its business activities and how it gets this money. Usually, companies have a mix of funding sources, such as business loans, investors' money, share issue, and others.
The 'Uses' section of the Sources and Uses statement shows the stakeholders how the company spends its money. For example, this statement may reflect the cost of land, building, or equipment the company plans to acquire. It also may reflect the start-up costs.
Loan opt-in
A Donut Shop Financial Projection consists of a table that provides the stakeholders with information about the periodic payments for an amortizing loan.
The loan amortization schedule includes information about the loan amount, interest rate, term to maturity, payment periods, and amortization method. In particular, loan amortization methods include the straight line, declining balance, annuity, bullet, balloon, and negative amortization.
File types:
Excel – Single-User: .xlsx
Excel – Multi-User: .xlsx
Free Demo – .xlsx